Summary

ADX Energy has released the outcomes of a year-end 2019 developed Reserves audit completed by independent consultants ERCE for ADX Zistersdorf and Gaiselberg fields in the Vienna Basin.
The independent audit has confirmed and exceeded ADX's pre-purchase expectation, with audited developed Reserves significantly higher than that assessed previously.
Audited developed Reserves at 31 December 2019 exceeded 13% and 4%, respectively, for 1P (Proven), and 2P (Proven and Probable) developed Reserves from the previous pre-acquisition estimates.
ADX is undertaking a field review via recently acquired and reprocessed 3D seismic to identify development and appraisal opportunities.
Results of the undeveloped Reserves and appraisal opportunity studies are expected soon.
Perth-based oil & gas exploration and appraisal company, ADX Energy Limited (ASX: ADX) continues to cash in on high impact exploration opportunities in proven oil & gas basins. Adding another notch on its belt, the Company recently announced the outcomes for the Austrian Fields Independent Reserves Review, which have confirmed and exceeded ADX developed Reserves assessment at purchase.
ERC Equipoise Pte Ltd (ERCE) completed a year-end 2019 developed Reserves audit for the Zistersdorf Field and Gaiselberg Field in the Vienna Basin of Austria. The audit work, besides validating ADX reserves expectation of long-life oil and gas production from the fields, also supports the ongoing production trends.
Overview of the Assessment
In December last year, ADX Energy purchased a 100% interest in the fields as well as agreements for exploration data in Upper Austria from a wholly owned subsidiary of RAG Austria AG. ADX undertook a baseline assessment of developed Reserves based on the production and geological data of the fields.
ERCE, which specialises in geoscience evaluation, engineering and economic assessment, has utilised the above fields-related data together with economic and commercial data provided by ADX for preparing the Competent Person's Report (CPR). The CPR has an effective date of 31 December 2019.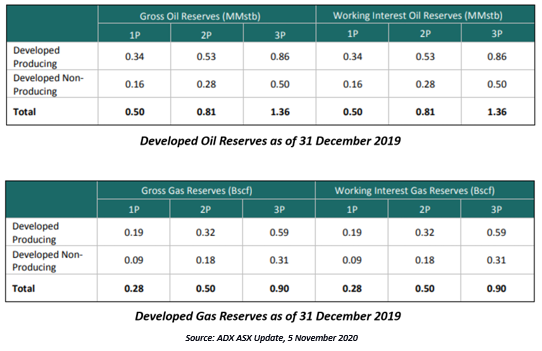 ALSO READ: Energy Policies to Fuel ASX Energy Stocks Over the Long-Run?
Audited viz-a-viz ADX Pre-purchase Data
Reserves Comparisons
ADX in July 2019 announced unaudited estimated remaining 2P developed reserves of 0.98 MMboe at 31 December 2018, while the field production was 0.12 MMboe between 31 December 2018 and 31 December 2019.
Significantly, the latest audited reserves lead to a positive variance of 13% and 4%, respectively, for the 1P (Proven) and 2P (Proven and Probable) developed reserves categories from the previous pre-acquisition estimates.
Production Comparisons
2020 field production surpasses 2P estimates.
Rates of field production have expanded over the year with the resolution of process-related emulsion problems. Meanwhile, field monthly production rates fluctuate with well and processing facilities uptime.
The average actual rate to end September 2020 stood at 301 BOEPD, exceeding the audited forecast 2P rate of 297 BOEPD and the audited 1P rate of 276 BOEPD for 2020.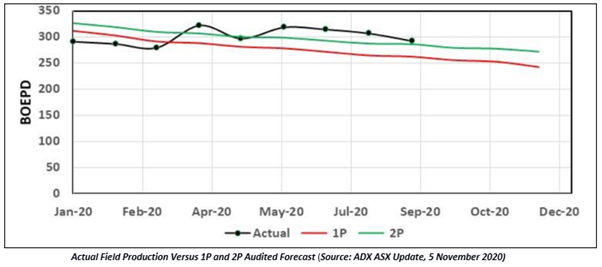 Advancing via Other Value Enhancement Studies
ADX is also utilising the recently acquired and reprocessed 3D seismic to assess undeveloped Reserves and appraisal opportunities within the fields' area.
The work would better define development drilling opportunities within the fields concerning Neogene reservoirs while also unveiling deeper appraisal opportunities in the proven but not yet fully developed Flysch reservoirs.
(Image Source: ©️ Kalkine Group 2020, Data Source: ADX ASX Update, 5 November 2020)
ADX anticipates maturing development drilling and appraisal opportunities in the months to come.
ALSO READ: Oil Prices rebound as attention switches from demand to supply
Way Forward Amidst High Growth Potential
Oil and gas assets like Zistersdorf and Gaiselberg fields held by ADX have reservoirs and infrastructure located near sources of CO2 or potential green hydrogen generation. They are ideal for potentially utilising CO2 storage and renewable technologies, which include hydrogen storage and green gas production.
The availability of the potentially available funding, subsidies and carbon credits for CO2 storage and renewable technologies in Europe is expected to place the exploration assets of ADX Energy at a vantage point. As per EU guidelines, solar and wind energy capacity in Austria alone is planned to be increased from the current 3.8 GW to21 GW by 2030.
It will create significant surplus energy for green hydrogen generation as well as for energy storage in general.
ADX is, therefore, engaged in opportunities' review for redeploying its assets instead of abandoning them as it plans to create assets from what is currently valued as a liability.
ADX shares settled at $0.006 on 11 November 2020.