Summary

Surefire Resources NL (ASX:SRN) is focussed on the exploration and assessment of mineral tenement holdings in WA (Western Australia).
During the September 2020 quarter, the Company added two highly prospective exploration projects to its portfolio- Yidby Gold Project and Perenjori Gold Projects.
While both projects offer key targets for field surveys and focussed exploration activities, the more advanced one is the Yidby Gold Project.
Yidby Gold Project is comprised of considerable gold geochemical soil anomalies along with historic workings of excavations of quartz veins within ultramafic volcanic and sheared mafic units and related to quartz-feldspar porphyry dykes.
Surefire Resources has concluded its maiden drilling program (reverse circulation) at the Yidby Gold Project.
Majority of holes drilled reported strong veining with metal sulphide mineralisation and strong indications of shearing, alteration and veining.
In FY20, Surefire Resources NL (ASX:SRN) had been reviewing and appraising numerous new project opportunities across several target commodities. Subsequently in August 2020, the Company acquired high-grade gold tenements in the Yidby and Perenjori project areas, Western Australia. Both projects have well mineralised shear zones, untested target areas and banded iron formations.
Read Surefire Resources' September 2020 Quarterly Activities Report HERE.
Let us walk through the more advanced Yidby Gold Project (Project), where work has been fast-tracked for attaining approvals and finalising a maiden drilling campaign.
Yidby Gold Project- An Overview
The Project sits 300km north-east of Perth between the towns of Wubin and Paynes Find, adjacent to the Great Northern Highway.
The Project area is centred over several clusters of historic workings that targeted high-grade gold bearing quartz veins within folded mafic-ultramafic volcanic units. It covers prospective greenstone terrain spanning over 112.77km² in the bountiful Yalgoo-Singleton Greenstone Belt.
The Belt is host to numerous gold, base metal and iron deposits with the potential to host many more. It hosts the Minjar Gold Project (1.1Moz Au), as well as world-class Golden Grove/Scuddles/Gossan Hill VHMS Camp (22.2Mt Zn, 29.4Mt Cu, 0.1 Mt Au oxide ore). Moreover, the Mount Gibson Gold Project, which has historically produced 870,000 oz at 1.6 g/t Au, sits in the southern end of the belt.
Decoding Yidby Gold Project
The two main targets at the Project are the Yidby Road Prospect and the Delaney Well Prospect. Both have recorded significant high-grade gold intersections from historic drilling campaigns. Companies that have drilled within and around the Project include WMC Limited, Normandy Gold Limited, Minjar Gold Pty Limited, Reynolds Australia Limited, Capricorn Resources NL and WCP Resources Limited.
Besides, the gold workings are excavations of quartz veins within sheared mafic and ultramafic volcanic units and associated with quartz-feldspar porphyry dykes. Historic exploration has reported high-grade rock chip and grab samples from spoils piles.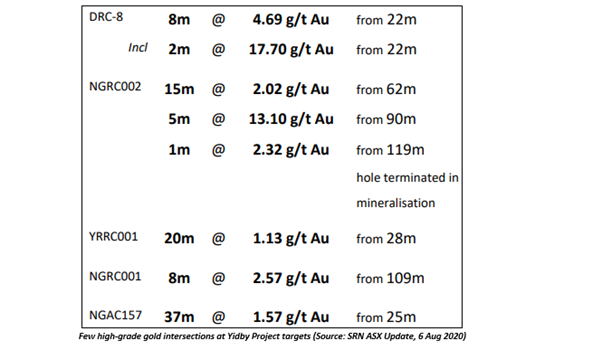 The company secured all three prospective gold tenements (E59/2426, E59/2390 and E59/2442) for the project.

Drilling At Yidby Gold Project
Field reconnaissance and rock-chip sampling have been conducted at the Project. Moreover, the Department of Mines, Industry, Resources, and Safety approved a Program of Work for the Project. This has allowed Surefire to undertake exploration drilling to assess the extent of the historic high-grade drilling intercepts at Yidby Road Prospect, within E59/2390, and the Cashen's Find and Delaney Well Prospects, within E59/2426.
Consequently, reverse circulation exploration drilling was recently completed, targeting several high priority targets. The prospects targeted included Yidby Road, Cashen's Find and Delaney Well-
20 RC holes were drilled for an aggregate of 1,687 metres
Samples were taken as composites of 3 metre or 4 metre with 1 metre splits samples collated in alteration, veining, and/or metal sulphide mineralisation presence
777 samples were collated and lodged with NAGROM Laboratories of Kelmscott for multi-element analysis
301 of these were 1m splits with the remainder being the 4m or 3m composites.
Most of the drilled holes reported strong veining with metal sulphide mineralisation. These were same to descriptions in historic drilling reports.
There were strong indications of shearing, alteration and veining observed in 9 of the 12 holes drilled at Yidby Road Prospect.
Veining and mineralisation was observed in all holes at Cashen's Find and Delaney Well Prospects.
It was observed that massive quartz-carbonate veining up to 35m in down-hole width was intersected.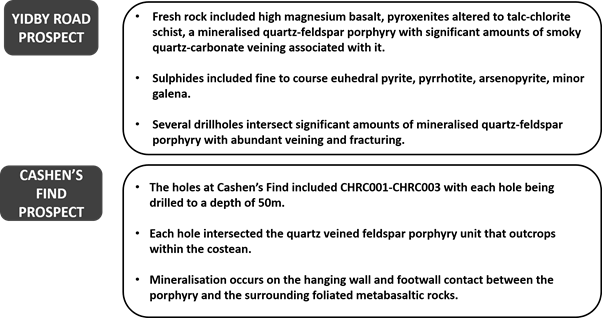 Kalkine Image (Source: SRN's ASX Report, 06 Nov 2020)
The Company will hold its 2020 Annual General Meeting in Perth on 23 November 2020. SRN shares traded at $ 0.032 on 24 November 2020 (AEDT 10:57 AM), up 3.225% from its last close.
ALSO READ: FY20 Developments At Surefire Continue Momentum In FY21