Summary

Heavy Mineral Sands (HMS) explorer MRG Metals Limited released its activities report for the September 2020 quarter.
Activities during the quarter focused on progressing the Corridor Central and Corridor South projects in southern Mozambique.
Chairman Mr Andrew Van Der Zwan regards the quarter to have been "busy and productive".
Two phases of aircore drilling were completed, high grade HMS zones were identified, explorational footprint was extended after Marao and Marruca licence approvals besides a successful placement and strategic appointment of a new in-country exploration manager.
The Company is targeting more drilling at Nhacutse and Zulene in Q4.
The 2020 Annual General Meeting of Shareholders has been scheduled for 17 November 2020.
ASX-listed HMS explorer MRG Metals Limited (ASX:MRQ) continued to progress the exploration developments at its lucrative HMS projects in southern Mozambique. The spotlight was on both the Corridor Central and Corridor South projects, making the quarter "busy and productive".
The Company's stock is trading at $0.007 (AEDT:12:17 pm) on 4 November 2020.
Nhucutse, Poiombo & Bungane Developments
A maiden aircore drilling was conducted at Nhacutse and Bungane. At Poiombo, an aircore drilling program was conducted to follow up the one completed in March.
15 holes of the program were completed (14 holes at Nhacutse, 1 hole at Bungane).
Nhucutse Drilling
Aircore drilling commenced in the Priority 1 area of recognised highgrade VHM (hole 19CSHA067 with mineral assemblage sample CSNH03) and then progressed with priority.
Drilling was supported by excellent THM grades over the central section of the target.
The mineralised footprint of auger holes with >5% THM covers ~ 2.5km x 1.5km.
Mineral assemblage data revealed high valuable heavy mineral (VHM) components in the east, paving the path for further drilling in these areas.
Extremely high estimated THM grades validate the discovery an HMS mineralisation zone with (estimated) strandline style grades- laterally extensive with potential to extend from surface to depths of over 30m.
As per aircore visual results, further drilling is warranted to define the extent of this extremely thick HMS mineralisation.
Phase 2 drilling on the Priority 1 target's ~ 18km2 area verified the initial visual aircore results. Besides, it confirmed the high-grade strandline style HMS mineralisation in the area between the Nhacutse and Bungane.
Reportedly, the Company is planning a follow up aircore program to test for further high-grade extension of the Priority 1 target.
Phase 2 drilling in the Priority 2 targets ~ 5km2 area were drilled to generate additional Heavy Mineral Concentrate (HMC). Mineralogical studies are in progress and will enlighten MRG Metals about the higher percentage VHM found in the east of Corridor Central from Koko Massava drilling and the east of Corridor South from Nhacutse drilling.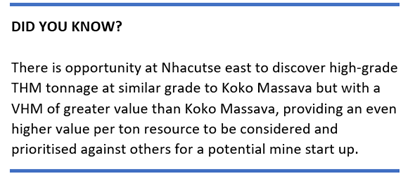 Poiombo Drilling
The Company plans follow up drilling after the successful initial aircore program identified strandline style HMS mineralisation in several holes-
Three priority areas for drilling were defined.
Drilling in Priority areas 1 and 2 comprised 11 aircore holes, planned to test the extension of the very high-grade strandline mineralisation to the west and continuity of the same strandline mineralisation along strike to east (sub parallel to magnetic anomalism).
In the west, drilling was limited by the proximity of the Limpopo River Valley.
Bungane Drilling
The Company planned one reconnaissance aircore hole. Auger hole 20CSHA312 returned an average grade of 7.82% THM over 12m from surface.
Infill Auger Drilling On Zulene, Viaria & Saia
Infill drilling on Zulene, Viaria and Saia at the Corridor South tenement extended Zulene and Viaria. This suggests the continuity of HMS mineralisation between both targets-
The lab results showed that 27 of the 31 holes attain an uncut average downhole grade >3% THM.
5 of the 31 holes having an uncut average downhole grade of >4% THM
9 holes end with a final sample interval grade of ≥4% THM.
Consequently, the Company advanced the field preparation to begin an expanded aircore drilling program at the Corridor South Project- targeting seven additional aircore holes across Zulene and Viaria. This marked the maiden aircore program for Zulene and Viaria-
Latest new aircore data set verified high-grade HMS mineralisation in Zulene's central zone.
Established that high THM grades (>6% visual THM) extend to at least 21m below surface.
Initial visual results of the THM grades are significant, with 2 of the 7 holes at Zulene intersecting grades >6% visual THM in multiple consecutive 3m sample intervals.
At Viaria, the aircore drilling was designed to test the broader Zulene-Viaria area for higher grade HMS mineralisation at depth. The Company progressed to send the aircore drill samples to Maputo and advanced an export permit application.
Mineral Assemblage Characterisation Results From The Corridor Tenements
Results of Qemscan analysis of 16 selected composite samples from the Corridor South (6621L) and Corridor Central (6620L) tenements shows the robust and high-quality nature of the VHM assemblage contained within the Corridor tenements. The best VHM result of 73.37% was returned from the east side of Nhacutse.
Besides, the Company reported combined ilmenite+leucoxene ranging from 33.55%–68.29%, with an average of 41.44%.
Completion Of Koko Massava Metallurgical Test Work
Initial metallurgical test work on a 100kg bulk sample of mineralised material from the Koko Massava Mineral Resource was completed by IHC Robbins.
It was designed to complement the impressive Koko Massava maiden MRE of 1.423 billion tonnes at 5.2% THM.
Exploration Licences Wins Continue
The Company progressed tenement applications for Marao 6842L and Marruca 6846L to the Minister of the Ministry of Mineral Resources during the quarter, after an approval received from the National Mining Institute. Subsequently, in October, preliminary granting of these licences by INAMI was announced.
MRG Metals is currently progressing paperwork, rent and license payments within the standalone company entities required by the Mozambique tax department.
Infrastructure Upgrade
The proposed multibillion-dollar Chongoene Development Corridor Project might give MRG Metals' an added infrastructural edge. It comprises a 150Mtpa multipurpose deep-water seaport at Chongoene, ~ 40km south of Koko Massava and 10km from the southern boundary of the Corridor South Tenement.
Chongoene deep-water seaport project's proximity, the planned Mineral Processing Zone, proposed extension of a natural gas pipeline (energy production for the Park and Port) could possibly offer an economic boost to the Company's mining operations, whilst providing a trucking option.
Phase 1 of the CDC Development is likely to start in 2023.
Corporate Developments
The Company completed a $660,000 Placement in September 2020. Funds raised are likely to help MRG Metals expand the ongoing exploration activities and aircore drilling programs, while supporting further project development and working capital.
Cash and cash equivalents at end of quarter amounted to $1,032,000.
Strategic Appointment
The Company onboarded Kobus Badenhorst as the Country Manager-Exploration, Mozambique, effective 12 October 2020. He brings wide experience around Resource Geology, Metallurgy and Mineralogy.
The Company evidently had a busy and productive quarter, and developments continue to foster!