Summary

Twenty Seven Co. has received regulatory go ahead for maiden drilling program at Mt Dimer.
Drilling campaign is designed to target gold mineralisation beneath the existing open pit and along the strike.
Reverse circulation drilling campaign is expected to commence in Q1, 2021.
Seasoned gold explorer Twenty Seven Co. Limited (ASX:TSC) has secured the regulatory approval for an extensive reverse circulation, diamond and auger drilling program at the premium Mt Dimer Mining Lease in WA's Goldfields.
Drilling Targeting Priority Areas Around Historical Intercepts
The Mt Dimer Gold Project includes a mineral lease (M77/515) and an exploration licence (E77/2383), almost 100 kilometres from Southern Cross. The lease was historically mined in mid-1990s, producing ~77,000 tonnes @ 3.44 grams per tonne of gold containing ~8,500 ounces of gold to a depth of 50 metres at a time when the gold traded at only $500 an ounce.
Since 1996, there has been no substantial exploration program at the project site. The historical drilling program from 1990s and the four drill holes in 2017 have highlighted the presence of substantial gold mineralisation beneath the open pit and along the strike.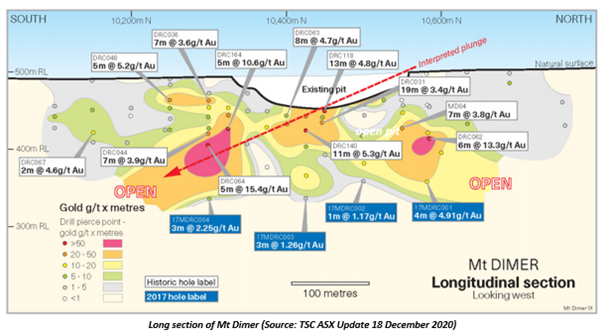 A north-south long section of the Mt Dimer deposit displays the gold mineralisation (open at depth) plunging near-surface to the south beneath the current open pit surface.
The planned drilling campaign is aimed to confirm the historical high-grade drill intercepts and extend the mineralisation at depth. The previous significant drill intercepts included:
5m @ 15.4g/t Au (DRC_064)
5m @ 10.64g/t Au DRC_164) and
6m @ 13.3g/t Au (DRC_062)
After the acquisition of the Mt Dimer Gold Project in November 2020, TSC has already concluded a site visit and other critical tasks including-
Preliminary sampling of the Tailing Storage Facility (TSF) and the Heap Leach Pad (HLP).
Aerial drone survey of the entire mining lease for accurate surveying of the open pit, HLP, TSF and drill collars at the project.
Updating the historical drill database and the 3D geological model.
Now, that the drill planning and the regulatory approval are in place, TSC can finalise drilling contracts and logistics to commence work as and when possible during the Q1 of 2021 with a JORC resource estimation planned for later during the year.

The exploration tenement (E77/2383) is immediately west of the Mt Dimer mining tenement. Overall, the exploration licence includes the continuation of prospective mafic rocks which host the Mt Dimer mining lease.
While the previous explorers focused on the gold mineralisation associated with mafic enclaves within the granitic country rock similar to the Aurumin Limited (ASX: AUN) deposit to the west, the extension of the Mt Dimer host rocks remains underexplored, outlining a substantial opportunity.
Next Steps and Way Forward
Mt Dimer Gold Project

Rover Project

Good Read: Twenty Seven Co. (ASX:TSC) reports gold intersections up to 8.1 g/t at Harmonic
On 21 December 2020 (AEDT 10:58 AM), TSC stock traded at $0.005.