Summary

Western Australia-based mineral explorer Surefire Resources NL (ASX:SRN) has released its September 2020 Quarterly Activities Report.
The Company added the Yidby Project and the Perenjori Project to its portfolio, offering important targets for focussed exploration activities and field surveys.
At the Yidby Project, all three tenements with three gold prospects hosting significant gold mineralisation were secured. Work has been accelerated to attain approvals and make all preparations for a maiden drilling campaign.
The Company also raised $314,077 before costs and completed a placement of $1.28 million before costs.
Surefire Resources NL (ASX:SRN) has spent considerable time reinterpreting data from its current projects in the past few months. Besides, the Company is reviewing and appraising several new project opportunities across numerous target commodities. It remains confident that there are ample opportunities available to work towards.
On 30 October 2020, the Company released its September 2020 quarterly activities report.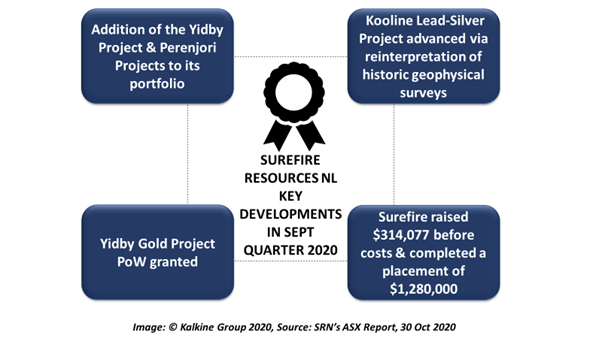 MUST READ: Developments In FY20 Continue Momentum In FY21
Yidby Gold Project Developments
The Yidby Project covering 113.77km², is better advanced than the Perenjori Project. It is located within the southern section of the Yalgoo-Singleton Greenstone Belt (YSGB) near Ninghan Station Homestead.
The YSGB hosts the Minjar Gold Project (1.1Moz Au) and the-world class Golden Grove/Scuddles/Gossan Hill VHMS Camp (22.2Mt Zn, 29.4Mt Cu, 0.1 Mt Au oxide ore). The Extension Hill iron ore mine, Mount Gibson Gold Mine, is to the south of the Project.
The Project has all three prospective gold tenements (E59/2426, E59/2390 and E59/2442) granted during the September quarter. So much so, work is in full swing with approvals attained and preparations in place for a maiden drilling campaign.
The Department of Mines, Industry, Resources, and Safety approved the Company's Program of Work (PoW) during the quarter.

The approval covers exploration drilling conducted at the Project covering the Delaney Well, Yidby Road, and Cashen's Find Prospects within E59/2390 and E59/2426. Historic drilling at each of these prospects had reported high-grade gold intercepts.
The approval allows exploration drilling to verify and test the extent of the historic high-grade drilling intercepts at these three prospects.

Field reconnaissance and rock-chip sampling was conducted, and the sites were cleared for drilling.
At the Yidby Road Prospect, Surefire Resources' RC drilling program intends to test parallel to historic drillholes, and across numerous possible orientations of the host porphyry unit.
Perenjori Gold Project Developments
At the Perenjori Project, the Company acquired two Exploration Licence Applications (ELA59/2432 and EL70/5311). Besides, applications have been filed for a further five Exploration licences (ELA70/5572, ELA70/5573, ELA70/5575, ELA59/2445 and ELA59/2446). The Project situated 40km south of Silver Lake Resources' Deflector Gold Mine covers a total area of 626.73 km² within the Koolanooka Greenstone Belt.
The area hosts mineralisation for iron, gold and base metals in a majorly under-explored part of the Murchison Province.
Unaly Hill HPA Project Developments
The vanadium-magnetite-titanium resource contains up to 20% alumina. It holds potential for 4N HPA production with value up to US$30,000/tonne.
The Company has been progressing work towards assessment of the High Purity Alumina potential of the alumina contained within the vanadiferous titanomagnetite resource at Unaly Hill, Murchison in Western Australia.
At the project, the next phase of testing will concentrate on purification of the leach liquor (removal of Fe and Ti), along with recovery of alumina by crystallisation.
Kooline High-Grade Lead Silver Project Developments
The Kooline Project has many exciting credentials: ore-grade lead, silver, and copper, along with highly anomalous gold. It is stationed in the Ashburton Province of Western Australia.
During the September quarter, the Company advanced this project with Southern Geoscience Consultants assigned work to reinterpret historic geophysical surveys (Gradient Array IP, Dipole-Dipole IP, Airborne VTEM data as well as Ground EM data).
Besides, Southern Geoscience Consultants obtained electrical geophysical survey data from airborne contractors Geotech and ground geophysical contractors GPX. They have begun reviewing this data, mainly related to the most substantial workings at Kooline comprising The Gift, Bilrose, June Audrey and Rainbow.
Surefire Resources believes that that interpretive work in progress will allow accurate drill targeting and identification of untested geophysical targets.
Grant Of Mount Magnet EL E58/559
Mount Magnet has significant potential to host new discoveries and has produced more than 6 million ounces of gold in the past. Surefire Resources' new application was granted on 30 September 2020. It comprises of two graticular blocks for 6.06 km².
Corporate Developments
In the September quarter, Surefire Resources raised a total of $ 314,077 before costs. Besides, the Company completed a placement of $ 1,280,000 before costs. Cash and cash equivalents at the end of quarter amounted to $ 1,489,000.
Funds from the placement are likely to enable the expansion of exploration and drilling activities on the Yidby Project and the Perenjori Project.
Undoubtedly, Surefire Resources seems to have had an action-packed September 2020 quarter. Developments made in this reporting period are likely to progress ahead, as the market awaits more progressive updates from this Western Australia-based promising explorer.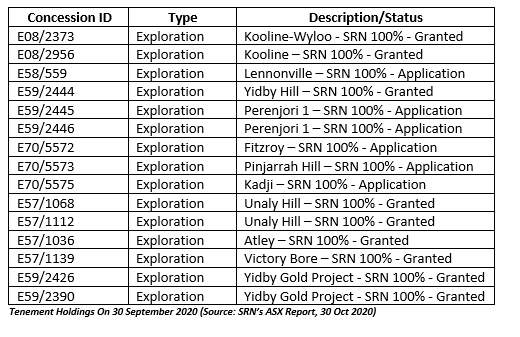 (All currencies in AUD unless or otherwise stated)