Summary

ASX-listed Stavely Minerals announced a significant hit on copper mineralisation zone in the Cayley Lode discovery of Thursday's Gossan Copper-Gold Project in Victoria, with 144m at 1.04% copper and 0.15g/t gold.
The highest grades of copper-gold-silver mineralisation zones in Cayley Lode tend to occur on the basal contact between the volcano-sedimentary sequence and the serpentinised ultramafic with intercepts of 28m at 3.31% Cu and 0.49g/t Au from a depth of 151m down-hole.
The company is planning to increase the size of the drilling rig fleet from the current four rigs to six within a few weeks. The large capacity additional rigs will be used to drill two 1,500m holes.
The ASX-listed mineral explorer Stavely Minerals Limited (ASX:SVY) has shared a positive update of its ongoing diamond drilling within Cayley Lode discovery in its 100% owned Stavely Copper-Gold Project located in Victoria.
The resource drilling at Cayley Lode has intercepted one of the most significant copper mineralisation zones since its discovery.
The current hit on the copper mineralisation zone in the drill hole SMD104 from a shallow depth of 35m gave 144m at 1.04% Cu, 0.15g/t Au and 3.4g/t Ag. Resource drilling has been continued in 40m X 40m grid with currently available four drilling rigs.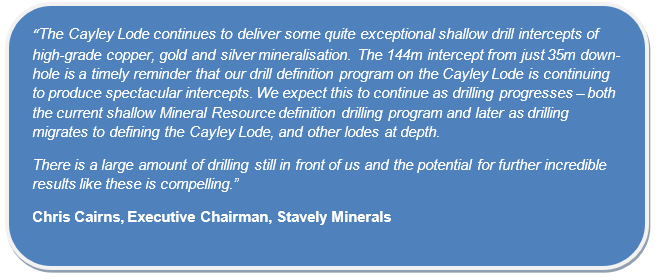 The company has identified three structures at the Thursday's Gossan Prospect for high-grade copper-gold-silver mineralisation. In addition to defining the structures- Cayley Lode (Ultramafic Contact Fault), Copper Lode Splay and North-South Structure, the company is planning to drill two 1,500m deep diamond drill holes to test the blind porphyry system.
Thursday's Gossain has an extensive chalcocite-enriched zone occurring from the depth of 30m to 80m from the surface. The JORC 2012 inferred mineral resource is estimated to be 28 million tonnes at 0.4% copper.
Cayley Lode resource drilling long section (Image Source: ASX update on October 14, 2020)
The Cayley Lode discovery mineralisation is defined over ~1.5km strike length to ~300m depth with an average thickness of 10-50m. The company is hopeful that drilling results along with the metallurgical work and geotechnical test work could lead to the Scoping Study for robust and reportable outcomes.
Stock performance
In the last three months ending October 27, 2020, Stavely Minerals reached a high of A$0.760 on 22 October 2020, As of October 27, 2020, the shares closed at A$0.685 with a market cap of A$183.97 million.