Summary

During 2020, King River Resources (ASX:KRR) advanced significant developments at its Speewah Specialty Metals Project with the aim to churn out a high-purity HPA product.
The gold exploration programs at Tennant Creek and Mt Remarkable were kickstarted as COVID-19 restrictions eased.
Speewah PFS studies have been directed towards a new and faster HPA production path, utilising a readily available industrial aluminium chemical feedstock.
2020 has been quite a rough patch for several project developers and explorers who ended up facing challenges in several undertakings, especially the on-field activities amidst the raging virus uncertainty.
Nevertheless, focused on critical commodities development and gold exploration, King River Resources Limited (ASX:KRR), made substantial progress by remaining open to making the necessary changes.
Significantly, the Company continued engineering studies intended to produce a High Purity Alumina (HPA) product while gold exploration plans in two Australian states were also pushed forward. The gold exploration programs at Tennant Creek (NT) and Mt Remarkable (WA Kimberley), which remained restricted due to the COVID-19 protocols, were commenced with relaxations in the later months of 2020.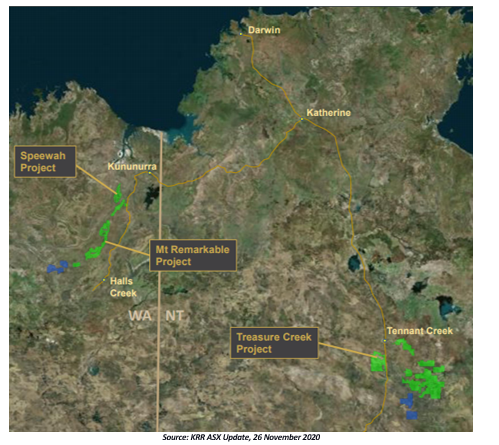 ALSO READ: King River Resources (ASX:KRR) Reports Stellar September Quarter with Impressive Project Developments
In this backdrop, let us explore some of the exciting developments across the Company's diverse project portfolio, highlighted by Executive Chairman Anthony Barton at the annual general meeting on 26 November 2020.
HPA Pre-Feasibility Study at Speewah Specialty Metals Project
During the majority of 2020, King River Resources focused on completing a Pre-Feasibility Study (PFS) on sulphuric acid leaching along with the refinement of the non-magnetic fractions of the Speewah mineralisation for recovering >4N HPA (99.99+% Al2O3 purity).
Following the 4N HPA production, the Company embarked on several metallurgical and other critical testing programs to improve the overall recovery of HPA precursor. In the last couple of weeks, PFS studies have been directed towards a new, lower-risk and faster path for producing HPA.
The Company's new leaching and refining route can be applied directly to a readily available industrial aluminium chemical feedstock. The alternative production circuit, being a simpler process than the original process flow sheet, does not require the development of Speewah-based associated mining, processing, and logistical infrastructure.
Some of the critical advantages offered by the simpler flowsheet includes CAPEX and OPEX savings as well as fewer risks associated with process and development. Meanwhile, a recent CRU International's HPA market report anticipates a strong HPA demand and price in future.
The Company will continue to advance the Speewah mine development testwork and studies, however, the focus will now be on a broader battery metals range and master alloy compounds. Some additional metallurgical testwork and engineering will be needed ahead of finalising the PFS, anticipated for release in the first quarter next year.
INTERESTING READ: Skim Through Success Ingredients for King River Resources' (ASX: KRR) Speewah Project
Gold Exploration at Northern Territory: Tennant Creek Region
The 2020 exploration by King River Resources in Tennant Creek Region commenced in August at the Treasure Creek Project around the Tennant Creek, Kurundi and Rover goldfields, which historically returned high-grade results.
The Treasure Creek Project consists of 16 tenements (including two applications) covering an area of 7,900 square kilometres.
The main four project areas include:
Tennant Creek East
Tennant East/Barkley
Rover East
Kurundi
Bonanza gold intersections were previously witnessed around Tennant Creek ironstone bodies. They have different degrees of hematite and magnetite, often forming discrete geophysical targets. Gold and copper mineralisation associated with these ironstone bodies have characterised iron oxide copper-gold style mineralisation (IOCG), which will be the exploration target around Tennant Creek.
ALSO READ: King River Resources (ASX:KRR) Unveils Gold Potential With Prospective Ironstones Uncovered in Tennant East
The application of systematic exploration and new/advanced geophysical techniques are expected to churn out significant gold discoveries in future within the region.
Western Australia Gold Exploration: Mt Remarkable Project
King River Resources' WA exploration licences cover more than 2,300 square kilometres, with merely 5% of the total package explored in the first pass exploration.
At Mt Remarkable Project, high-grade gold mineralisation has been reported in the past. Moreover, the Company is optimistic about further high-grade discoveries to be made along with the highly prospective and sparsely explored trend.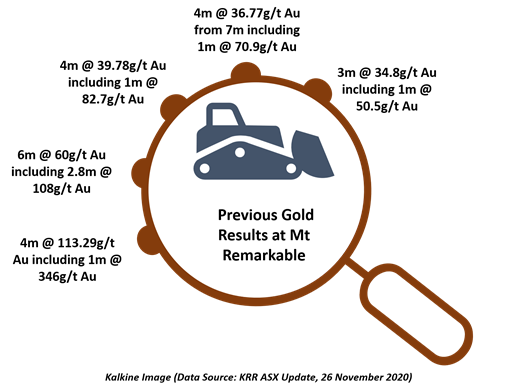 In late-October, the Company kickstarted a 2,500m RC drill program aimed at testing 10 different locations. Meanwhile, the previous drilling at the Trudi Vein of Mt Remarkable generated some outstanding high-grade epithermal gold values.
For the past few months, geologists have also been undertaking first pass reconnaissance over other nearby lease locations. The Company is awaiting assay results of the 2020 drill program.
READ MORE: King River Resources (ASX:KRR) Kickstarts Drilling at Mt Remarkable Gold Project, Stock Zooms 7%
Cash position stood at $7,825,681, as of 24 November 2020. KRR shares traded at $0.026 on 26 November 2020, up by 4% from its previous close.