Summary

Podium Minerals' recent drilling has delivered a growth of 22% in the 3PGM Mineral Resources to 1,390,000 ounces and a 44% increase in Copper to 53,900 tonnes at the Parks Reef project.
The resource upgrade includes results from RC drilling in 17 holes over 1.6km of strike length.
Currently, drilling is underway to accelerate the systematic resource growth along the full 15km strike length of the project, as part of a 6,000m programme.
Podium Minerals Limited (ASX:POD) has significantly extended the PGM Mineral Resource estimate for its Parks Reef project by 22%. As identified by modelling of recent drilling, POD's mineral resource now stands at 1,390,000 ounces of combined platinum, palladium and gold plus base metal credits with 53,900 tonnes copper.
The figure below shows that POD's inferred mineral resources have increased to 25.0Mt at 1.52g/t 3E PGM1 at a cut-off grade of 1g/t 3E PGM for the platinum group metal (PGM) horizon. In addition to this, there is an additional 14.9Mt at 0.24% copper and 0.33g/t 3E PGM at a cut-off grade of 0.1% copper for the overlying base metal and gold horizon.
Inferred Mineral Resource for Parks Reef (Source: ASX Announcement 30 November 2020)
Previous Update: ASX Listed Podium Minerals Continues Drilling at Parks Reef to Propel Growth
Current Resource Upgrade Includes Results From 17 Holes
The previous resource estimate included three separate resource blocks in the western, central and eastern sectors of Parks Reef while this one includes results for around 1,870m of reverse circulation (RC) resource drilling in 17 holes from drilling undertaken during the September quarter.
Did you read: What's fuelling Podium Minerals' (ASX:POD) meteoric growth? Share price up 185% over past year
Interestingly, POD has constructed a new consolidated resources model that includes the complete extents of Parks Reef. This new modelling has had no substantial impact on the overall grade and tonnage of the previous resource estimates except some refinement of the geological domaining. This has facilitated for a clearer delineation of the high value PGM upper horizon.
Moreover, some new interpretations of faulting and associated felsic dykes within the mineralisation have been shown by the consolidated resource model and improved geological data.
Hunt For Rhodium Continues Along With Growth Strategy
As of now, there remains insufficient drill data to include rhodium into the Mineral Resources of POD; however, all drill holes tested have shown a concentration of rhodium within the lower PGM horizon. Moving forward, the Company plans to routinely assay for rhodium once they move to in-fill drilling for indicated resources. POD remains optimistic that this shall allow to include rhodium within the mineral resources for Parks Reef. With Rhodium prices soaring to new highs of US$16,500 per ounce, the company believes that it will add significantly to its overall basket price of contained metals. The company estimates it to be as much as 30%.
Related: Podium Minerals Confirms Anomalous Platinum, Palladium, Gold and Copper Through Geological Mapping and Rock Chip Sampling
POD continues to advance its growth strategy for Parks Reef and has drilling currently underway in the eastern sector of Parks Reef with 2,500m and 3,000m of drilling expected to be completed before Christmas. The remaining of this drilling is expected to be undertaken in the Q1 2021 while initial samples from this drill programme have already been submitted to the laboratory.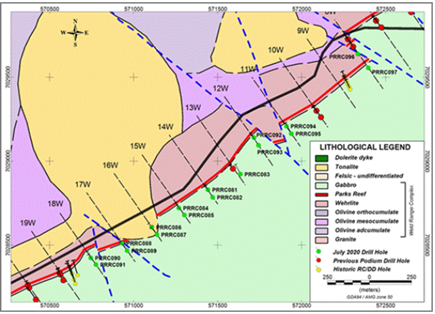 Drill Sections And Hole Location Plan (Source: ASX Announcement 30 November 2020)
POD, through resource modelling, has also discovered targets for fault repetition of mineralisation within the existing resource areas and drill testing of these targets shall be incorporated into the progressing resource drilling programmes.
Interesting read: Podium Minerals to hit the ground running at its Parks Reef PGM Project. Announces Capital Raising of $1 Million
Ongoing Activities At Parks Reef
Besides the resource development work, POD is continuing with a metallurgical testwork programme through joint funding offered under the Innovation Connections programme of the Australian Government. The programme is aimed at selecting and optimising a leaching process to treat the oxide mineralisation in Parks Reef and is expected to run through the December 2020 quarter.
Currently, planning and assessment for additional metallurgical testwork is also underway for oxidised as well as fresh mineralisation as significant feed information into a scoping study.
Interesting Read: Podium Minerals All Set to Advance Growth Strategy at Parks Reef Project, Metallurgical Testwork Programmes in Progress
On 02 December 2020, POD shares closed at $0.117, with a market capitalisation of $31.03 million.