Summary

Pacifico Minerals Limited released its Annual Report for the year ended 30 June 2020, highlighting robust exploration endeavours of the Company.
The advancing exploration endeavours at Sorby Hills was supported by strategic financial initiatives, putting the Sorby Hills project at an excellent position.
The Company released Sorby Hills' Prefeasibility Study (PFS) highlighting compelling project economics.
The drilling campaign, commenced in September 2020, will underpin Sorby Hills' Definite Feasibility Study (DFS) ahead of Final Investment Decision.
Australian explorer, Pacifico Minerals Limited (ASX: PMY) released its Annual Report to Shareholders, validating robust exploration journey of the Company. Pacifico, during the 2020 financial year, remained dedicated towards its 75% owned Sorby Hills Project, which witnessed exciting developments.
The advancing exploration endeavours supported by strategic financial initiatives have together allowed the Company to put its Sorby Hills project at an excellent position. The Company, post the completion of the financial year, released its Optimised Prefeasibility study, indicating compelling economics of Sorby Hills.
The drilling campaign, commenced in September 2020, will underpin Sorby Hills' Definite Feasibility Study (DFS) ahead of Final Investment Decision.
ALSO READ: Pacifico Minerals' Sorby Hills Progressed to Due Diligence After NAIF Completes its Strategic Assessment
Critical Development at Sorby Hills
Drilling Program
Pacifico Minerals embarked on +9,200m drilling campaign across 124 holes, focusing on shallow extensions and infill drilling at B deposit and the Omega deposit. The drilling program returned encouraging outcomes which conjointly validated mineralisation continuity across the deposit's shallow and formerly underexplored areas.
At the same time new shallow near-mine targets were also discovered; to be focused during the follow-up drill programs.
Mineral Resource Estimate
The Company during 2020 Financial year commissioned CSA twice for updating the Mineral Resource at Sorby Hills Deposit:
Update I (October 2019)- Global Mineral Resource marked an uptick of 20% and Indicated portion Mineral Resource (on a tonnage basis) increased by 53%.
Update II (June 2020)- Contained Lead within the M&I Resource categories marked an uptick of 20% and Contained Silver within the M&I Resource categories edged up by 28%.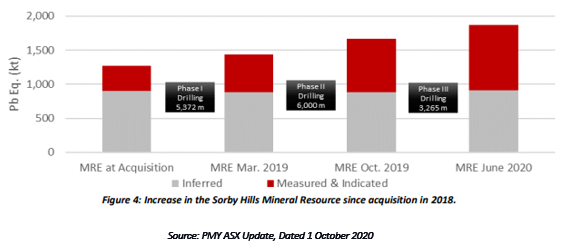 Metallurgical Testwork and Hydrological Studies
Aimed at supporting process plant design calculations as well as engineering, Pacifico undertook several metallurgical tests including comminution, flotation recovery and Heavy Liquid Separation as part of the PFS.
Pennington Scott completed a detailed hydrogeological site investigation as well as modelling in 2020 financial year. Hydrological investigation outcomes were combined with a reinterpreted geological model of the Company. The focus was to build a hydrogeological conceptual site model concerning Sorby Dolomite and Webber Plane alluvial aquifers.
Acquisition of Eight Mile Creek
During FY20, Pacifico Minerals acquired 'Eight Mile Creek' (tenement E80/5317), encompassing 217 square kilometres to the Kununurra's northeast and south of Sorby Hills Joint Venture. The strategic acquisition increases potential exploration ground with the strike length of 30 kilometres, lying near Sorby deposit.
Significantly, the acquisition has provided the company access to all unrestricted exploration land bordering the Pincombe inlier, expanding mineralisation corridor of Sorby Hills. It is expected to lay the groundwork for the Company to operate a possible extensive mining district going forward.
Pacifico Minerals looks forward to setting the stage for engaging Miriuwung and Gajerrong Aboriginal people, offering them employment and economic opportunities.
Financial Footing
Pacifico raised $4.6 million at $0.008 per share during the period, which was used to fund the phase III drilling program, PFS completion, and advancing DFS.
The Company, in September 2020, also raised $12 million from the oversubscribed $10 million Placement while the remaining amount through Share Purchase Plan, both at $0.018 per share. The capital raising garnered significant support from quality institutional and strategic shareholders, offering the Company a robust stage to kick-start DFS workstreams.
The capital raising is pivotal to value-addition and project de-risking as the Company plans on the Final Investment Decision to be undertaken in 2021.
As at 30 June 2020, PMY had total assets of $ 8,480,068, including Cash and Cash Equivalents of $2,908,551.
Pacifico reported operating loss after income tax of $3.13 million, with total exploration expenditure of $2.12 million during the financial year.
A lens through the Optimised PFS
Pacifico, in August 2020, released an Optimised PFS on its flagship Sorby Hills Joint Venture. The PFS has substantially bolstered the potentials around the project. It highlighted the attractive project economics and fast payback of investment in spite of adopting a conservative forecast prices for Sorby Hills minerals, including lead and silver.

ALSO READ: Pacifico Embarks Upon Capital Raising, Boosting Exploration Endeavours and Final Investment Decision at Sorby Hills
Next Steps
Pacifico announced the launch of a 5,200m drilling campaign over 68 holes in the previous month. The focus of the drilling campaign is to expand the current resource base, identify new targets near Sorby Hills deposit and provide substance for DFS testwork.
Pacifico is targeting a Decision To Mine in the second half of next year.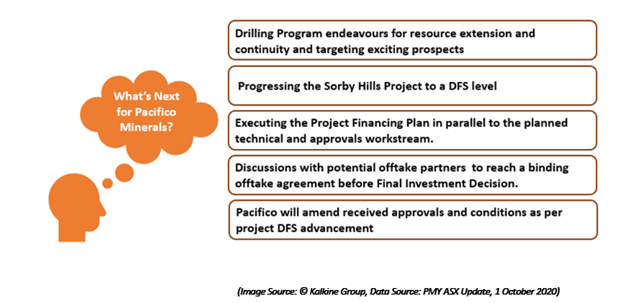 Pacifico shares closed at $0.016 on 1 October 2020. The shares have generated over 5.7x return in the past six months.