Summary

Pacifico Minerals (ASX:PMY) is currently undertaking fully-funded Definitive Feasibility Study on the jointly-held Sorby Hills Project.
Permitting, approvals, financing and offtake process are also ongoing for the project.
The net cash for the Company grew by 257% since the last AGM, while share price edged up 125%.
FY2020 proved quite splendid for Pacifico Minerals Limited (ASX:PMY), which accomplished significant progress on the jointly-held Sorby Hills Project. Notably, the Company achieved an array of critical deliverables since the last AGM, contributing to the share price growth of 125%.
At the same time, there has been an uptick of 257% in Net cash and 140% in the market capitalisation of the Company. Importantly, Pacifico has zero debt, notwithstanding the flurry of developments that took place across its project.
The solid operational and financial footing of Pacifico is a validation that the Company's strategy is in a top form, backed by skilled board and management. It places Pacifico in a strong position to leverage the encouraging potential of growing graphite and silver markets.
ALSO READ: 5 Reasons Why Pacifico's (ASX:PMY) Sorby Hills is Set for Excellent Achievements in 2021
A Smooth transition into DFS via Outstanding PFS
Pacifico delivered the Pre-Feasibility Study (PFS) in August 2020, bringing to light the project's low-risk nature. The PFS also reflected the pre-tax economics associated with the Sorby Hills Project.
Other key highlights of the PFS include:
A well-defined large-scale Mineral Resource
Crush-mill-float processing circuit
High metal recoveries
Key approvals received
The quality and details encompassed in the study pave the way for a seamless transition into the Definite Feasibility Study (DFS) and early discussions with lenders.
ALSO READ: Pacifico Minerals (ASX:PMY) Continues the Legacy of Solid Exploration in September 2020 Quarter
A Good Deal of Other Developments in FY2020
Sorby Hills is Australia's most enormous undeveloped deposit, consisting of Lead, Silver and Zinc at the near surface. The project boasting low-risk operation is present in a Tier 1 Mining Jurisdiction and allows the Company to have rare ASX exposure to the silver market.
The project's upside potential is supported by near-term value addition opportunities and is advanced through a range of exploration and strategic endeavours.
Pacifico Minerals announced an upgraded Mineral Resource at Sorby Hills this year, with maiden Ore Reserve of 13.6Mt at 4.6% Pb equivalent. It supports an initial mine life of 10 years.
Furthermore, the Company recently concluded the Phase IV drilling program. The preliminary observations of the drilling program indicate quite favourable results for the resource at Sorby Hills and its pit designs.
Pacifico has also obtained funding to progress Sorby Hills to a Final Investment Decision. Meanwhile, the project has reached to NAIF's (Federal Government's Northern Australia Infrastructure Facility) third stage of funding- due diligence phase.
Besides, the appointment of an experienced project developer and operator, Gary Comb as Chairman seems to further enhance the capabilities of PMY board to fast-track the project development.
Share Consolidation
As the Company is ready to advance into another banner year, it has also announced the consolidation of securities, with every 25 PMY fully paid ordinary shares to be consolidated into 1 share.
Pacifico Minerals has announced the consolidation of 3,804,488,820 shares quoted on ASX to an estimated 152,179,553 shares. In addition, performance rights and options will also be consolidated.
The effective date of consolidation is 24 December 2020, with the record date of 31 December 2020. The post-consolidated securities will commence trading on 30 December 2020, while the trading on a normal T+2 basis will start on 11 January 2020.
Pacifico believes the new share structure to be more attractive to long term institutional investors.
Way Ahead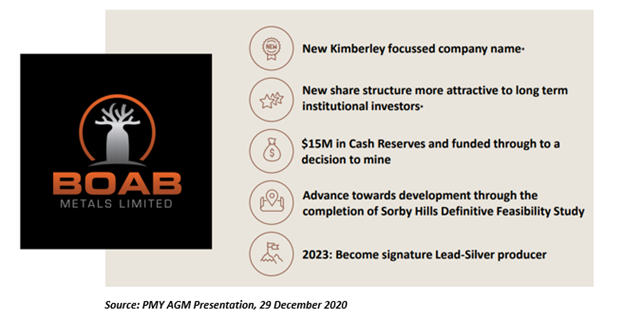 Pacifico is currently focused at progressing with the Definitive Feasibility Study. Besides, permitting, approvals, financing and offtake process are also ongoing. Notably, Pacifico intends to commence front end engineering design by the end of Q3 CY21.
Pacifico shares traded at $0.018 on 24 December 2020.