Summary

NewPeak Metals has boosted its project portfolio with exceptional projects in the premium mining jurisdictions of Finland, New Zealand and Argentina.
The company targets to commence drilling program at the Argentinean gold project in the last quarter of 2020. Over 15 large, mineralised targets have been identified across the Cachi gold project.
Drilling program at the Tampere gold project has been scheduled to commence during the winter season of 2020/21. The permitting, logistical planning and technical team development are under progress.
Bergslagan Tungsten Project in Sweden and Otago gold properties in New Zealand are under evaluation for further progress.
Gold explorer NewPeak Metals Ltd (ASX:NPM) has recently released its activities report for the quarter ended 30 September 2020. During the quarter, the explorer substantially diversified its portfolio through organic and inorganic growth routes including the acquisition of premium gold projects in the highly prospective mining jurisdictions of Finland, New Zealand and Argentina.
Strengthening Foothold Across Geographies
Cachi Gold Project – The Argentinian gold project in the Santa Cruz province is located along with NewPeak's other gold properties including Halcon, Rosita Norte and Cañadon Agustin. The exploration activities at these projects are aimed for shallow epithermal vein systems. At present, Cachi is the most advanced gold project among all properties in the Santa Cruz province.
Read Here: NewPeak Metals (ASX:NPM) to Commence Maiden Drilling at Cachi Gold Project in December
Extensive mapping, ground magnetics, IP survey and rock-chip sampling programs have been concluded at the Cachi project. Over 15 large, mineralised targets have already been identified with five of them being primary ones including Vetas Cachi, Morena, Vetas NW, Patricia and Puma.
Must Read: NewPeak Metals Gaining Gold Influence in Europe, Drilling Program Planned to Accelerate Resource Definition
Vetas Cachi and Vetas NW have been identified as the highest priority targets due to their large size and high-grade rock chip and trench assay results. NewPeak Metals recorded gold and silver samples with gold grades up to 17.8 g/t during the previous exploration programs. Both the targets are anticipated to be tested in the upcoming drilling program scheduled to commence during the last quarter of 2020.
Las Opeñas Gold Project – At the project, in April last year, the company finalised an initial test phase drilling campaign. The results highlighted high-grade mineralised zones to moderate depths from surface with values up to 4.8g/t gold and 528g/t silver.
Tampere Gold Project – NewPeak Metals entered into Permit Purchase Agreements to acquire 100% stake in the highly prospective Tampere Gold exploration project in Finland. Along with the Tampere gold project, the company also acquired the Bergslagen Tungsten Project in Sweden.
Read Here: ASX-Listed NewPeak Metals' (NPM) Annual Report Reflects Strategy Towards Strengthening Foothold at Premium Gold Projects
The Tampere gold project includes seven tenements stretching over 286 hectares in the proximity of Dragon Mining Limited's three gold mining operations at Orivesi, Jokisivu and Kaapelinkulma. The most advanced prospect has been identified at Hopeavuori, which includes 54 shallow diamond drill holes to evaluate a 30-metre-wide mineralised structure over the 300-metre strike length.
During the September quarter, NewPeak designed a maiden drilling program at the Hopeavuori prospect to proceed towards defining JORC gold resources. The drilling program has been scheduled to commence as soon as possible during the winter season of 2020/21. The permitting, logistical planning and technical team development is under progress.
Bergslagan Tungsten Project – The project includes seven exploration tenements stretching over 11,012 hectares in the Bergslagen mining field in Sweden. The indicative rock sample at the Bergslagan Tungsten prospects holds grades between 0.25% and 0.44% of Tungsten Trioxide (WO3).
During the quarter, NewPeak Metals commenced the planning of a comprehensive review of the Tungsten resources to assess the Bergslagen Tungsten Project.
Otago Gold Properties – The company recently entered a binding term sheet agreement to acquire mineral properties in the prolific Otago region of New Zealand.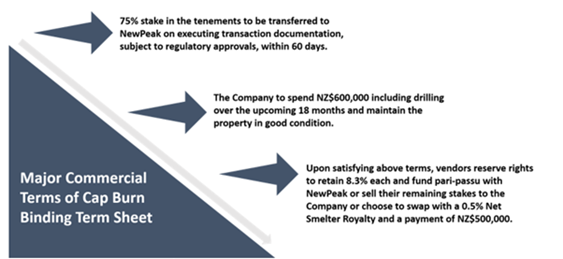 Data Source: ASX Announcement 7 September 2020
Must Read: NewPeak Metals Moves Closer to Home, Acquires Properties in Gold-Rich Province of Otago
The company also owns a ~29.7% stake in Lakes Oil NL (LKO), which owns an extensive petroleum portfolio across Australia and Papua New Guinea.
Corporate Activities
Capital Raising - In July, NewPeak raised 1,532,000 including $1,277,000 in cash and $255,000 in debt converted. The explorer further closed a private placement of $343,000 in August. At the Extraordinary General Meeting on 7 September 2020, the company, erstwhile Dark Horse Resources, renamed itself as NewPeak Metals Ltd and began trading under the 'NPM' code on ASX.
New Appointment - Subsequent to the quarter, Mr Andrew Gladman was appointed to the board as a Non-Executive Director of NewPeak Metals. With a passion for the resources space, Mr Gladman has more than 25 years of experience in financial markets, corporate advisory and stockbroking.
Suggested Reading: Dark Horse Name Changed to NewPeak Metals Limited, Starts Trading with New ASX Code, NPM
NPM traded at $0.003 a share on 2 November 2020 with a market capitalisation of $13.09 million.