Summary

Australian explorer Mount Burgess Mining NL (ASX:MTB) is developing the Kihabe and Nxuu Zinc/Lead/Silver/Germanium and Vanadium deposits (Project) in Botswana.
Metallurgical and mineralogical test work on Nxuu and Kihabe deposit core has begun to depict encouraging results.
Currently, Mount Burgess is awaiting STEINERT's bulk Sensor Sorter X-ray test work results, and mineralogical test work results from Naples University.
Mount Burgess Mining NL (ASX:MTB) has been progressing developments at the Kihabe and Nxuu Zinc/Lead/Silver/Germanium and Vanadium deposits. Notably, Mount Burgess intends to develop commercial deposits of mineral resources in the event of discovery.
While developments were fostering well at the deposits, Mount Burgess had to delay planned test work because of COVID-19. Notably, the Company was eventually able to organise the collection of cores from the site in October 2020 and commenced the test works.
Test work on the Mount Burgess Nxuu deposit ore was finally conducted by EDS in South Africa. The test work was very encouraging, indicating the ability to reduce the particle size to a P80 of 1mm(1000µ) for <2kWh/t power requirement.
For more details on the recent test work by EDS, CLICK HERE.
Of the two polymetallic deposits defined so far, Mount Burgess remains focussed on developing the Nxuu Deposit first.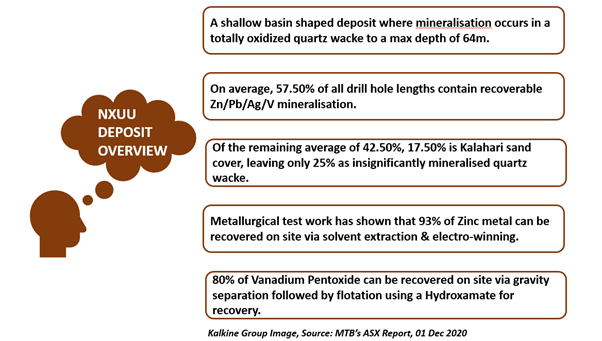 Planned Test Works
During the first half of FY19, Mount Burgess concentrated on test works to minimise, where possible, the planned power required for the Project.
Sensor Sorter X ray test work through STEINERT (Australia) Pty Ltd showed that 45% of all crushed product over 4mm was rejected as insignificantly mineralised upon applying the Sensor Sorter X ray process to ore after crushing.
This merely left 55% product calling for milling and downstream processing.
Bulk Vertical Milling test work through Energy and Densification Systems (EDS) South Africa was planned for early 2020. This eventually began in November 2020 after COVID-19 restrictions were eased.
For the third significant test, the core from the Kihabe Deposit has arrived in Italy for Naples University to perform mineralogical test work and ascertain the host minerals for Germanium and Vanadium.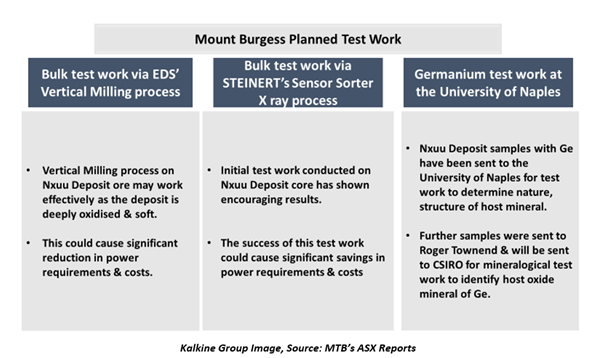 Significance of Test Works
The Nxuu Deposit ore is very oxidised. Consequently, STEINERT's test works produced very encouraging results. Besides, as milling consumes the most amount of power, further positive results may contribute towards significant saving of power requirements and power costs.
Resonating STEINERT, EDS believes that because the Nxuu Deposit ore is so oxidised and soft, their Vertical Milling process will work efficiently. The EDS Vertical Mill only requires 25% of the amount of power required for conventional Ball/SAG/Rod mills. Appreciably, the capital cost of an EDS Vertical Mill is significantly less than that of a conventional ball mill.
Notably, if both these bulk tests work efficiently, the original estimated power requirement for the project of 20 MW could be as low as 12 – 15 MW.
Related Read: Mount Burgess: Enhancing Potential for On-site Beneficiation of Metal Production
Way Forward
A further 345kg of ½ HQ diamond core from 10 holes drilled into the Nxuu Deposit has arrived in Australia for bulk Sensor Sorter X-ray test work to be conducted by STEINERT. The Company will report results from the same once the test work is complete.
Besides, mineralogical test work results from Naples University are also awaited.
MTB shares traded at $0.008 on 21 December 2020.