Summary

Renascor Resources' Battery Anode Materials Project in South Australia holds promising potential amidst lucrative market opportunities spurred by global EV demand.
Renascor Resources has planned a vertically integrated operation, which combines a mining operation at Siviour Project with a downstream processing operation to produce Purified Spherical Graphite (PSG) for sale into the growing lithium-ion battery anode market.
The South Australian project hosts the world's second largest proven reserve of graphite. The Company has developed an environmentally-friendly purification technique to upgrade graphite to deliver battery-grade PSG in a cost-effective and sustainable manner.
The project robustness would underpin the ongoing offtake discussions with battery anode manufacturers, who are also seeking to diversify supply chain outside of China.
Exploration and development endeavours of Renascor Resources Limited (ASX: RNU) have yielded noteworthy outcomes, empowering its strategic position in South Australia. The Company's robust project pipeline peppered with substantial resources has significantly contributed to enhancing its market opportunities.
One such project that has seamlessly delivered outstanding results is Renascor's 100%-owned Battery Anode Materials Project, stationed in South Australia.
The Company plans a vertically integrated battery anode material operation to produce Purified Spherical Graphite (PSG) for use in lithium-ion battery anodes. For this, Renascor plans to combine a mining operation stationed at the South Australian project, Siviour with a downstream processing operation.
ALSO READ: Renascor Resources' Diversified Growth Prospects Well-Suited for Current Market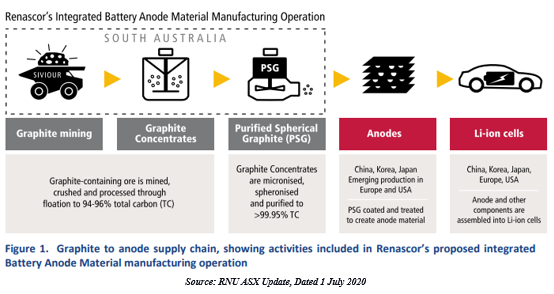 The recent advancements in the project have been typically characterised by the successful completion of a Battery Anode Material Study and impressive test results that seem to boost the confidence in the project.
As global EV market growth continues to intensify the demand for lithium-ion batteries, requiring significant graphite and PSG usage, let us explore the project's robustness amidst the booming prospects. The project would be appraised using four benchmarks, which include its relevance, efficiency, effectiveness, and sustainability for gauging overall competitiveness in the global market.
ALSO READ: Casting Eye Over Renascor's World-Class Siviour Graphite Project
Relevance of Siviour Graphite Project from Global Standpoint
Siviour: The Largest Reported Graphite Ore Reserve Outside of Africa
Siviour Project hosts one of the world's largest graphite ore reserves. Total reserves stood at 51.5Mt at 7.4 per cent TGC for 3.8Mt of contained graphite, as per the July 2020 released updated JORC Ore Reserve estimate. The estimate included Proven Reserves of 15.8Mt at 8.4 per cent TGC for 1.3Mt of contained graphite.
The updated reserve estimate has confirmed Siviour as the largest reported total Graphite Ore Reserves outside of Africa and the world's second-largest reported Proven Graphite Reserve.

The upgraded Ore Reserve offers further confidence in terms of size and quality of the Siviour deposit as a consistent, high-quality graphite source supporting a mine life of over 40 years.
Offers Lucrative Potential for Diversification of PSG Supply Chain Outside of China
For converting Graphite Concentrates to PSG, China currently controls 100% of the downstream processing capacity. Renascor's proposed integrated Battery Anode Material Manufacturing Operation offers a viable alternative to Chinese PSG supply via the first integrated in-country mine and PSG operation outside of China.
Not just eliminating supply dependence on overseas mines, the co-location of graphite concentrates and PSG operations in South Australia also limits supply chain risk for graphite concentrates.
Efficiency Offered by the Project
Renascor's Managing Director, David Christensen quotes, "Siviour has a key competitive advantage in being able to produce Graphite Concentrates at a cost that is amongst the lowest of any graphite development in the world."
A globally competitive gross operating cost of US$1,989 per tonne of PSG has been indicated by the Battery Anode Material Study. The Company aims to achieve this cost-effectiveness by leveraging off the comparatively low-cost of the Siviour Graphite Concentrates as feedstock for producing PSG, and also co-locating the downstream operation in Australia.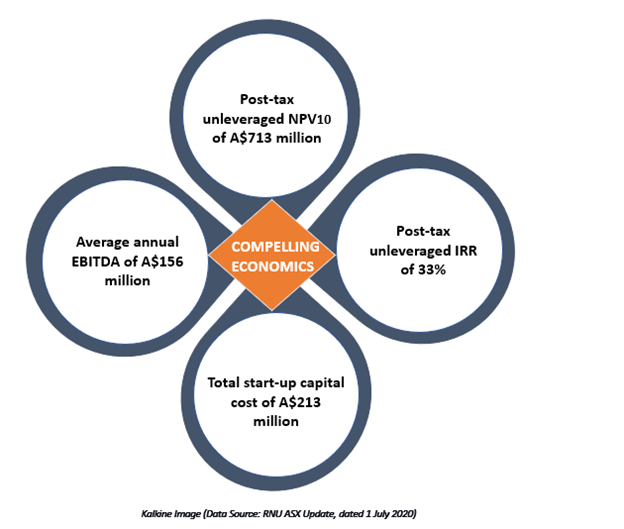 The favourable cost position is particularly crucial for Siviour PSG processing operations, compared to other proposed PSG operations that are not vertically integrated.
The co-location of the Graphite Concentrate and PSG operations in South Australia reduces additional shipping costs, with the battery anode material operation intended to be stationed in Port Adelaide. Significantly, it lies within the planned transport corridor for Siviour Graphite Concentrates.
Effectiveness of the Process and the Products Associated
Renascor has been committed to technical developments and engaged for three years of intensive testing and process design in Australia, Germany and China to develop sustainable as well as a commercially viable process.
Independent purification tests undertaken by German graphite specialist ProGraphite GmbH have confirmed that Siviour PSG meets product specifications, both physical and chemical, that are required by lithium-ion battery anode manufacturers.
The purification test program adopted a standard caustic roast process, which successfully produced samples of battery-grade purity graphite. The Company has indicated the caustic roast purification test results are significant, as they offer independent validation of the ability to produce battery-grade PSG from Siviour Graphite Concentrates.
Ecological Sustainability
Renascor's proposed PSG production via environmentally friendlier chemical purification avoids the use of hydrofluoric acid, thereby satisfying requirements of both end-users and prospective financiers.
The results of tests undertaken by German graphite specialist, ProGraphite GmbH further back the Company's ability to produce high-value PSG. The tests conducted on Siviour spheronised graphite purified to 99.97% carbon PSG by utilising a more environmentally friendly caustic roast purification method.
ALSO READ: Renascor's Success-Churning Ride: An Impressive Symbiosis of Lucrative Prospects and Strategic Efforts
The amalgamation of lucrative opportunities and the project's strength together could contribute towards fostering a strong competitive advantage in the growing battery market. Meanwhile, Renascor with strong government support is engaged in offtake discussions.
RNU stock traded at $0.011 on 28 September 2020 (AEST 11:32 AM). The stock has delivered a return of 120% in the last six-month period.
(All currencies in AUD unless or otherwise stated)
With the pandemic continuing to affect the globe, healthcare companies are evaluating their lead compounds for COVID-19 treatment. Future revenue for these stocks depends on the probability of launching an approved treatment in the market.
CLICK HERE FOR YOUR FREE REPORT!