Summary

Ionic Rare Earths announced the encouraging results from the diamond core drilling program which involved the drilling of 222 holes with a combined depth of 3,745 metres at its flagship Makuutu Rare Earth Project.
Assay results confirm substantial extension in mineralisation with elevated Heavy Rare Earth Oxides (HREO) at the Makuutu Eastern Zone.
Makuutu is one of the largest ionic adsorption clay deposits outside China, the world's major source of heavy rare earth elements.
Makuutu will provide strategic diversity in critical and heavy rare earth supply.
Ionic Rare Earth increased interest to 51% and holds the controlling rights of the project with an option to increase its interest up to 60%.
ASX-listed mineral explorer and developer Ionic Rare Earths Limited (ASX:IXR) is engaged in the exploration of Rare Earth Elements (REE) in Uganda. The Company owns 51% interest in the Makuutu Rare Earths Project with an option to increase its interest up to 60%.
Makuutu hosts a critical and heavy rare earths dominant ionic clay-type deposit similar to the deposits of Southern China, which has enabled China to take a dominant position in the production of low cost heavy rare earths. Makuutu has many of the same attributes and benefits also include near surface mineralisation with excellent simple metallurgical characteristics.
Advantages of Ionic Adsorption Clay REE Deposits
Weathering of igneous rocks that comprise certain Rare Earth Element bearing minerals leads to the formation of Ion-adsorption type deposits. Surface weathering causes the ionized REEs to get absorbed on clay minerals including halloysite and kaolinite.
Ionic Adsorption Clay REE deposits present numerous advantages over the hard rock-hosted REE deposits. The ores from ionic clay deposits can be recovered easily through mild salt washing or leaching which gives chemical precipitate concentrates of high-grade high value REE oxides.
Some of the salient features of ionic adsorption clay deposits are listed below including:
Ionic adsorption clay REE deposits provide less complicated and more cost-effective extraction options than the hard-rock deposits.
China has a monopoly over the supply of heavy rare earth and supplies nearly 95% of world's supply from their ionic adsorption clay deposits.
With the Chinese deposits projected to exhaust in a decade, Makuutu provides an excellent opportunity to cater the market supply with low cost alternative source of critical and heavy rare earths.
Ionic adsorption clays mines do not have radioactive tails which are common in processing hard-rock REE mines and possess an environmental hazard and ongoing legacy.
Source: Company Website
High-value critical and heavy rare earths enriched flagship Makuutu Rare Earths Project
Makuutu holds three licenses with a total area of 132 KM2 with excellent infrastructure and all-weather road connections. Ionic, through its 51% owned subsidiary Rwenzori Rare Metals Limited (RRM), has applied for two new exploration licenses for the Makuutu Project.
The new exploration licenses are strategically targeted and increase the existing tenement around 80% at Makuutu, expanding the strike length from 26 KM to 36 KM in the highly prospective new eastern application.
Makuutu Project Licenses with 2 new EL marked in yellow (Source: ASX Update 6 November 2020)
Operational Updates
Ionic Rare Earths recently shared the assay results from the ongoing drilling program at Makuutu. The Company drilled 222 holes with a combined depth of 3,745 metres in the project area.
The results are highly encouraging with evidence of substantial upgrade in resources. The tranche 3 assays showed a major extension of REE mineralisation to the east of the current mineral resource estimate. The tranche 3 results came for 45 holes, out of which 44 holes reported REE mineralisation above the mineral resource estimate cut-off grade, and showed a higher proportion of heavy rare earths compared to the existing resource area.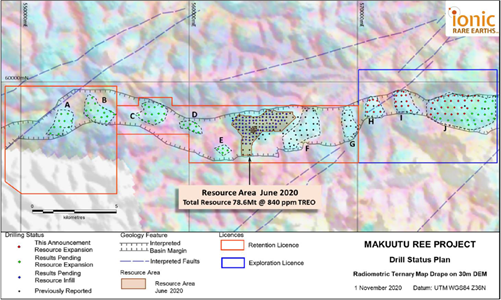 Drilling Program Plan across 3 tenements (Source: ASX update 5 November 2020)
The recent tranche 3 assay results are from the resource expansion are H, I, J marked in the above map.
Some of the significant intersections encountered in the recent diamond core drilling are:
Area H
4.9m at 844 ppm TREO from 3.2m – Hole RRMDD107
3.0m at 987 ppm TREO from 5.1m – Hole RRMDD109
4.2m at 1,318 ppm TREO from 5.3m – Hole RRMDD113
TREO is Total Rare Earth Oxides
Area I
3.6m at 1,230 ppm TREO from 5.1m – Hole RRMDD118
3.1m at 897 ppm TREO from 4.8m – Hole RRMDD119
3.4m at 853 ppm TREO from 5.2m – Hole RRMDD120
15.7m at 537 ppm TREO from 5.7m – Hole RRMDD124

Area J
9.6m at 825 ppm TREO from 4.2m – Hole RRMDD125
3.9m at 740 ppm TREO from 3.2m – Hole RRMDD132
5.6m at 729 ppm TREO from 4.8m – Hole RRMDD142
9.3m at 690 ppm TREO from 4.2m – Hole RRMDD144
5.7m at 872 ppm TREO from 5.7m – Hole RRMDD145
Project Status
The Company has submitted the technical and economic study to the Ugandan Directorate of Geological Survey and Mines (DGSM). The submission of the study was a prerequisite for the renewal application of the Retention License for further 2 years.
After receiving the extension in Retention License, Ionic Rare Earths has to complete the Feasibility Study and Environmental & Social Impact Assessment (ESIA) study to submit along with Mining Lease Application.
Mineral Resource Update
Drill hole assay from the entire drilling campaign is expected to be finished by the end of 2020. The Mineral Resource Estimate announced in June 2020 is 78.6 Mt @ 840 ppm TREO, at a cut-off grade of 300 ppm TREO-Ce2O3.

Makuutu Resource above 300ppm TREO-Ce2O3.cut-off grade. (Source: ASX update 5 November 2020)
TREO- Total Rare Earth Oxides
LREO- Light Rare Earth Oxides
HREO- Heavy Rare Earth Oxides
CREO- Critical Rare Earth Oxides
Share Price Performance
IXR is trading at A$0.015 at 11:04 AM AEST on 20 November 2020, with a market cap of A$38.52 million.