Summary

Rio Tinto and Evolution Mining, two ASX 200-listed metals & mining space players, have released their June quarterly updates.
Rio Tinto's June quarter performance was impacted by various factors, including bad weather conditions and labour shortage.
Evolution Mining, which produced 169,146 ounces of gold in Q2, has pledged to lower its carbon emissions by 30% till 2023.
Two ASX-listed blue-chip stocks from the Australian resources sector have gained investors' attention after releasing their quarterly updates for the period ended 30 June 2021.
The world's second-largest metals & mining company Rio Tinto (ASX:RIO) registered a 12% year-on-year decline in iron ore shipments for the reported period.
While Evolution Mining (ASX:EVN), which is one of the leading gold producers in Australia, achieved group gold production within the original guidance. The company has also affirmed its commitment to net-zero carbon emissions by 2050.
Don't Miss: How did these two ASX energy stocks fare in June quarter?
On that note, let us look at these quarterly updates.
Rio Tinto Limited (ASX:RIO)
The iron ore mining heavyweight reported a fall of 12% in its quarterly iron ore shipments as bad weather conditions affected its Western Australian operations.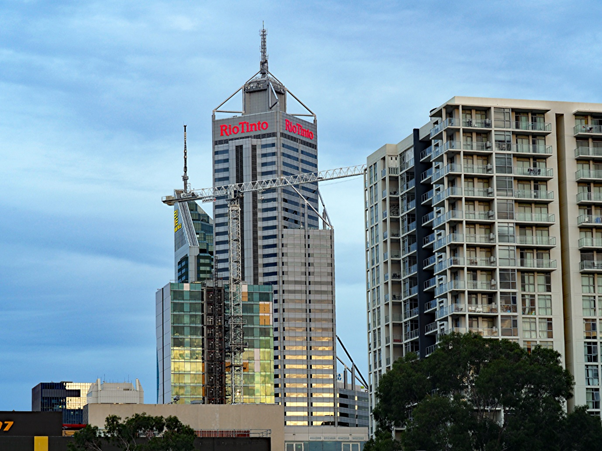 Source: © Rbrucew | Megapixl.com
June 2021 quarter highlights:
For 2021, the company expects iron ore shipments to be at the lower end of the guidance range of 325Mt to 340Mt. This means that RIO may lose its crown of the world's largest iron ore producer to Brazilian Vale SA, which is on track to meet the upper end of its guidance range.
The Australian miner shipped 76.3Mt of iron ore in the quarter, significantly down from 86.7Mt in the year-ago period.
RIO has increased its full-year iron ore production cost guidance due to rising labour and input costs. The miner has been facing labour shortage as the country closed international and national borders.
The company expects a unit cost of US$18.0 to US$18.5 per tonne for the year, significantly up from its previous estimate of US$16.7 to US$17.7 per tonne.
Commissioning at the new Gudai-Darri iron ore hub has been delayed to late-2021, while production from the Winu copper postponed to 2025 from the original estimated dates in 2023 due to coronavirus restrictions.
Meanwhile, the miner remains focused on rebuilding relations with Aboriginal groups after the 2020 Juukan Gorge incident.
The shares of RIO traded at AU$130.3 on 16 July 2021.
Good Read: Can Rio Tinto (ASX:RIO) shares hit the AU$150 mark?
Evolution Mining Limited (ASX:EVN)
The Australian gold miner registered a net mine cash flow of AU$100 million and an operating cash flow of AU$212 million for the June 2021 quarter.
Source: Copyright © 2021 Kalkine Media
June 2021 quarter highlights:
Group gold production stood at 169,146oz with an AISC of AU$1,239 per ounce.
The miner has made firm commitments to achieve net-zero emissions by 2050 and 30% emission reduction in 2030. EVN's MSCI ESG rating has been upgraded to a sector-leading 'AA'.
The miner produced 680,788oz gold in FY21, slightly below its revised guidance range. However, the company's AISC of AU$1,215 per ounce was under its revised guidance range.
For FY21, the miner generated operating cash flow and net mine cash flow of AU$937 million and AU$555 million, respectively, with a group cash flow of AU$327 million.
EVN has a robust future growth plan. The company's three-year growth outlook includes a ramp-up in production from the Red Lake project and the Cowal underground mine.
The group mineral resources increased 74% y-o-y to 26.4Moz, while ore reserves increased to 9.9Moz, up 49% y-o-y.
The shares of the company last traded at AU$4.69 on 16 July 2021.
Also Read: Evolution Mining (ASX:EVN) Enters All-Cash Deal to Acquire Battle North Gold