Summary

Focussing on Niagara (Kookynie) Gold Project, GTI Resources has completed Aircore drill campaign ahead of schedule.
Aircore drilling at the targeted geochemical anomalies has returned quartz veins in multiple holes with intermittent pyrite.
Drilling is further delivering guidance on the structure as well as the lithology within the drilled areas.
Action-packed development pipeline includes- Aircore drilling results, initial gold interpretation, structural and geological model analysis, testing of bedrock targets and multi-element geochemistry.
The Company will conduct a General Meeting of shareholders on 16 October 2020.
GTI Resources Limited (ASX:GTR), fast-tracking exploration at mineral tenements in Western Australia, has been under the spotlight amid the progress over aircore drilling program at its Niagara (Kookynie) Gold Project. The project is based in the central goldfields, Western Australia.
The Company recently concluded the aircore drilling campaign, targeting six of the eight significant gold soil anomalies that were discovered within E40/342.
GOOD READ: Acquainting with GTI Resources' Attractive Uranium & Gold Project Portfolio & Developments
Aircore Drilling Intercepts Encouraging Quartz Vein Structures
Aircore drilling at the targeted geochemical anomalies has returned quartz that veins in multiple holes with intermittent pyrite. They are also associated as silicification and fracture fill.
The encouraging revelation of quartz in vein structures is likely to garner market attention which may continue until further details are disclosed by the Company in due course.
Currently, GTI Resources has stated that the relationship between quartz veins intersection and geochemical anomalies will be established after assay results have been obtained.
Additional Aircore Drilling Significance
The Aircore drilling campaign is also providing guidance on the structure and lithology within the drilled areas. These areas include silicified faults, which adds to the structural interpretation.
Lithologies intersected included granitoids, basalt, metasediments and ultramafics.
Besides, the Aircore drilling was completed well ahead of schedule. 52 drill holes were drilled at an avg. depth of 45 m for 2321 m.
Way Ahead
The excitement continues at in the historically underexplored Niagara Trend with explorers continuing to invest in significant exploration activities. Following suit, GTI Resources launched, progressed, and finally concluded its Aircore drilling program at Niagara Gold Project.
Notably, a robust pipeline awaits that is likely to propel further developments at the Project-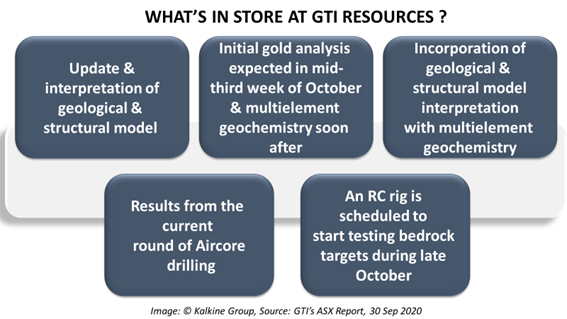 More About Niagara (Kookynie) Gold Project
The Niagara (Kookynie) Gold Project consists of 1 one granted exploration license (EL E40/342). Besides, the Company comprises of 6 contiguous prospecting licence applications (P40/1506, P40/1515, P40/1516, P40/1517, P40/1513 as well as P40/1518).
On 20 July 2020, the Company notified that is has been granted a 5-year extension of term for Kookynie exploration licence E40/0342 until 7 May 2025. Besides, GTI Resources is well-funded to conduct further exploration in the region, with circa $ 4 million available after recent capital raisings.
Recently, GTI Resources obtained promising assays from the second auger soil sampling campaign.
To know about these results, PLEASE READ: GTI Resources Initiates Aircore Drilling at Niagara (Kookynie) Gold Project; Soil Sampling Identifies New Drill Targets
GTI shares quoted $ 0.021 mid-day on the ASX on 1 October 2020. The stock has delivered impressive returns of 320 per cent in the past six months.