Summary

Golden State Mining has added further prospective ground to the east of the current Yule North tenement with the grant of a new Exploration Licence E47/4343.
The recently acquired aeromagnetic data was interpreted and highlighted four additional gold target areas in the newly added intrusive environment for GSM to investigate in 2021.
Under the phase 2 air-core program of up to 15,000m, the Company has completed drilling for a total advance of 7,871 metres, and assay results are expected in early December 2020.
Perth-based gold and base metals explorer Golden State Mining Limited (ASX: GSM) is continuing to underline the exciting exploration potential at its wholly owned Yule Project. The Company, on 27 October, reported approval of a recent tenement application at the project in the Mallina Basin.
The newly granted exploration licence (E47/4343) adds further prospective ground to the east of the Company's current Yule North tenement. Significantly, Golden State reviewed the recently acquired aeromagnetic data, identifying four new target areas in the newly granted tenure in the Yule region.

The Company meanwhile is also progressing its phase 2 reconnaissance drill program of up to 15,000m over six target areas at Yule South and Yule North.
Targets at Exploration Licence E47/4343
The new exploration licence E47/4343 offers an extension of the Boodarie Greenstone Belt within the Sholl Shear Zone and provides an interpreted intrusive-style setting. The open file drilling data recorded only limited base-metal focussed historic drilling with the tenement. At the same time, Core Geophysics identified four targets, all of which are considered primarily prospective for gold.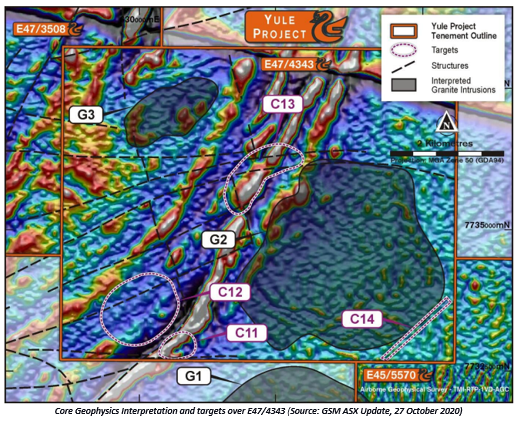 Target C11
The target is an interpreted ultramafic unit exhibiting an apparent loss of magnetism because of structural modification or chemical alteration at a point of flexure.
Target C12
The target is a broad zone of mostly non-magnetic stratigraphy that is mafics, felsics, volcaniclastics and sediments, close to a point of inflexion. The location between two interpreted granitic intrusives is regarded favourable for deformation and the accumulation of mobile fluids.
Target C13
Zone of low stress caused by the intrusion of an interpreted granite pluton at its north-western margin. The area indicates dislocation of south-west trending shears of the Sholl Shear Zone that might favour deformation of dilatant brittle and subsequent mineralising fluids accumulation.
Target C14
Potential low stress interpreted zone produced when G2 intrusion caused warping of regional north-northeast and west-northwest structures at the south-eastern margin.
ALSO READ: Impressive Drilling Summary! Golden State Mining Shining with Robust Gold Potential at Yule South
Phase 2 Air-core program update
The second phase of aircore drilling is progressing well over six target areas. The six target areas include:
Yule South - two intrusive and structural targets
Yule North - four target areas that include Balla Yule intrusion and Sholl Shear Zone
Golden State Mining has completed 106 holes for a total advance of 7,871 metres under the current drilling program. Drilling has been completed at three target areas, including Target 1 West at Yule South and Yule North's Target 1 & 2. The Company expects assay results throughout December 2020.
ALSO READ: Golden State Mining – Spotlight on Success at the Yule Project in 2020
Upcoming Yule Activities in 2020
GSM traded at $ 0.255 on 27 October 2020.