Summary

Gold reached an all-time high price of US$ 2,064 per ounce in August, while investment in gold ETFs is also giving manifold returns.
ASX-listed gold sector players like Bellevue Gold (ASX:BGL), Tesoro Resources and Yandal Resources have delivered significant returns in the year-to-date period.
With silver prices also emerging as the darling commodity, investing community is also seeking silver owing to factors like strong demand and emerging supply disruptions.
Global demand for gold declined in the first half of 2020 to 2,076 tonnes while the price reached to record high of US$ 2,064 per ounce in August 2020. Australian gold exports rose by 29% in 2019-20 and contributed A$ 24 billion to the country's GDP, according to the September 2020 report by the Department of Industry, Science, Energy and Resources. Australia's gold exports are forecast to cross A$ 31 billion mark in 2020-21.
Good Read: Why Should Every Investor Closely Track Gold Price?
In that backdrop, let us discuss few gold and silver focused ASX-listed companies.
Bellevue Gold Limited (ASX: BGL)
Bellevue Gold Limited operates the high-grade Bellevue Gold Project in Western Australia. The company reported 2.3 Moz at 10 g/t to be the JORC global resource for the project, which is one of the highest grades among underdeveloped gold discoveries in the world.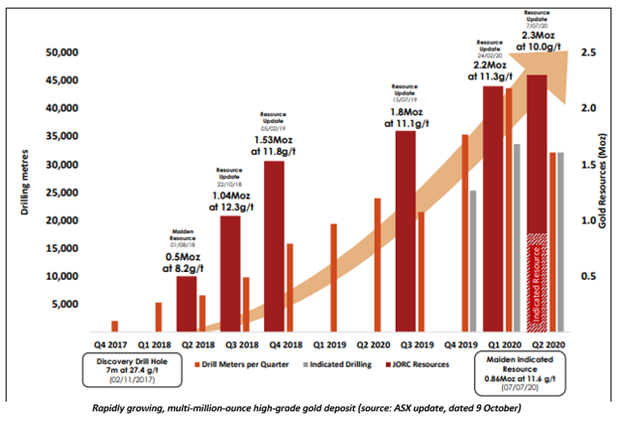 The company, in its latest update to ASX on 8 October, announced the discovery of a shallow high-grade shoot, Armand, an extension to the project. Armand remains open to the north with a 450-metre strike, down dip and down plunge. Drilling activities are ongoing targeted towards incorporating the new high-grade shoot into the next resource update planned for the December 2020 quarter.
Moreover, under the recent state government co-funded EIS three-hole drilling program, the first two holes have hit gold, confirming the existence of potential new reserve in the high-grade Deacon Lode. The results are highly encouraging and suggest significant potential for further discovery in this direction and at depth.
Results included:
From 1057m downhole in DRDD327 extension, 1.6m at 9.3g/t gold from 1096m and 1.2m @ 9.0 g/t gold
From 646.7m downhole in DRDD309 extension, 0.4m @ 42.3 g/t gold
Bellevue will start underground drilling during the current quarter. Additionally, the company has allocated A$ 35 million for exploration and resource definition over the next 15 months. Furthermore, the company is planning to start exploration drilling at its Yandal and Kathleen Valley gold projects.
BGL traded at A$1.160 on 9 October 2020, up 4.505% from its previous close. The stock has delivered a return of more than 107% in the year-to-date period.
Silver Mines Limited (ASX: SVL)
Silver Mines Limited has five projects stationed in the New South Wales region. On 8 October 2020, the Company released an update, unveiling significant assay results from ongoing diamond drilling program around the Northwest High-Grade Zone at the Bowdens Silver Project.
New results include drill hole BD200012 with
From 230m, 4.6m @ 430 g/t silver equivalent (215 g/t silver, 3.1% zinc, 1.9% lead)
From 274m, 2.8m @ 706 g/t silver equivalent (169 g/t silver, 3.2 g/t gold, 6.5% lead, 1.3% zinc)
The drilling program is ongoing. The project has the largest known undeveloped silver deposit in the country. Bowdens Silver Project is estimated to have JORC measured, indicated and inferred resources of 128 million tonnes at 40g/t of silver. Based on the feasibility study, SVL noted that the Bowden Project would produce 3.4 million ounces of silver per year.
The company operates four more projects in New South Wales-Barabolar, Conrad, Webbs and Tuena projects. SVL generated revenue of A$ 115,946 in FY20, which is slightly lower than the level of FY19 of A$ 125,674. The reported loss has nearly doubled in FY20 from the previous year and stands at A$ 3.748 million.
SVL traded at A$0.210 on 9 October 2020, up 5% from its previous close. The stock has delivered a return of more than 73% in the year-to-date period.
Good Read: Silver Back in Action!! Charts Reflecting on Bullish Sentiments
Tesoro Resources Limited (ASX: TSO)
Tesoro Resources Limited is focused on gold projects, operating the EL Zorro Project in Chile. On 9 October, the company updated to have received assay results for four infill holes at the Ternera prospect at the El Zorro project. All holes, ZDDH00033, ZDDH00034, ZDDH00035 and ZDDH00036, intersected multiple gold mineralised zones.
Image Source: © Kalkine Group 2020, Data Source: ASX Update, dated 9 October
Due to logistical issues owing to transport restrictions arising from COVID-19, some delays are expected on turnaround time for remaining assay results. The company continues to drill at the prospect.
Moreover, Tesoro Resources has planned additional holes to test the newly identified northern and southern extensions, as well as ongoing infill drilling for resource definition.
TSO traded at A$0.395 on 9 October 2020, up 2.597% from its previous close. The stock has delivered a return of more than 1295% in the year-to-date period.
Yandal Resources Limited (ASX: YRL)
Yandal Resources Limited is active in Western Australia and has gold projects in the Yandal and Norseman-Wiluna Greenstone belts. The company has 3 major projects running- Gordons Gold, Mt McClure Gold, and Ironstone Well & Barwidgee Gold projects.
In its latest update to ASX, the company announced the presence of a high-grade gold prospect in the Gordons gold project, with new 1m downhole sample fire assay results reported from RC drilling. In mid-September, the company commenced a 10,000m AC drilling program at the Gordon Dams prospect, which is expected to complete at end-October.
During the December quarter, the company has planned following activities at the project:
Finalising the AC drilling program at Gordons Dam and regional prospects
Concluding diamond drill program for Gordons Dam
Performing sighter metallurgical testwork on Gordons Dam mineralised intervals
Secure and assess pending results from the remainder of the RC program
YRL traded at A$0.365 on 9 October 2020. The stock has delivered a return of more than 61% in the year-to-date period.
Also Read: ETFs Inflow and Capital Influx in Gold: Australian Gold-Backed ETFs – Massive Capital Influx, Impeccable Performance, And Record Values