Summary

At Benchmark's Battery Day event, EcoGraf discussed on the positioning in the Anode market expanding across mining, purification and processing and recycling from production scrap and Black mass.
Vertical Integration of the Graphite business to ensure high quality anode components and superior battery performance.
EcoGraf seeks to develop Kwinana processing facility and the Epanko processing plant.
EcoGrafTM purification process reports production recovery of 98.6-100% from scrap and 98-99.6% recovery from black mass.
An innovative Battery Anode producer, EcoGraf Limited (ASX:EGR) presented its Lithium-ion battery recycling results at the Benchmark Mineral Intelligence's Battery Day on 23 September 2020. This presentation was on the back of Tesla's Battery Day event.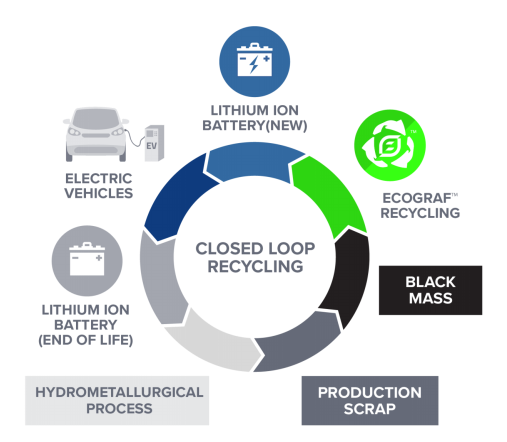 Source: EcoGraf Presentation 23 September 2020
EcoGraf's Managing Director Andrew Spinks interacted with the attendees on the prospects of EcoGraf™ purification process to recover carbon anode material efficiently from the battery waste and end of life-batteries, improving the anode lifecycle and creating a closed loop manufacturing process for battery quality anode material.
Interest Read: EcoGraf Stands Tall with High-Quality Spherical Graphite Products Ideal for EV Market
Graphite Markets Presenting the biggest Investment Case Among the Battery Minerals
As per the World Bank May 2020 report, demand for graphite is anticipated to grow by 494% to 4,590 kilo tonnes a year in 2050 against the supply of 930 kilo tonnes in 2018. Graphite is forecast to contribute almost 53.8% of the battery metal demand presenting a dominating scenario for graphite.
Roskill, a premier Commodity research and consulting firm, anticipates the natural graphite demand to surge by over 700% by 2025.
Source: EcoGraf Presentation 23 September 2020
The recent pandemic is anticipated to have accelerated the transition rate for clean energy and electric mobility supported by mega incentives and reforms across major markets.
In December 2019, the EU together committed €3.2 billion investment to improve the battery metals value chain:
secure raw materials supply,
manufacturing,
management systems and
Recycling of these critical minerals.
Furthermore, the development of a modern ecosystem serving the energy storage and electric vehicle markets is anticipated to draw another €5 billion in private investment in Europe alone. EcoGraf is well positioned to support the burgeoning requirement for high-quality battery components for the transition to green energy.
Vertically Integrated Graphite Business to Close the Carbon Loop
EcoGraf presents an innovative solution to vertically integrate the graphite business, supporting the transition to clean energy and electric mobility. The Company plans to develop a sustainable mining operation, ensuring long term supply of graphite to be utilised for the production of battery grade spherical graphite and recycling the graphite anode material.

Source: EcoGraf Presentation 23 September 2020
Kwinana Graphite production Facility: EcoGraf plans to build a state-of-the-art commercial battery grade graphite purification facility in Kwinana, the World's first of its kind outside China, with an initial production capacity of 5,000 tonnes per year with expansion to 20,000 tonnes per year by 2022. The proprietary EcoGraf™ purification process eliminates the use of toxic hydrofluoric acid, enhancing the ecological aspect of the proposed operation.
EcoGraf has conducted over 3 years of pilot test work in Germany confirming effective amenability of EcoGrafTM purification process to varying feedstocks. EcoGraf has also secured a multi-year supply contract with German major Thyssenkrupp AG's subsidiary Thyssenkrupp Materials Trading GmbH.
Under the contract, EcoGraf would supply up to 10,020 tonnes a year of Spherical graphite product and fines from the proposed Kwinana plant.
Source: EcoGraf Presentation 23 September 2020
EcoGraf is currently progressing on negotiations to secure financing worth $35 million with the Australian government and is advancing on finalising the development, operations, and maintenance arrangements.
EcoGraf Timeline, Source: EcoGraf Presentation 23 September 2020
EcoGraf confirms Superior Battery performance against Existing Competitors
While the level of crystallinity governs the electrochemical performance of the graphite, EcoGraf plans to utilise the feedstocks from the Epanko Graphite project, which has demonstrated superior performance against existing anode precursors. EcoGraf plans to use the suitable raw feeds from Epanko for production of Spherical Graphite at the Kwinana processing facility.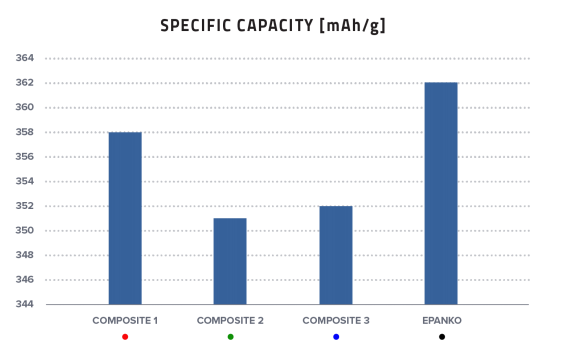 Source: EcoGraf Presentation 23 September 2020
The crystallinity of the battery graphite directly impacts the battery performance, including the power output, battery life and the charging capability. EcoGrafTM purified spherical graphite product indicated a discharge efficiency of over 94.5% during the first cycle, reflecting excellent performance.
Read Here: EcoGraf Riding EV Wave with Substantial Recycling Opportunity
Superior performance and cost competitiveness are EcoGraf's approach in the current battery market.

Source: EcoGraf Presentation 23 September 2020
Epanko Mining Operation: Epanko mine is an advanced stage mineral project awaiting development in Tanzania. As per the Bankable Feasibility Study, the mineral project would produce up to 60,000 tonnes of high value graphite products per year with a Freight on Board cost (FOB) Dar es Salaam cost of USD 500 a tonne. The project has a low pre-production capital of USD 88.9 Mn and with pre-tax NPV10 of USD 211 Mn and an IRR of ~40%.
EcoGraf has already secured binding and offtake agreements of 44 ktpa which completely covers the initial production and is proceeding with negotiations with leading European carbon groups to secure contracts for the remaining 16 ktpa supply.
The Company presently holds sales agreements with international players including Thyssenkrupp (Germany) and Sojitz Corporation (Japan) and EGT Europe for flake graphite business.
Recycle: Presently, the battery anode materials are not recycled and is landfilled while there is an increasing focus towards the recycling of cathode materials. As per the research by CSIRO, it is forecast that up to 95 per cent of battery waste can be recycled for battery and industrial uses.
Must Read: Robust and Experienced Management Paves Way for EcoGraf
A close coordinated effort between the government and industry is underway to establish sustainable and effective recycling processes from waste. Bloomberg predicts the battery recycling market to grow to over USD 18 billion over the next decade.
The EcoGrafTM proprietary purification process has proven to effectively recover high purity carbon anode material from both Li-ion production scrap and the black mass materials.
Source: EcoGraf Presentation 23 September 2020
The high purity graphite market is considered to hold carbon grades > 99% with the synthetic market holding grades of at least 98% C.
Source: EcoGraf Presentation 23 September 2020
EcoGraf plans to effectively implement the EcoGraf™ purification process assisting the EV and battery manufacturers to accomplish a sustainable closed-loop manufacturing process. EcoGraf is collaborating with key stakeholders to carry out further work to enhance the process.
Suggested Read: EcoGraf's Significant Battery Recycling Results Support Global Efforts to Increase Recycling of Li-ion Batteries
On 30 September 2020, EcoGraf was trading at $0.190. The market capitalisation stood at $65 million.
All financial information pertains to Australian dollar unless stated otherwise.