Summary

EcoGraf released the development report for financing, construction and operation of the new EcoGraf™ Processing Facility
The development report included financial modelling which estimated an equity IRR of 42.4%, and a payback period of 3.3 years
Option for 6.7-hectare spherical graphite processing facility site lease has been secured in the Kwinana-Rockingham Strategic Industrial Area of Western Australia
EcoGraf presents innovative products and recycling solutions to the graphite ecosystem. The company has registered EcoGraf™ trademark and also holds numerous IP rights patent files.
Graphite focussed explorer and developer, EcoGraf Limited (ASX:EGR) concluded the development report for the financing, development and operation of EcoGraf™ Processing Facility in the Kwinana-Rockingham Strategic Industrial Area of Western Australia.
The development report, that was prepared in conjunction with GR Engineering Services Limited, includes the project fund considerations, including raising the debt financing with Export Finance Australia .
EcoGraf's state-of-the-art spherical graphite processing facility
In a first, EcoGraf plans to develop the world's only purified spherical graphite processing facility outside China. The development of battery anode graphite facility is anticipated to play a vital role in developing an ecosystem of battery and its component in Australia at a time when the electric vehicle, anode and battery manufacturers aim to diversify across battery mineral supply chain.

Source: EcoGraf Development Report 5 November 2020
The graphite processing facility will produce over 20,000 tonnes per annum of Spherical graphite products which the company would export to Asia, Europe and North America. The development of the graphite processing facility bodes well with the government's Future Battery Industry strategy. Recently, EcoGraf secured the option to lease a 6.7 Ha industrial site in the Kwinana-Rockingham Strategic Industrial Area of Western Australia.
Must Read: EcoGraf secures 6.7 ha site for its first Graphite Facility, Stock Rallies Hard
As per the Benchmark Mineral Intelligence, the battery graphite market is anticipated to experience strong annual growth of 31.5% over the next decade to reach 1.2 million tonnes per annum by 2030. The US$72 million processing plant would be developed using a debt financing of US$35 million which will be fully repaid upon reaching full production.
Source: EcoGraf Development Report 5 November 2020
The financial model confirmed the strong economic returns anticipated from the EcoGraf™ Processing Facility supporting debt financing as well as providing cash flow for future development.
As per the model, the financial model indicates an equity Net Present Value (NPV) of US$317 million with an IRR of 42.4% and a payback of only 3.3 years, bolstering the confidence in the graphite facility.
The financial model was prepared with the assistance of Ernst & Young, including the cost and physical data from the purification test work, feasibility and engineering programs by GR Engineering.
Vertically Integrated Business to Tap the Burgeoning Graphite Demand
As per the May 2020 report 'Minerals for Climate Action: The Mineral Intensity of the Clean Energy Transition' of World Bank Group, Graphite is the largest mineral component of a lithium ion battery contributing to over 54% of all the minerals required for manufacturing of battery packs by 2050.
Important Read: EcoGraf Stands Tall with High-Quality Spherical Graphite Products Ideal for EV Market
EcoGraf plans a vertically integrated Graphite business to deliver high quality graphite products for the Lithium ion battery market and other industrial applications. EcoGraf plans a graphite mining operation at Epanko mine in Tanzania, a spherical graphite processing facility in Western Australia and carbon anode recycling using EcoGrafTM proprietary purification process.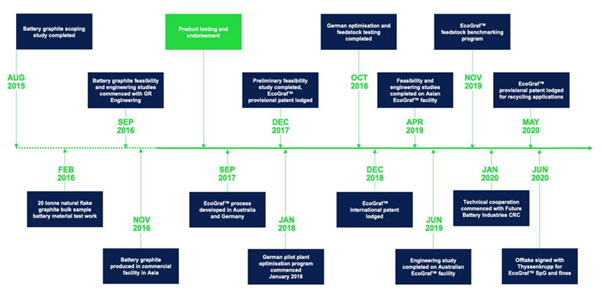 Source: EcoGraf Development Report 5 November 2020
The development of the EcoGraf's proprietary purification process is a major milestone and it is the first non-hydrofluoric acid process which can be consistently used to produce high-quality spherical graphite at a competitive cost against current production techniques.
In order to secure the intellectual property rights associated with the process, a number of the patents were submitted, and EcoGraf™ trademarks have already been registered wherever applicable. Wrays, one of the largest Australian intellectual property firm, had carried out the patent and trademark activities on behalf of EcoGraf.
Must Read: EcoGraf (EGR) signs MoU with Leading Battery Recycler SungEel Hitech to recover and reuse Carbon anode material
EcoGraf has collaborated with the Australian Future Battery Industries Co-operative Research Centre (FBI-CRC) which is a joint venture between the Australian Government and several university research centres. The FBI-CRC is committed to develop the technical capabilities in lithium-ion battery activities and support the development of a strong battery supply chain in Australia.
Globally, EcoGraf is a member of the EBA250 network which aims to support the development of a battery industry in Europe which is estimated to grow over €250 billion annually by 2025.
EcoGraf continues to develop a sustainable vertically integrated Graphite business and has received interests from potential strategic partners within the Li-ion supply chain and strong support from the state and the Federal government agencies with regard to export market development opportunities in Asia and secure mandatory approvals for the conducting the site activities.
EcoGraf has appointed KPMG to provide advice on research and development matters. Also, plant designs for the new facility include provision for a dedicated on-site research and development laboratory.
Also Read: EcoGraf Presents at Benchmark's Battery Day, Emphasises on Closing the Carbon Loop
EcoGraf traded at $0.160 a share on 17 November 2020 with a market capitalisation of $60.05 million.
All financial information pertains to Australian Dollar unless stated otherwise.