Summary

The share price of FMG surged more than 100% in 2020 and reached its all-time high of AU$26.4 in January 2021.
FMG achieved a major milestone in April this year with more than 1.5 billion tonnes of iron ore exported since its establishment.
The strong demand for iron ore has fuelled the price of this base metal to nearly US$218/tonne.
Iron ore demand is expected to soften a little in the second half of 2021, and the prices are forecast to come down from their current level.
The share price of iron ore behemoth Fortescue Metals Group (ASX:FMG) more than doubled in 2020. In January last year, FMG shares traded at AU$10-11, while on the last trading session of 2020, the share price settled at AU$23.43.
The FMG share price touched its all-time high of AU$26.4 in January 2021.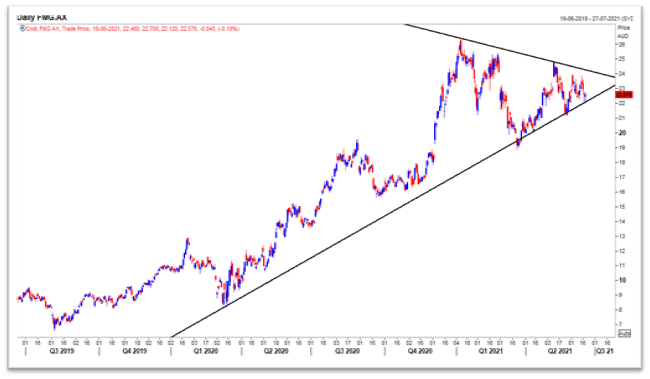 Price chart of FMG shares (Image source: Refinitiv, Analysis: Kalkine Media)
Read here: Here's How Fortescue Metals (ASX:FMG) Scored its Record Half-Year Performance
The share price is in uptrend since 2019 as it is evident from the above chart. The share price is currently consolidating in the range of AU$22 to AU$25. Any favourable event at this stage can trigger the prices to breach their 52-week high.
Traders and investors keep a keen eye on the Company's financials and market updates, wondering whether the share price would touch AU$30 in the near term.
Interesting read: Five blue-chip stocks that pay high dividends
The perception of the market plays a big role in the share price movement of any company. Good perception depends on the performance of the business in macroeconomic conditions. The quality of stock and valuation drives the investors towards a particular stock.
Let us examine the quality and valuation of the FMG stock to see how far the prices may go in a limited time frame.
The year 2020 was phenomenal for many reasons for the commodity market. Though the worldwide lockdowns were imposed, the prices continued to surge for commodities, including gold, copper, iron ore, and aluminium.
The rise in the prices of these commodities also transferred to the share price of companies engaged in their mining and trading. Strong demand for iron ore from the steel industry in China pushed the demand for this base metal in 2020. Also, lockdowns and floods affected Vale's production in Brazil, leading to a fear of shortage in the market.
Also read: Fortescue Metals (ASX:FMG) Vows To Go Carbon Neutral by 2030, 10 Years Ahead of Target
Iron ore was trading at US$91.50 per tonne during the beginning of 2020 and moved all the way up to US$163.73 per tonne at the end of 2020. The bull run of iron ore price extended to the share price of FMG. The other major players like BHP Group (ASX:BHP) and Rio Tinto (ASX:RIO) also gained traction in their share prices but nothing like that of FMG.
This year in April, FMG achieved another milestone at its Pilbara operations. The Company, in its short operational period, has exported 1.5 billion tonnes of iron ore. FMG was established in 2003 and achieved its billion tonne iron ore export mark three years back in 2018. In only three years, another half a billion or 500 million tonnes were exported.
To know more: read Fortescue Metals Group (ASX:FMG) Rejoices Iron Ore Shipment Milestonev
Iron ore outlook
Iron ore with 62% iron content has reached a price of US$218.99 per tonne. Many analysts believe that the current price is not sustainable for a longer period, and the prices may soften a little during the second half of 2021. China, the largest importer of iron ore, accounts for nearly 70% of the global shipments.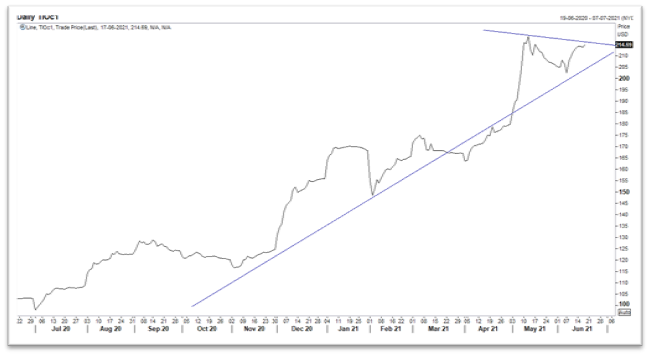 Price trend of iron ore for last 1 year (Image source: Refinitiv, Analysis: Kalkine Media)
The demand from China is expected to go down gradually as Chinese firms are looking for iron ore supplies from mines in Africa and have made some major breakthroughs. Also, China is the main importer of Aussie iron ore.
Steep competition could be witnessed in the iron ore export market as supply from Brazil is also normalising and some actions could be seen from African countries.
But nothing would happen overnight, and things will take time to settle in the metals and mining industry.
Australia holds some of the largest iron ore mines in the world and the key would be how well a company is managing its operations and keeping its margins intact.
FMG has done a good job when it comes to mine operations and utilising its capital well on its projects. Return on capital employed or ROCE of FMG is around 44% and is well above the average of the metals and mining industry.
Good read: Fortescue Metals Group Ltd (ASX:FMG) defers Pilbara's Iron Bridge Magnetite Project