Summary

Avenira raised $2.2 million through a placement and another $1.2 million through an Entitlement Issue; funds raised to be used primarily for the drilling program at Jundee South project
A total of 24 targets were identified and classified in terms of priority at the Jundee South project through geophysical analysis of historic aero magnetic data and newly completed ground magnetic data.
Avenira subsequently analysed and completed a historical review of drilling and mining data from 6,158 holes which aligned with some of the targets identified in the geophysical work.
ASX-listed gold and phosphate explorer, Avenira Limited (ASX:AEV) released its cashflow and activities report for the quarter ending on 30 September 2020.
Placement and Entitlements Issue to fund the drilling activity at Jundee South project
During the September quarter, the company reported the completion of Placement and Entitlement issue to raise $3.4 million for the upcoming drilling activities at the Jundee South gold project. Over $2.2 million were raised through placement via issuance of 277.28 million new shares at an issue price of $0.008 a share.
Through the Entitlement Issue, Avenira raised another $1.2 million under a non-renounceable pro-rata entitlement offer. The company has offered an opportunity to subscribe 2 new shares for every seven existing shares at the issue price of $0.008 a share. The capital raised would be primarily used to undertake a drilling campaign at Jundee South project.
Drilling program at Jundee South project
The exploration team at Avenira classified the targets into various priority levels on the 4 criteria. A total of 24 targets were identified based on the criteria, 8 were put in Priority 1, 6 were put in Priority 2, and the rest 10 were put in Priority 3 target classification.
Avenira has commenced an air core drilling program to test Priority 1 and Priority 2 targets in the Jundee South tenements. The company is using high-resolution ground magnetic survey to identify and locate regional subsurface anomalies like faults and shear zones.
Avenira has so far used the magnetic survey on four Priority 1 targets to get precise local fault location and map the rock contacts with accuracy. The magnetic survey data were used for more precise interpretation.
The initial drilling results from a Priority 2 target hole are encouraging. The rocks show potential mineralisation fluids which are responsible for Quartz-Sericite-Pyrite alteration. These alterations indicate the circulation of hydrothermal fluids, which precedes the gold emplacement.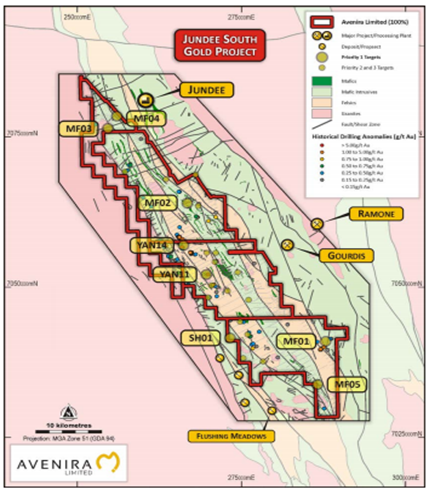 Location of anomalies, drill holes and priority targets Source: Avenira ASX Update 30 October 2020
Avenira reported an exploration expenditure of $220,000 during the September quarter. The cash balance stood at $3.535 million at the end of the September quarter.
Focused Explorer
Avenira owns a strong portfolio of gold and phosphate projects across Australia. The explorer is progressing on exploration and development of their gold assets at Jundee South.
Jundee South gold project - Avenira holds a premium gold mining asset- Jundee South gold project in the prolific Yandal Greenstone Belt. The gold project stretches over 720 square kilometres and enjoys access to the existing mining infrastructure. The wholly-owned project is located in the vicinity of world-class Jundee Mine (10Moz), Bronzewing (4Moz) and Darlot (3.5Moz) deposits.
Wonarah Phosphate project - Wonarah phosphate project is one of the largest phosphate projects in Australia located in the Northern Territory. Avenira plans to transform Wonarah into a major centre for the production of super phosphoric acid.
Avenira traded at $0.018 a share on 4 November 2020 with a market capitalisation of $14.66 million.