Summary

Empire Resources Limited steadily grown its business over the years and through organic exploration activities as well as solidifying its investment portfolio.
ERL's two prospective projects have returned excellent results for the Company that offer direction for future exploration in the area.
ERL's investment in NTM Gold has also improved significantly since the Company first acquired its share.
Exploration and resource investment company Empire Resources Limited (ASX:ERL) has endured through several ups and lows in its history and has shown steady growth over the period. On top of this, the Company has been able to add value to its portfolio of land assets through organic exploration activities.
ERL's consistent efforts and engagement in mineral exploration activities along with an evaluation of properties across Australia has fuelled the Company's growth.
Interesting Read: ASX:ERL tides over the rough patches, moves ahead with Fresh Momentum
The Company's investment portfolio comprises the Yuinmery Copper-Gold Project and the Penny's Gold Project as land assets. In addition to this, the Company holds a notable investment in NTM Gold Limited (ASX:NTM), which has shown substantial growth over the years.
Let us look closely at this investment portfolio of ERL and learn about the latest developments.
Yuinmery Project Delivered Encouraging from RC Drilling
ERL's Yuinmery project has continued to deliver excellent results and has shown the presence of a broad zone of PGM's at the project's YT01 prospect. Results like these offer significant encouragement for the Company to explore and benefit from excellent opportunities for significant discoveries at the project.
September Quarter Update: Empire Resources Limited's (ASX:ERL) Progressive Exploration In September Quarter Stems Plans for Further Drilling
ERL has received encouraging results from the RC drilling program and encountered copper-nickel mineralisation in Smith Well prospect's north-east region.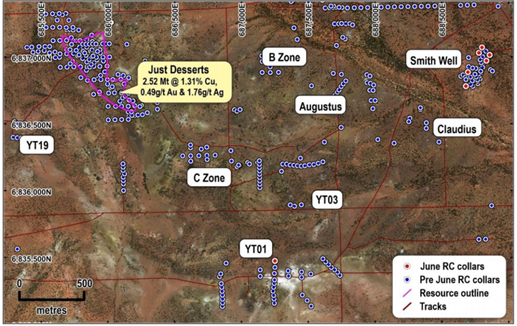 Yuinmery Copper-Gold Project Prospects and Drill Hole Locations (Source: ASX Announcement 29 October 2020)
At the YT01 prospect, ERL plans to undertake aircore drilling for testing geochemical and geophysical targets in the area. In addition to this, a Follow-up RC drilling was also planned for a time when the RC drill rig would be available.
The significant RC drilling results offer ERL a way ahead for future drilling for assessing the scope as well as the depth of mineralisation in the area. However, ERL believes that there is a need for a definitive study in the area.
Related: Empire Resources Reports Significant Results from Drilling Campaigns, Stock Zooms by ~7%
Outstanding Results Delivered at Penny's Gold Project
ERL's exploration efforts at the Penny's Gold Project also continued to deliver outstanding results from aircore drilling at the area, which boasts multiple high priority drill-ready targets. Previously, ERL completed 1,381m aircore (AC) drilling program at this promising project with a view to testing the scope of gold mineralisation at the PF09 prospect.
PF09 Aircore Drillhole Locations (Source: ASX Announcement 29 October 2020)
Related: Empire Resources' Financials Reflect Green Shoots; Exploration Expenditure Increases By 436%
ERL had also encountered broad zones of anomalous arsenic, which are believed to be significant based on the strong correlation of gold with arsenic values indicated by the proximal deposits Penny's Find and Garibaldi.
PF09 Prospect Cross Section 6,626,850mN (Source: ASX Announcement 29 October 2020)
The Company had crucial plans for follow-up drilling at the project, which is aimed at testing the consistency and depth of gold mineralisation that was intersected in the AC drilling program. The additional focus shall remain on the multiple high priority gold targets that lie within the project area.
Interesting Read: Empire Resources Limited Calls the Tune in Its Significant Landholdings, A Walk Through Its Project Portfolio
ERL's Investment in NTM Gold Limited
One of the investments of ERL that has proven significantly lucrative for the Company is its investment in NTM Gold Limited.
ERL had secured its shares in NTM in July 2019 and invested $1,499,875 at $0.0325 per share through participating in the placement to institutional and sophisticated investors. At the end of the September quarter ended 30 September 2020, ERL held 45,888,708 shares in NTM, indicating an interest of 6.76%.

Source: ASX
Presently, NTM shares were noted trading at a price of $0.135 per share with a market capitalisation of $95.84 million on 30 December 2020. As on this date, the visible growth in NTM's share price is around $0.1025 from its price on the date of ERL's investment.
Important Discussion at: Empire Resources Cracking Crust at Yuinmery Project With Excellent Exploration Results, Secures Funding Through Placement
In a nutshell, ERL believes that there are exciting times ahead for the Company amid excellent gold and base metal prices. These could help significantly in establishing fresh momentum for the Company in the future course of exploration.
Interesting Read: How Is Empire Resources' Investment In NTM Gold Placed Amid Market Volatility?
ERL share price closed at $0.012 on 30 December 2020 with a market capitalisation of $10.90 million.