Critical minerals topped the 2021-G7 summit agenda. These are metals and non-metals playing a vital role in shaping the current world economic well-being. For example, most critical minerals like Lithium (Li), Nickel (Ni), and Cobalt (Co) are raw materials for rechargeable batteries, wind turbines, solar panels, etc. All of which are taking the world to a greener future.
During the pandemic, interest in EVs and Lithium powered batteries has been strong. Around 46% of the worldwide lithium consumption is for rechargeable batteries. Demand for lithium hydroxide, fit for batteries, is set to grow at an average rate of 27% per annum, from 2020 to 2030, as per Resources and Energy. To remove any possible bottlenecks in supply, many miners worldwide are shifting their focus on lithium.
Australia is the world's biggest lithium supplier. In 2020 it produced 49% of the world's lithium. Aussie lithium export earnings are expected to increase to AU$2.5 billion by 2023. Aussieland lithium production is recovering strongly. The collective lithium concentrate supply chain projected to be worth AU$26 billion by 2025.
Price appreciation from surging demand is favorable for producers. Moreover, lithium mining and refinery advances have set up Australia quite well to fulfill the requirements of battery makers.
Liontown Resources Limited (ASX:LTR) is one Australian miner shifting focus on Lithium. For Liontown, Lithium is shining brighter than gold. Its Kathleen valley project is amongst the largest high-grade, hard rock lithium deposits in the world. LTR has the 4th largest attributable hard rock lithium resource globally.
LTR shares skyrocket
Battery metal companies have been keenly followed by many market participants and this is reflected in the share price appreciation of LTR.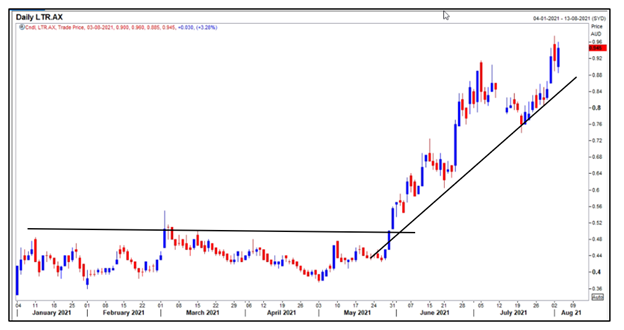 LTR Price chart YTD, Image Source: Refinitiv
In the last one year alone LTR has delivered its shareholders a return of over 623%. Even in the short term the shares have maintained momentum, with returns of 17% in 1- month, and 135% in the past 3- months.
So what makes LTR so attractive in 2021?
Operational Focus-
LTR primarily explores lithium and gold. It has uncovered premium-grade discoveries at its Kathleen Valley Lithium project in Western Australia. LTR's other projects include the Koojan JV gold project, Buldania lithium project, and Moora gold-nickel-copper project. The Buldania & Kathleen projects are hard-rock lithium projects located in Lithium rich WA. It now also has positions in the emerging Julimar mineral province, with bedrock mineralisation confirmations. LTR's Koojan JV project produces Nickel along with gold, another popular battery metal. LTR aims to become a world-class battery materials producer with its Kathleen project.
Financial Highlights-
LTR is a Debt-free company and does not have any debt-natured long-term liabilities on its Balance sheet.
As of the end of Q4-2021 ended June 2021, its' cash and liquid assets balance was AU$14.8 million.
During the June Quarter 2021, LTR spent AU$2,064,000 on exploration and evaluation activities, 31% of its YTD exploration.
Post-quarter-end, LTR completed an AU$52 million capital raising to accelerate and optimise the Kathleen Valley Lithium Project development.
With the issue, LTR increased its cash and liquid assets position to approx. AU$66 million.
Recent Developments-
Royalty termination-On 2 August 2021, LTR reported termination of Kathleen Valley Royalty rights held by Ramelius Resources (ASX:RMS). Liontown has agreed to pay Ramelius AU$30.25 million in return. Elimination of the royalty will be value accretive for LTR and support cost optimization at Kathleen project. With this agreement it has further enhanced its position in the Kathleen Valley.
Non-lithium assets Demerger- On 14 July 2021, LTR confirmed the identification of solid gold anomalies at its Koojan JV. Even the Moora project delineated numerous significant bedrock mineralisation zones. Both the projects are currently undergoing demerger work of LTR's non-lithium assets. A demerged entity is to get listed later this year. The demerger will be by way of a pro-rata distribution to LTR shareholders as of record date. Necessary regulatory and other approvals are still pending for the new gold-focused entity.
To sum up
LTR expects the strongest growth in the lithium hydroxide segment, providing it a competitive advantage for its hard rock resources. It is actively assessing downstream opportunities in the lithium value chain. LTR is also developing additional lithium assets at its Buldania project. As claimed by LTR, it brings investors a unique opportunity to invest in globally significant lithium resources. Strong demand growth from global energy transformation supports new spodumene projects like LTR's. As per LTR, downstream producers have historically had higher and more resilient margins in the lithium market.
Further, the Company's existing investors can also benefit from the gold asset returns, through the placement to be received in the proposed gold-focused entity. Post IPO, eligible Liontown shareholders will hold 70- 80% of the new company. The demerger is aimed at unlicking value and providing the management a clearer mandate while running focused businesses.
The battery metal space has been in the reckoning of many investors and hence the momentum has been quite strong with many governments incentivising green energy infrastructure. However, as history has taught many seasoned investors, being prudent is more important especially while studying cyclical industries.