Decarbonisation efforts around the world are pushing the expectations of EV sales higher. The heightened EV sales expectation is fueling demand for batteries. Lithium-ion batteries constitute a high share of batteries produced globally. Given this, the market participants expect the Lithium demand to remain high in 2022.
Lithium explorers are working on capacity expansion in order to capture the demand via output prices and profit on the same. One ASX-listed stock which is moving forward in this direction has already gained a fair share. The stock price of this mid-cap explorer has gone up 23% in last 3 months and about ~300% in a year.
We are talking about, AVZ Minerals Limited (ASX:AVZ).
AVZ Mineral's business at a glance-
AVZ Minerals Limited is an Australian mineral explorer. The company is focused on developing the Manono Project.
Located in the Democratic Republic of Congo (DRC), Manono project is amongst the world's largest lithium-rich LCT pegmatite deposits. AVZ Minerals holds a 75% interest in it.
Other than the Manono Project, AVZ also operates various base metal prospective projects in Namibia.
Price Performance of AVZ shares on the ASX-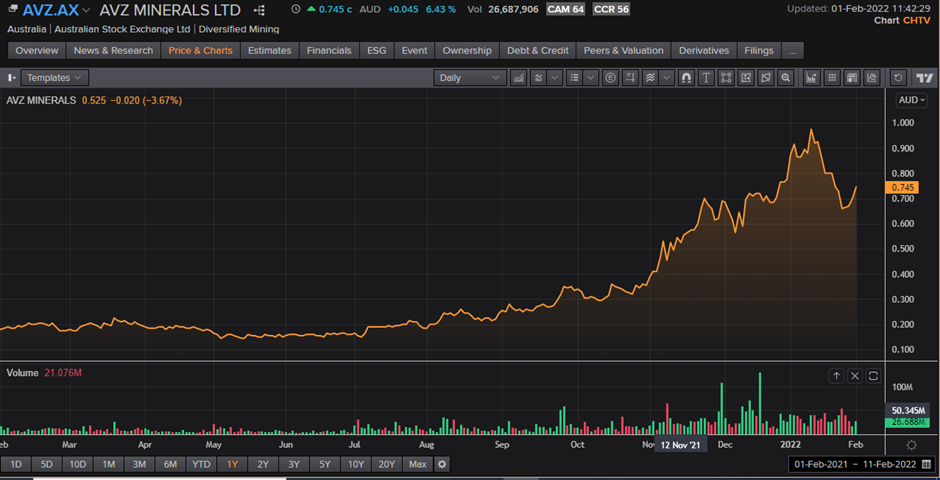 Image Source: Refinitiv
The AVZ stock has moved up from AU$0.20 to AU$0.81 in a year, registering a massive 300% growth, as on 18 February 2022.
The share price of AVZ Minerals had peaked to AU$0.97 a piece on 12 January 2022. The price peak was hit after AVZ received firm commitments on an institutional placement to raise AU$75 million. It was a significantly oversubscribed placement.
What's pushing the AVZ share price up?
Post the peak the share price had a healthy correction only to bounce back after its release of quarterly cash flow report. The report highlights the AU$75 million funding received. The funding actually backs AVZ Mineral's interest in the Manono Project. Proceeds assist AVZ in advancing early works while awaiting the mining licence.
There is a lag of few weeks for a favourable technical opinion from DRC Authorities, which has kept the mining license on hold. Despite the delay a mere institutional funding push has taken the share price up.
Influential Cornerstone investor-
It seems to be because of the cornerstone investor of placement is Suzhou CATH Energy Technologies (CATH). CATH is a private investment entity of Mr. Pei Zhenhua and Contemporary Amperex Technology Co. Limited (CATL). Both have significant influence in the global lithium conversion and battery industry. The capital raising has also strengthened AVZ's financial position, giving it around 90% of project capital.
AVZ already has binding sales agreements in hand-
AVZ has long-term, binding sales agreements with 3 major Chinese lithium converters for 80% of its saleable Li2O spodumene concentrate. It also has three-year binding offtake agreements for tin with a subsidiary of Hong Kong based Noble Group Holdings Limited.
Now given all of the above facts, at the end let us take you through a,
SWOT Analysis of AVZ Minerals-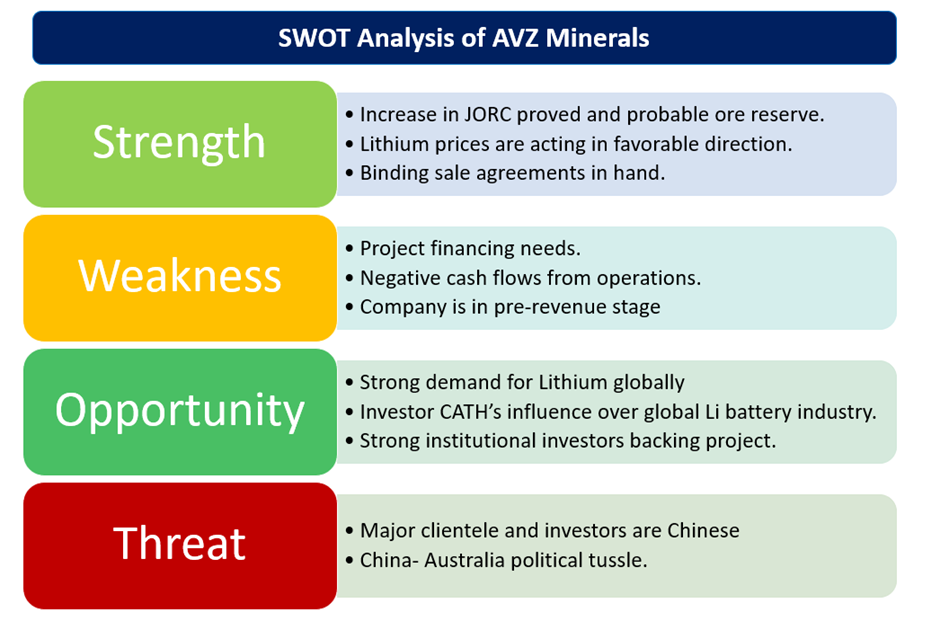 Image Description: SWOT Analysis of AVZ Minerals
Bottom Line-
AVZ Minerals seems quite hopeful in getting the Mining License. It also has a sales pipeline in hand and commodity prices are acting favourable. However, investors must study the entire Manono Project dynamics in detail, since it is the company's major operational project.