Lithium demand and its price has been on an uptick as the world is moving to cut carbon emissions by switching to clean energy and switching to electric vehicles (EVs) is one of the steps. The primary demand for lithium has so far been driven by rechargeable batteries, which could bolster to new heights after the mainstream adoption of EVs.
A 1600% rally! What's brewing in this emerging lithium producer
Being the lightest known metal, it is also used in various products to improve strength-to-weight ratio such as alloys, or in the aerospace industry. Demand for lithium has already started to see a positive trend as more hybrid vehicles are making their way to fill the time gap required for the mass production of EVs, development of related infrastructure, etc. A billion-dollar emerging lithium player in Australia that's up over a mind-boggling 1,647.8% this year, is Sayona Mining Limited (ASX:SYA)
About the company
Sayona Mining is an ASX-listed exploration company, primarily focused on the evaluation and exploration of lithium projects. The company also explores overseas projects, having two flagship projects in Canada namely – the Tansim Lithium Project and the Authier Lithium Project. Its Authier Lithium Project comprises a hard rock spodumene lithium deposit while the Tansim Lithium Project comprises lithium, tantalum and beryllium.
Lithium and Sayona Mining's price performance
The primary reason behind a massive 1,647.48% price surge this year is the bolstering underlying demand for lithium. With the demand for battery materials on the rise, shortages in the supply have clearly been seen, especially with its core ingredient, lithium.
According to data by Trading Economics, the price of lithium carbonate, 99.5% Li2CO3 min, battery-grade, trading in China, has surged by a massive 406% in the last one year, last traded at 197,500 Yuan/tonne.
Image Source: Refinitiv Eikon; Analysis: Team Kalkine
SYA has delivered a massive return of 1,647.48% this year, while the last one-year return stands at 2183%. Compared with broader markets, the ASX 200 has delivered an 11.86% in the same period, while the benchmark ASX 200 Materials index (ASX:XMJ) is also lagging with a negative 1.81%.
Q1 FY22 Highlights
In September 2021, the company entered into an agreement to acquire the Moblan Lithium Project, in sync with its strategy to expand its operations in Canada. Via this acquisition, the company has secured a leading North American lithium asset base. Located approximately 130Km north-west of Chibougamau, it is well serviced by key infrastructure and transport.
In August 2021, Altura Mining completed its due diligence to earn some of Sayona Mining's Pilbara and South Murchison projects through the exploration expenditure. Altura's exploration plans would initially focus on the Millina Lithium Project.
In July 2021, the company raised AU$45 million via the issue of 600 million fully paid ordinary shares at an offer price of AU$0.075. The company received strong support for placement from institutional investors, while its major shareholder Piedmont also infused AU$8 million. Recently in October 2021, Sayona Mining closed its Rights offer, raising AU$17.32 million.
The company ended the quarter with a net cash position of AU$22.39 million, compared to AU$35.5 million in previous quarter. Approximately AU$3 million were spent on the exploration activities and project evaluation of its Québec lithium projects.
Currently, the company is trying to become net profitable and has noticeably reduced its net loss for the current year. In FY21, Sayona Mining reported a negative net income after taxes of AU$4.38 million, almost an 18.6% improvement over the FY20 numbers of negative AU$5.4 million. The underlying positive trend of lithium prices would further help the company towards achieving net profitability.
Shareholder Summary
US-based Piedmont Lithium is the largest shareholder of the company, holding about a 14.2% stake, accounting for a total value of AU$65.26 million. Terryjoy Pty Limited is the second-largest shareholder, having 2.21% interest in the company, holding about 155.71 million shares, as of the latest filings.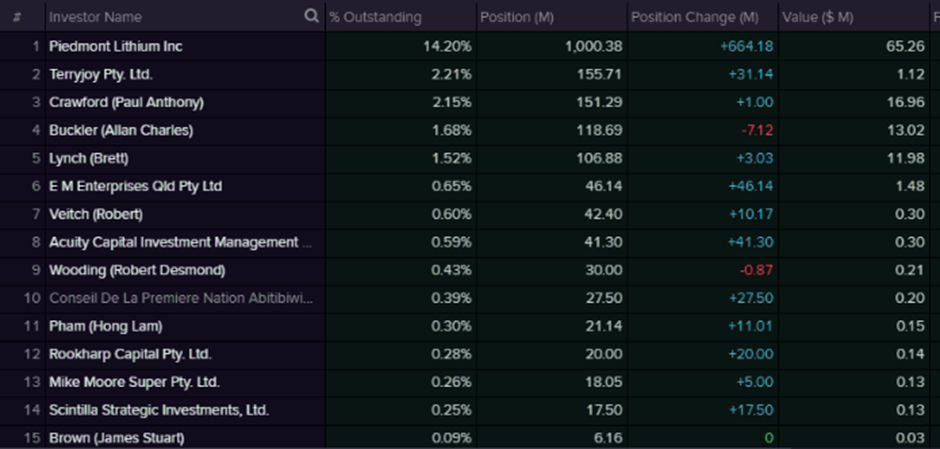 Image Description: Majority shareholders list of Sayona Mining
Executive Director, Paul Anthony Crawford, stood third in the list of significant shareholders of Sayona Mining. He holds about 151.29 million shares accounting for a total value of AU$16.96 million. Another mining industry veteran and a non-executive board member, Allan Charles Buckler, has 1.68% interest in the company, valuing over AU$13 million.
Although lithium has seen a surge in demand recently, the market has already discounted that, and its prices have already surged over 400% this year. However, a multi-fold increase in its price in a relatively short span of time also raises an alarm for a short- to intermediate-term correction. Also, commodity-based businesses are cyclical in nature, thereby they increase the importance of rightly timed investments. A period of stagnant or correcting prices of lithium might create hinderance towards the path of net profitability for the company. Therefore, investors must do their due diligence.