Summary

Australian property prices are expected to grow significantly in the next two years, with ANZ anticipating strong growth in 2021 across different regions in Australia before a relatively lower but still considerable growth in 2022.
Banking players, including ANZ and Commonwealth Bank, have revised their property price growth for 2021.
Dexus settled on the sale of 10 Eagle Street, Brisbane, for AU$285 million, while Cromwell purchased 545 Queen Street, Brisbane, for AU$117.5 million.
PEXA's IPO is expected to complete by June 2021 end.
According to recent estimates, real estate prices have seen a considerable surge in Australia and the trend is likely to continue for the next couple of years.
Price is Less albeit Opportunities are Immense; Invest Wise with Kalkine LITE Just at $19.99
S&P/ASX 200 Real Estate index bounced back strongly after experiencing a significant drop from January 2021 till 22 February 2021. After reaching the lowest level of 3056.70, the index bounced back and settled at 3407 on 01 June 2021.
Do READ: ASX 200 today: What's keeping shares down ahead of RBA policy meet?
In a recent announcement by the Australia Bureau of Statistics, there was a 5.5% growth in the new loan commitments for housing, 2.1% for personal fixed-term loans and 6.7% for business construction. The rise in loan commitments indicates an increase in demand for homes that are likely to steer the property prices north.
GOOD READ: Needle on Australia's Property Market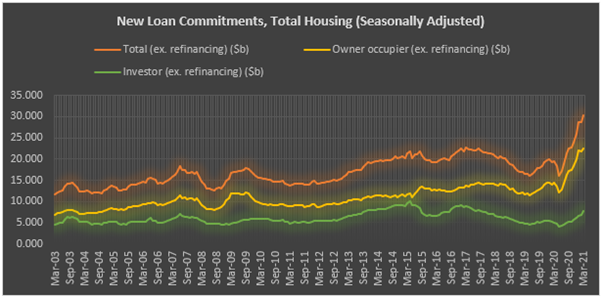 Source: Kalkine Media (Data Source: ABS)
In March 2021 (seasonally adjusted terms), new loan commitments for housing increased by 5.5%, reaching a record high of AU$30.2 billion. Lending to investors contributed over 50% of the growth in housing loan commitments. The value of new loan commitments for investor housing improved by 12.7% to AU$7.8 billion during March 2021 (up 54.3% compared to March 2020).
According to Katherine Keenan, the head of Finance and Wealth at ABS:

The value of owner occupier loan commitments for new dwellings construction fell by 14.5%. This was the first drop following the introduction of the HomeBuilder grant in June 2020.
Source: Kalkine Media (Data Source: ABS)
Outlook of the Australian Property market in 2021 and beyond?
According to a recent report by ANZ Bank, the housing prices at a regional level would increase by 17% in 2021 before slowing to a still-notable 6% next year. ANZ predicts that by 2021 end, property prices in Sydney would increase by up to 19%, Melbourne prices by 16%, Brisbane prices by 16%, Adelaide by over 13%, Perth by 19%, Canberra by more than 16%, and Darwin by more than 16%.
In addition to ANZ, Commonwealth Bank also revised its property price growth for 2021 from 8% to 10%.
DO READ: Where is Australia's Property Sector Heading?
The Reserve Bank of Australia (RBA) predicts that housing prices would witness a cumulative growth of 25% by the end of 2023 (8% in 2021, 9% in 2022 and 8% in 2023). Christopher Joye from Coolabah Capital Investments also projects significant growth in property prices as well as real residential investment.
INTERESTING READ: Will Federal Budget Add More Firepower To Australia's Property Sector?
Latest updates from a couple of ASX-listed property stocks
Some of the key Australian players operating in the real estate space include Dexus (ASX:DXS), Cromwell Property Group (ASX:CMW), and Australian Unity Office Fund (ASX:AOF).
On 31 May 2021, Dexus announced that it had settled on the sale of 10 Eagle Street, Brisbane, for AU$285 million. The property was held by the Dexus Office Partnership, in which DXS owns a 50% interest.
On 06 May 2021, Cromwell Property Group purchased 545 Queen Street, Brisbane, for AU$117.5 million on behalf of unitholders in the Cromwell Direct Property Fund.
PEXA's IPO
On 27 May, Link Administration Holdings Limited (ASX:LNK) confirmed that it received an offer from Kohlberg Kravis Roberts & Co. L.P. to sell Link Group's 44.18% share of PEXA. The proposal denotes an enterprise value for 100% of PEXA at AU$3 billion along with a cash balance of AU$126 million on the balance sheet as of 31 March 2021.
On 31 May, PEXA confirmed that post a cornerstone bookbuild process, it signed an underwriting deal for the proposed IPO of PEXA. The underwritten price of the IPO indicates an enterprise value of AU$3.3 billion for PEXA. The planned IPO would be listed towards the end of June 2021.
DO WATCH: The Buzzing Trends | PEXA to launch Australia's biggest IPO of 2021, aims to raise AU$1.18 Billion