Summary

Multi-disciplined engineering and construction company Saunders International Limited (ASX:SND) returned to profitability in FY20.
Key drivers of the impressive performance included the restructuring and adoption of a new operating model and organisational structure, effective pandemic management and record new contracts.
The Company has completed the FIX phase of its strategy and is galloping ahead on the sustainable GROWTH phase while being well-positioned to enter the ACQUIRE phase.
For FY21, Saunders has a solid foundation for growth with a strong order book and pipeline of opportunities.
The past 12 months have brought about a positive change in Saunders International Limited's (ASX:SND) performance that was fuelled by the execution of strategic priorities, which began in FY19. After re-setting the operating model and the organisational structure that supported it (Fix Phase), the Company efficiently focused on the Growth Phase in FY20.
Besides, Saunders has been proactive with its response to the challenging conditions due to COVID-19. So much so, the Company remained in a strong financial position with cash and cash equivalents of $11.1 million, at the year-end (FY20). Moreover, the Company entered FY21 with an order book of $110 million.
Saunders is witnessing strong growth in its core services and sectors. The Company is also enjoying a boom in new contract business enquiries and requests for tenders in emerging services and sectors, Defence and Energy. Moving onto FY21, Saunders remains positive about continued improvement.
In this backdrop, let us cast an eye on the FY21 strategic objectives of the Company-
Image: © Kalkine Group 2020, Source: SND's SND 2020 AGM Presentation, 27 Oct 2020
Construction Services
The Company will focus on cashing in on the recent major projects wins and continue to replace these with equivalent projects.
Saunders aims to work with its key customers as well as the Federal and State Government to offer innovative solutions for the Australian Fuel Storage Program. Besides, the Company intends to leverage its strong balance sheet to target complex projects. Expansion of offerings into EPC, E&I and Civil also remain the key FY21 strategic objectives, while catering to existing customers and onboarding new ones.
Notably, in FY20, Saunders reported a strong balance sheet with net assets worth $22.66 million.
Maintenance Services
Saunders aims to deliver more services to its existing client base including shutdown and piping services through FY21. The Company will focus on the expansion of service offerings to new sectors including energy and industrial.
Besides, work is likely to continue with major entities to guarantee that the business is well positioned to offer services for the upcoming Defence Fuels Installation program.
Civil & Precast Services
Delivery of safer and leaner precast production via its "Raise the bar initiative" remains another key strategic objective of Saunders. The Company will also focus to continue work with its current Local Government authorities to capitalise on continued Government spend.
Besides, self-perform civil works for construction projects may continue with the existing customer base. Saunders is also eyeing to offer services for the upcoming Defence Fuels Installation program.
Growth Focus
Saunders' five-year strategy set in 2020 was built on three pillars-
FIX- the fix phase is now complete
GROW- Saunders continues to be on the sustainable GROWTH phase
ACQUIRE- The business is now in a position to enter the ACQUIRE phase. This comprises the hunt for new and adjacent business opportunities that will add scale and operating leverage to the business, whilst ensuring that shareholder returns are attained.
MUST READ: Saunders' Project Wins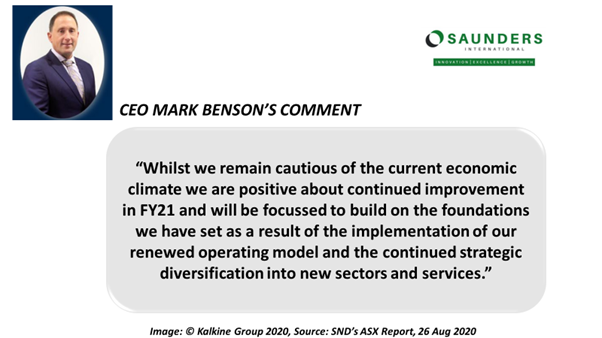 SND traded at $0.585 on 12 November 2020 (AEDT 02:52 PM), moving up by 4.464% from its last close.
TO KNOW WHY SAUNDERS IS CONFIDENT OF A GOOD FY21, CLICK HERE.