All the major economies are focused on lowering carbon emissions, and many leaders have announced road maps and capital expenditure plans to meet these goals. Thanks to this huge opportunity many investors are now focusing on environmental themes. ESG compliant businesses are here to stay and investing in climate is seen as investing in growth. In addition, innovative technologies like carbon capture, storage battery materials for EVs, and other sustainable environment solutions provide new investment avenues.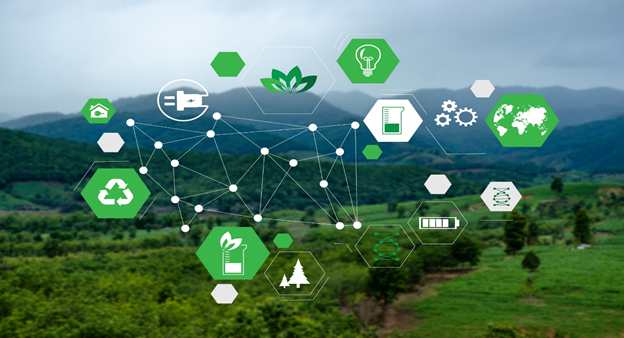 Image source: © Adiruch | Megapixl.com
A recent poll conducted globally for the IMF found that 43 percent of the surveyed group was more worried about climate change now than before the pandemic. Heatwaves like the recent ones in the US and Canada are greatly affecting agricultural production. Estimates show that a shortage of drinking water or food could affect corporations too. For example, 30 to 50 percent of copper, gold, and iron ore are concentrated in areas with high water stress.
New technologies are crucial for reducing carbon emissions to net-zero by 2050. Companies have a window of opportunity to help reduce the climate change disruption. Wind, solar, and battery-based electricity solutions are expected to comprise 80 percent of power capacity in the next 30 years.
Ultimately, capitalizing on technology and innovation will require more investment. With innovation timelines of five to ten years, some companies could soon find themselves caught up. Global ESG assets are set to exceed US$10 trillion by 2025.
Calix Limited (ASX:CXL) is an ASX-listed stock that focuses on climate protection and sustainable industrial solutions. The shares of Calix have surged over 34 per cent in the last 3 months, and the Company seems to be well placed with increasing environmental investing awareness.
CXL shares on the rise
Calix Limited shares have provided a 300 percent return in the last 52 weeks. Even in the short term, CXL shares have seen good traction, in the last one-month alone shareholders gained 16 percent and around 34 percent in the past three-months.
One-year price chart with support zones, Image Source: REFINITIV; Analysis: Team Kalkine
Calix Limited riding the ESG wave
Calix Limited owns a global research and development network that provides sustainable industrial solutions. It develops solutions to address the environmental impacts of various industries. CXL solutions include- wastewater treatment, aquaculture, carbon reduction, crop protection, and advanced battery solutions. It holds 25 patents related to 'Calix Flash Calciner', its patented technology platform for capturing CO2. This breakthrough environmental solution has multiple industrial uses.
Calix has operations in Australia & APAC, the US, and Europe. It collaborates with top universities, research institutes for R&D initiatives. Solutions developed are then provided to companies and even Governments. Calix's business explores and rides the popular trend of ESG Investing and global sustainability.
Lens through Calix's Operations
The Company's operations are focused on 5 major areas -
Water – Magnesium-based water treatment products for sustainable water treatment and aquaculture. Calix is looking to exploit its technological advantage in the US and reestablish its Chinese aquaculture-related sales.
CO2 Mitigation – Calix provides solutions to mitigate CO2 emissions from cement and lime. It is a licensing and royalty-based service of Calix. The Company wants to continue pursuing licensing opportunities and be a part of the EU's legislation of Net-zero CO2 emissions by 2050.
Biotech – here, Calix develops disruptive solutions for safer materials and crop protection, a multi-billion-dollar industry. The business achieved encouraging results for marine coating materials in H1-FY21. Further licensing is underway for crop protection solutions.
Advanced Batteries- Calix's 'BATMn' technology fulfills emerging needs of EVs and energy storage systems. Its complete full/ pouch cell prototypes are underway, and the Company is progressing with testing for other prospective materials for use.
Sustainable Processing- applications for ore and chemical processing through licensing and JV business models. The Company is running a trial phase of efficient lithium extraction technology and is exploring alternative cement formulations.
CLX posts strong topline in H1FY21
In H1-FY21, CLX registered an overall revenues growth of 151% on the prior corresponding period (pcp).
Gross Margin stood at 31%; a rise of 6% on pcp.
US business alone recorded a 14% growth in revenues pcp.
Other income grew 114% pcp, majorly from on-going developments in 'Leilac' carbon capture projects.
CXL improved its spending in R&D related to carbon capture and battery materials.
Operating profits turned black at AU$3.1 million vs a loss of $0.2million in PCP.
CXL had a positive cash balance worth AU$3.7 million as at the end of H1-FY21.
CXL has enough carried forward losses to offset expected taxable income for FY21, ended 30 June 2021.
Conclusion-
As on 21 July 2021, Calix limited shares trade on ASX at AU$3.00 per share with a market capitalisation of AU$480 million. The Company has announced a slew of positive news in the past few months and the stock price has reacted very positively to such news. In the first week of July, a price rise of over 15 percent was observed in response to CXL signing MOUs for Carbon capture projects for Cement & Lime Industries. A similar reaction was seen in May when it announced a tie up with Pilbara (ASX:PLS) for co-developing Lithium refinery technology. The Company's continuous R&D growth makes it stronger operationally. Its business is well protected from any regulatory & environmental risks. CXL's products thus make it a green business within the Australian and global chemical industry.
The global bond yields are in focus with the cases increasing across many countries thanks to the new Covid-19 delta strain. The global market participants are now closely tracking the implications. Is this time to be more cautious? Is one question that many seasoned investors are pondering over despite the markets showing no signs of worry.