Summary

Saunders International (ASX:SND) returned to profitability in FY20, with improvement in revenue and profit, generated from the expanded range of services offered to clients.
The Company seems well positioned for growth, with positive outlook for new projects.
A strong order book and pipeline of opportunities, strengthened financial capacity, and recent Federal budget are few of the principal drivers of Saunders' positive outlook.
Saunders International Limited (ASX:SND) is a multi-disciplined engineering and construction company, catering to leading organisations across Australia and the Pacific Region. It is engaged in providing design, construction, fabrication and maintenance services. The Company is driven by a commitment to safety, innovation, excellence and growth while delivering high-quality engineered solutions across the complete asset lifecycle.
In FY20, its revenue was 33% more than that achieved in FY19. The company also noted an upturn in the net profit after tax (NPAT) which stood at $1.3 million for the 12-month period ended June 2020, an improvement from the net loss of $1.6 million in FY19.
To add to the charm, the Company was awarded a record value of new contracts, catapulting it to kickstart FY21 with an order book exceeding $110 million.
With a hawk-eyed focus on working capital management, a strong balance sheet, proactive approach towards managing the pandemic impacts, and implementation of a new operating model, organisational structure and strategic direction, Saunders indeed seems "positioned for growth".

Saunders' Growth Trajectory
Saunders underwent a revamp in FY19, adopting a new operating model, organisational structure, and strategic direction. In FY20, the company generated enhanced revenue and profit on account of expanded range of services offered to its clients.
Amid the COVID-19 pandemic, Saunders' management was pro-active in swiftly implementing appropriate policies, protocols and measures to ensure the safety of its employees, clients, and the communities in which it operates.
Additionally, the new projects' outlook for Saunders remains positive.
Let us have a sneak peek at the various reasons that are expected to steer the Company towards growth and success, in the months to come: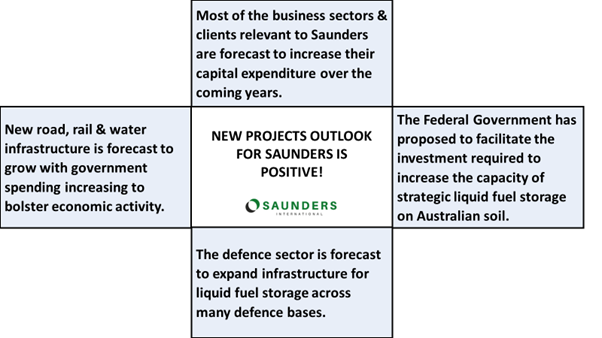 Kalkine Image (Source: Saunders' AGM Presentation, October 2020)
Outlook for FY21
The Board's FY21 Budget is based upon a revenue target of $100 million, with EBIT margin of 3.75% to 4.75%. The Board also aims to resume fully franked dividend payments in FY21.
The objective also includes maintaining a strong net cash position and expanding bonding facilities to take on larger contracts.
The Company finished FY20 with a strong balance sheet including $11 million of cash and cash equivalents and no interest-bearing debt except for financial leases. Also, bonding facility was tripled to $15 million, aimed towards aiding the increased order book with headroom going forward.
The Company seems well positioned to continue winning work at profitable margins, while combatting COVID-19. This is further catalysed by strong infrastructure expenditure by both Federal and State governments and return to the rational margin pricing in construction services.
The Company plans to focus on-
Mechanical maintenance offering expansion into new sectors.
Providing integrated services across key customers/locations.
Leveraging fabrication and civil construction services for expansion across geographies.
Ramping up growth and capitalising on opportunities in the defence sector.
Assessing acquisition opportunities.
SND traded at 0.595 on 27 November 2020 (AEDT 11:05 AM).