Highlights

On Tuesday, the Australian benchmark index jumped 0.41% while the healthcare index gained ~1%.
Biotechnology firm Immutep's Chinese partner intends to expand the clinical trial pipeline for efti in China.
PharmAust's subsidiary Epichem, which has invested in cutting-edge laboratories, has repaid its loan without deferral.
NeuroScientific has received encouraging data for EmtinB™, holding the potential to address significant unmet medical needs in treatment of multiple sclerosis.
Benchmark index ASX 200 closed slightly higher on Tuesday, gaining 0.41% to 7,534.90 points and crossing above its 20-day moving average. While ASX healthcare index also gained 0.93% yesterday.
In this article, we will discuss three ASX-listed healthcare companies, which recently made key announcements.
Let us delve deep and discuss the updates from these healthcare players in detail-
Immutep to expand efti trial pipeline
Globally active biotechnology firm Immutep Limited (ASX:IMM; NASDAQ:IMMP) is a leader in developing LAG-3 related immunotherapeutic products to treat cancer and autoimmune indications.
Recently, Immutep updated the market about expansion of the clinical trial pipeline for eftilagimod alpha (efti or IMP321) in China. The Company's Chinese partner for efti is EOC Pharma, which is gearing up to initiate a clinical trial of efti in combination with an anti-PD-1 therapy.
The new clinical study is anticipated to start in the first half of 2022.
Copyright © 2021 Kalkine Media
The new trial builds on the recent promising data presented by the Company at ASCO 2021 and on EOC's previously announced Phase 2 trial assessing efti in combination with chemotherapy in metastatic breast cancer patients. The Phase 2 trial is currently anticipated to commence in the second half of 2021.
Marc Voigt, CEO of Immutep, said: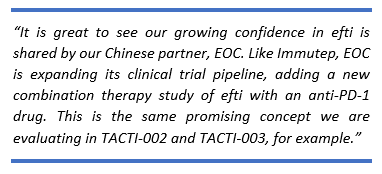 On 31 August 2021, IMM shares last traded at AU$0.530, up by 1.923%, with a market capitalisation of AU$442.47 million.
RELATED ARTICLE: Five ASX-listed healthcare penny stocks having strong businesses
PharmAust's subsidiary Epichem pays off final debt
Clinical-stage biotechnology company PharmAust Limited (ASX:PAA) is engaged in repurposing marketed drugs to lower the risks as well as development costs.
PharmAust recently updated about the timely completion of the final loan repayment by Epichem, its Perth-based synthetic and medicinal chemistry subsidiary. Epichem is set to undertake a major laboratory expansion in Technology Park, WA.
Source: © Patager | Megapixl.com
This was the final milestone in repaying two Export Finance Australia (EFA) loans for construction of two purpose-built, state-of-the-art laboratories at Technology Park in 2015 and 2018. With the EFA loan facility repaid, the money saved on interest and principal will go straight to improving the bottom line.
Dr Roger Aston, Chairman of PharmAust, commented-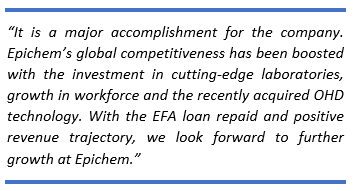 On 31 August 2021, PAA shares closed the day's trading at AU$0.085, up by 1.190%.
ALSO READ: Five ASX-listed stocks with 100% YTD returns
NeuroScientific's EmtinB™ shows promising results
NeuroScientific Biopharmaceuticals Ltd (ASX:NSB) is developing peptide-based pharmaceutical drugs targeting several neurodegenerative indications with high unmet medical needs.
The Company has announced that its lead drug candidate EmtinB™ significantly reduced biomarkers for key drivers of dysfunctional immune responses in multiple sclerosis (MS).
EmtinB™ has the potential to address the significant unmet medical need for the treatment of multiple sclerosis, showing disease modifying activity across immune-modulation, neuroprotection and remyelination.
Copyright © 2021 Kalkine Media
These significant results add to the increasing body of remarkable data that supports the development of EmtinB™ as a potential disease-modifying treatment for MS. The Company disclosed that the pre-clinical biomarker study was conducted in human primary cell-based systems by leading independent contract research organisation Eurofins, US.
Furthermore, Neuroscientific anticipates to assess EmtinB™ for the treatment of multiple sclerosis in future planned Phase 2 clinical trials.
Matt Liddelow, Managing Director of NeuroScientific, said-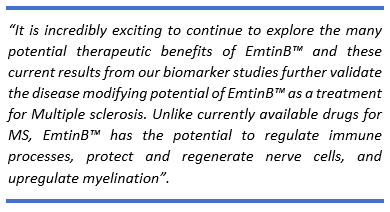 On 31 August 2021, NSB shares last traded at AU$0.340, up by 3.030%.
RELATED READ: Which are the 10 hottest biotech stocks on the ASX?