Summary

Australian natural skincare company Skin Elements has entered into an agreement to acquire a stake in Sambora, owner of the nail polish business, BeachToes.
Skin Elements believes that the natural nail polish business complements its existing organic and natural skincare product range.
The Company has received an advance of A$500,000 from its underwriter State Securities Pty Ltd.
Australian natural skincare company Skin Elements Limited (ASX:SKN) has announced that it had entered into an agreement to acquire up to 40% equity stake in Sambora Pty Ltd. Sambora is the founding Company of BeachToes, a unique natural nail polish business.
BeachToes™ is a natural, non-toxic, outdoor nail polish that sources natural alternatives as a substitute of chemical ingredients found in most nail polishes. It is free of toluene, formaldehyde, and phthalates.
BeachToes™ in a Nutshell
BeachToes™ is a colourful collection of outdoor, hard-wearing, UV protected nail polish, specially created to preserve its quality and colour in extreme outdoor wear.
The nail polish is natural and non-toxic with several unique features and bodes well for Skin Elements' natural and organic skincare global growth program.
SKN considers that if the transaction goes through, BeachToes™ will fit perfectly with the Company's all-natural Soléo Organics sunscreens. Moreover, BeachToes™ products would be appealing to a market Skin Elements is already catering to, through its existing products.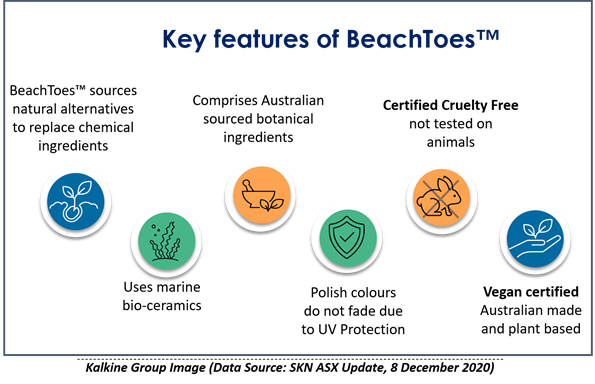 Key terms of the proposed transaction
Skin Elements would pay an option fee of ~A$50,000 to BeachToes™ on the execution of the agreement.
The non-refundable option fee would grant SKN a 60-day exclusivity period to undertake due diligence for the Company to acquire up to 40% stake in BeachToes™ for approximately A$850K. The terms would be finalised during the exclusivity period.
The implementation of the transaction will depend on the following conditions:
Completion of due diligence by Skin Elements in respect of BeachToes™.
Completion of commercial terms as well as the execution of formal agreements, as required.
The Company also highlighted that if the conditions are not met or waived within 60 days of agreement execution, the agreement could be terminated by either party by submitting a written notice.
With this agreement, SKN will undertake a comprehensive due diligence evaluation during the 60-day option period. Besides, SKN will identify potential business, product, or technology synergies that exist or that could be developed between the two parties.
GOOD READ: Going natural: A look at Skin Elements' (ASX:SKN) exciting array of products
About Sambora Pty Ltd
Established in 2011, Sambora is a privately owned company operated by Mr Samuel Wendt in Perth, WA. The Company began developing the unique BeachToes™ outdoor nail polish in an exclusive R&D agreement with Lumineye.
Lumineye is a world-class contract research & development facility in Queensland and Australia's leading commercial nail polish manufacturer.
The entire Beach Toes range is manufactured in Australia under contract at this facility. The facility has a production capacity of more than 80,000 units per week.
Moreover, Sambora has undertaken test marketing during the development period and is expanding the commercialisation of the Beach Toes range.
Over the past year, Sambora has sold more than A$175K of BeachToes™ products via a network of global distributor channels and its online store.
Advance A$500K from Underwriter as a Show of Confidence
On 8 December 2020, Skin Elements highlighted that State Securities Pty Ltd (the Underwriter) agreed to advance A$500k to SKN as part of an options underwriting agreement (UWA) between the two parties announced on 16 April 2020.
SKN confirmed that the payment had been received and indicated that the agreement regarding the Advance does not alter the UWA.
SKN mentioned that this Advance is unsecured and interest-free, and repayment will be set-off against amounts due to the Company from the Underwriter pursuant to the UWA.
Bottomline
With the synergistic acquisition of Beach Toes, Skin Elements has expanded its business from skincare to nail polish. Further, the Advance from the Underwriter is a show of confidence in the Company's strategies and its growth potential. The Advance highlights that the Underwriter sees a bright future for SKN with a growing market capitalisation going forward.
On 14 December 2020 (AEDT 12:34 PM), SKN shares traded at A$0.074.
ALSO READ: A Snapshot of Skin Elements' (ASX:SKN) Performance in September 2020 Quarter