Summary

Skin Elements has submitted TGA registration application for its new formula Invisi Shield® Organics as a Hospital Grade Disinfectant.
The application represents a key milestone in the development of Invisi Shield®, offering substantial commercial sales and distribution opportunities for its natural disinfectant products with an initial commitment of A$2.4m.
With a successful TGA registration, Invisi Shield® will be listed on the Australian Register of Therapeutic Goods (ARTG).
Australian natural skin care company Skin Elements Limited (ASX:SKN) is engaged in the development of natural and organic skincare products.
The Company has utilised its expertise in the development of advanced anti-microbial natural skincare formulations to produce Invisi Shield® Natural, a world-first in combining advanced natural skincare formulations. Skin Elements aims to become a global leader in offering high quality sanitizer & disinfectant products.
Skin Elements' TGA Registration Submission for new formula Invisi Shield®
On 11 November 2020, ASX-listed Skin Elements made a significant breakthrough in the development of Invisi Shield® by submitting an application for Therapeutic Goods Administration (TGA) registration of its new formula Invisi Shield® Organics as a Hospital Grade Disinfectant.
The Company submitted the TGA application for its new and advanced Invisi Shield® formulation with all plant-based ingredients. Skin Elements believes that the new and advanced formulation is a significant improvement over the formulations used previously and is also more cost-effective.
ALSO READ: Skin Elements launches new-generation Invisi-Shield(R) Natural hand sanitiser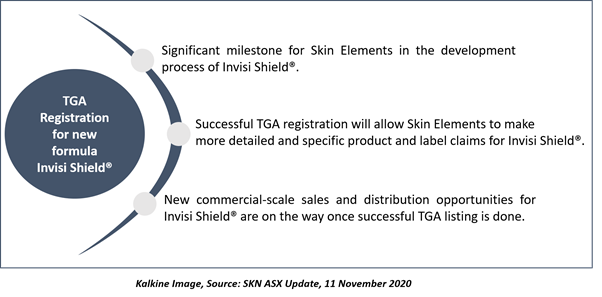 The TGA registration application is a significant milestone for the Company in the development process of Invisi Shield®. With a successful TGA registration, the Company can make a more detailed and specific product and label claims for Invisi Shield®.
Besides, the TGA listing has the potential to open up substantial new commercial-scale sales as well as distribution opportunities for Invisi Shield®.
Notably, the registration would create new commercial opportunities with distributors and other sales partners for whom TGA registration of the disinfectant products they deal in is a pre-requisite.
The Australian regulatory body will appoint an assessor for the Company's Invisi Shield® TGA application.
GOOD READ: Skin Elements commences Invisi Shield® Production and Sales as global Hand Sanitiser demand soars
Invisi Shield® Organics: Maximum protection against germs
SKN's Invisi Shield® Organics range of products comprises all-natural, alcohol-free sanitisers and disinfectants incorporating natural plant-based extracts.
Invisi Shield® is designed to deliver maximum protection against germs while addressing rising skin sensitivity concerns, due to the highly repetitive use of alcohol-based sanitisers. Invisi Shield® Organics is available in two kinds of formulations - foam and spray.
Meanwhile, Skin Elements continues to explore and unlock the use of the SE FormulaTM in several applications for Invisi Shield® Organics.
Earlier in June 2020, the Company had announced that its SE FormulaTM was found to be 99.99% effective against Feline Coronavirus which is a surrogate of coronavirus causing COVID-19.
Management Commentary
Skin Elements' Executive Chairman Peter Malone said that the Company is extremely pleased to have lodged its Therapeutic Goods Administration application for the registration of the Invisi Shield® Organics Hospital Grade Disinfectant.
Mr Malone also added that the application represents a significant positive development for Invisi Shield® and the Company's plans to seek new sales and distribution agreements for its product range.
Bottomline
The submission of TGA listing application is a major development for Skin Elements. The successful registration would open the doors for new commercialisation opportunities for the Company with distributors and other potential sales partners who insist on TGA listing.
On 26 November 2020, SKN shares last traded at A$0.07.