Summary

Supported by an international leadership team with extensive expertise in cancer therapy, Prescient has developed a robust product pipeline, comprising personalised cancer treatments.
Prescient's drug pipeline comprises CAR-T and targeted therapies. CAR-T comprises OmniCAR and two undisclosed cell therapy enhancements.
Prescient is working with the goal of harnessing innate adaptability and control of OmniCAR for developing next-generation CAR-T products for new & challenging indications.
Prescient's two assets are under COVID-19 antiviral testing program of the Doherty Institute.
Today, we will acquaint you with the product pipeline of ASX-listed clinical-stage biotechnology company Prescient Therapeutics Limited (ASX:PTX). Prescient Therapeutics is gaining attention for its remarkable progress on the development of a broad pipeline for personalised cancer treatments.
Personalised cancer treatments of PTX comprises CAR-T and targeted therapies spanning several challenging cancers. Prescient Therapeutics has licensed technologies and collaborations with world-leading cancer centres in the U.S.
Let us deep dive and discuss product pipeline of Prescient Therapeutics-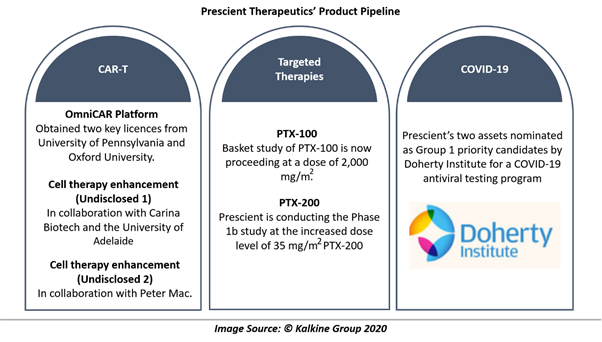 Universal immune receptor platform, OmniCAR
OmniCAR is a universal immune receptor platform creating next-generation CAR-T therapies. Whilst CAR-T has represented a paradigm-shift in treating cancer, current generation CAR-T is faced with many limitations including safety and flexibility in targeting other cancers.
This is where OmniCAR comes in, creating next-genreation CAR-T that addresses the limitations of current generation CAR-T. OmniCARenables controllable T-cell activity & multi-antigen targeting with a single cell product. The modular CAR system of OmniCAR decouples antigen recognition from the T-cell signalling domain. This platform is based on technology licensed from the University of Pennsylvania and Oxford University.
The universal immune receptor platform allows extraordinary control and flexibility over the current generation CAR-T approaches. With OmniCAR, Prescient will enable its in-house development of next-generation engineered cell therapies. OmniCAR also creates opportunities in collaboration and business development for cell therapy area of Prescient.
Prescient is working with the goal of harnessing innate adaptability and control of OmniCAR for developing novel CAR-T products for new indications. OmniCAR platform improves the cost, time as well as the effectiveness of delivering CAR-T therapies across the world.

READ MORE: Prescient Collaborates With Peter MacCallum Cancer Centre
Moreover, Prescient has several other programs underway to develop new cell therapy methods.
First-in-class drug candidate, PTX-100
PTX-100 disrupts the oncogenic Ras pathway by preventing the activation of Rho, Rac and Ral, leading to cancer cells death. PTX-100 is under clinical development for hematological and solid malignancies under Phase 1b PK/PD basket study.
Currently, PTX is conducting its Phase 1b basket study of PTX-100 at a dose of 2,000 mg/m2.
In this study, Prescient is finding the mutational status of malignancies of each patient and aims to compare this status with any clinical activity. Moreover, the Company is investigating several cancer biomarkers with the objective of identifying patients who may be most likely to respond to PTX-100 therapy.
Novel PH domain inhibitor, PTX-200
A novel PH domain inhibitor PTX-200 inhibits Akt tumor survival pathway. This pathway has a significant role in the development of numerous cancers, including breast & ovarian cancer, along with acute myeloid leukemia (AML). With its novel mechanism of action, PTX-200 specifically inhibits Akt while being comparatively safe. Currently, Prescient is conducting Phase 1b study of PTX-200 & cytarabine in AML patients.
On 3 August 2020, the Company disclosed that it had completed the Phase 1b study for the first cohort at a dose of 25 mg/m2 PTX-200 under the revised study protocol. Currently, Prescient is conducting the Phase 1b study at the increased dose level of 35 mg/m2 PTX-200.
World-renowned leukemia expert Professor Jeffrey Lancet (H. Lee Moffitt Cancer Center, Florida) is leading the AML study.
COVID-19 Antiviral Testing Program
Addition to its personalised cancer treatments Prescient's two assets are under evaluation against the deadly SARS-CoV-2. On 21 July 2020, Prescient Therapeutics disclosed that its two assets had been nominated as Group 1 priority candidates by Doherty Institute for a COVID-19 antiviral testing program. Both the assets of Prescient are selected on the basis of their potential antiviral properties.
TO KNOW MORE, DO READ: Assets of Prescient Selected for COVID-19 Antiviral Testing Program by Doherty Institute
Way Ahead
On 12 October 2020, PTX share was trading at A$0.066, with a market capitalisation of A$41.64 million.
To know more about Prescient Therapeutics Limited, click here.
To stay updated with PTX company activities and announcements, please update your details on their investor centre.