Summary

Prescient ended the September 2020 quarter with a cash balance of almost A$18.6 million following the successful capital raising in August 2020.
During the quarter, two assets of PTX were selected for priority antiviral COVID-19 tests by Doherty Institute.
Prescient collaborated with Peter MacCallum Cancer Centre to advance cancer therapies, including CAR-T technologies.
ASX listed clinical-stage biotechnology company Prescient Therapeutics Limited (ASX:PTX), that is gaining the attention of market participants on the back of its cell therapy program 'OmniCAR', released its results for September 2020 quarter.
Let us dive deep and discuss Prescient Therapeutics' growth during September 2020 Quarter-
The September 2020 quarter was one of the most significant for Prescient so far in terms of growth of the Company.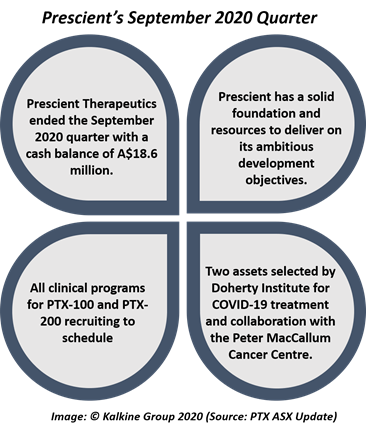 Highlights from the financial front
Prescient ended the September quarter with a cash balance of almost A$18.6 million following the successful A$13.5 million capital raising in August.
In addition to the costs of the offer, other notable expenses during the quarter were related to the clinical trial activity. Moreover, the Company has a strong foundation as well as resources for providing its ambitious development objectives.
The oversubscribed SPP and Placement to new as well as existing institutional investors, was a testimony to Prescient's assets and growth strategy. This also reflected the confidence in the Board and management team of the Company.
The Company disclosed that the capital raised shall be deployed towards advancing its pipeline of targeted therapies, cell therapy enhancements as well as revolutionary next-generation universal CAR-T anti-cancer platform technology.
The expansion of the pipeline and clinical activities of PTX shall see a corresponding rise in the expenditures. For the September quarter, cash outflows were recorded at A$1.43 million, which were higher as compared to the last quarter. Prescient anticipates a rise in activities as an important pre-clinical research on its universal CAR-T platform begins.
Prescient Therapeutics projects receipt of an R&D tax refund in the December 2020 quarter of ~A$1.03 million and continues to manage its resources wisely.
Clinical programs for PTX-100 and PTX-200 recruiting to schedule
During the September 2020 quarter, the foundational assets of Prescient had ongoing clinical progress, with PTX-100 and PTX-200 clinical trials underway to recruit patients without any signs of material safety, toxicity, or tolerability concerns.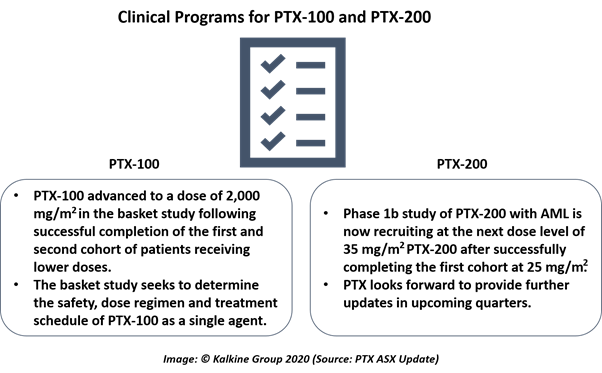 The Principal Investigator of the basket study was encouraged by follow-up analyses of patients in the cohort of 500 mg/m2 dose of PTX-100, which disclosed one patient with a partial response and another one with stable disease.
RhoA mutations are present in several cancers, however, there is no approved therapy to address the urgent requirements of patients having these cancers. This has piqued the global interest in the program.
ALSO READ: Shedding Light on Prescient Therapeutics' (PTX) Personalised Cancer Treatments
Collaborations with world leaders
For COVID-19 antiviral program with Doherty Institute, the Company has filed new patent applications to protect the resulting IP by this process. Notably, any new IP generated during the testing shall also belong to Prescient Therapeutics.
Research partnership with Peter MacCallum Cancer Centre advances PTX's CAR-T technology. CAR-T cell therapy uses patient's T cells and reprograms them as a personalised treatment that can detect as well as destroy cancer cells. T cells are important cells in the blood that protect the body from infection and disease.
Prescient is working with the goal to produce new technologies through its Cell Therapy Enhancement programs to complement and significantly improve existing CAR-T methods that are currently being used by clinicians for cancer treatment.
Way Forward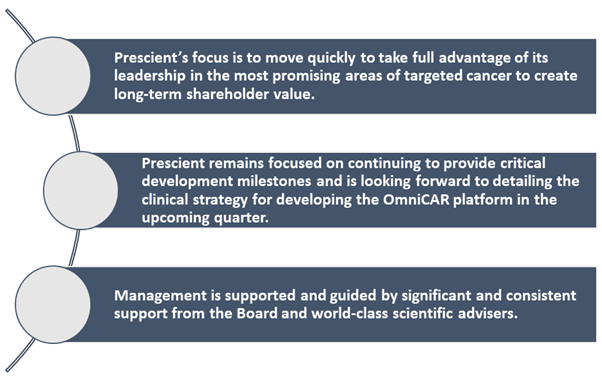 Image Source: © Kalkine Group 2020
Additionally, Prescient is thankful to its shareholders and collaborators for their constant support of the collective aim to provide medical professionals effective new treatments for several cancers.
On 21 October 2020, the share price of PTX quoted at A$0.062 with a market capitalisation of almost A$40.35 million.
To know more about Prescient Therapeutics Limited, click here.
To stay updated with PTX company activities and announcements, please update your details on their investor centre.