Summary

Australian pharmaceutical research company Pharmaxis Ltd receives FDA's approval for Bronchitol® for cystic fibrosis patients aged 18 years and above.
Pharmaxis' share price surged following the favourable announcement, ending the day's session 25% higher at A$0.110.
ASX 200-listed Pro Medicus Limited's NPAT reported at A$23.08 million increased by 20.7% during FY20 despite COVID-19 restrictions.
Lately, Visage Imaging GmbH wholly-owned German subsidiary of Pro Medicus had signed a seven-year with Munich based Ludwig-Maximilians-Universität.
A considerable rise in the aged population, coupled with the growing prevalence of chronic diseases, has led to surging demand for healthcare products and services. With the demand likely to grow further in the future, market participants have their eyes set on this industry.
SARS-CoV-2 outbreak has been a tailwind for healthcare with investors increasingly looking at the sector as a long-term investment opportunity.
With this backdrop, let us discuss two ASX-listed healthcare players- Pharmaxis and Pro Medicus.
Pharmaxis Gets Gold Standard; Bronchitol® Obtains FDA Approval
An Australian pharmaceutical research company, Pharmaxis Ltd (ASX:PXS), is engaged in the development of treatments for inflammatory and fibrotic diseases, focusing on myelofibrosis.
On 2 November 2020, Pharmaxis disclosed that the US Food and Drug Administration (FDA) had approved Bronchitol® (mannitol) as an add-on maintenance therapy to improve pulmonary function in cystic fibrosis adult patients. The Company announced that the product had steered through the final stages of FDA approval by US licensee Chiesi Farmaceutici SpA.
PXS share price jumped 25% to close at A$0.110 on 2 November 2020, indicating the positive market reaction.
Pharmaxis anticipates sales of Bronchitol in the US market to contribute firmly to its global sales as well as profit growth from its launch during the second quarter of FY21.
After the Chiesi approval and launch milestone payments of almost US$10 million, the Company anticipates US sales to start in the first half of 2021.
Notably, Pharmaxis will earn royalties in high teens. The royalties, given the long-term supply contract, is anticipated to deliver ~20% of Chiesi US Bronchitol net sales to the Company's mannitol business segment EBITDA.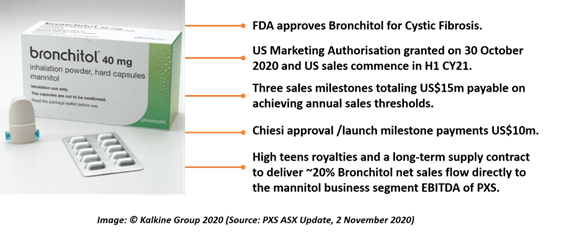 Pharmaxis CEO Gary Phillips stated-

Pharmaxis Prioritises Clinical Development on myelofibrosis into Phase 2
On 2 November 2020, Pharmaxis also disclosed details of the clinical development plan for its lead drug pipeline asset being studied for the bone marrow cancer myelofibrosis.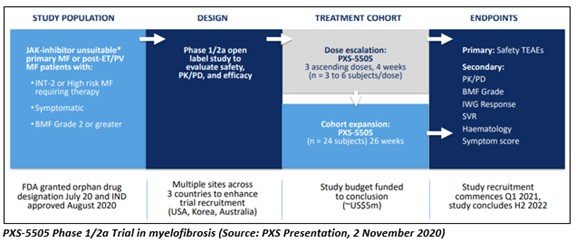 The Company disclosed that PXS-5505 has already received investigational new drug (IND) approval and Orphan Drug Designation from the FDA. Now the Company will perform an open-label clinical trial recruiting up to 42 myelofibrosis patients in Australia and other international sites. PXS-5505 works by reversing the bone marrow fibrosis that causes mortality or morbidity.
The Company disclosed that the first patient is anticipated to be recruited in Q1 2021.
ALSO READ: Healthcare Stocks Riding High Amid Buoyed COVID-19-induced Healthcare Opportunities
PME's NPAT Increased 20.7% in FY20 Despite COVID-19
ASX 200-listed Pro Medicus Limited (ASX:PME) provides medical imaging IT services and offers a range of radiology IT software to health care groups, imaging centres, and hospitals worldwide.
On 23 October 2020, Pro Medicus updated the market with its annual report for the financial year ended 30 June 2020.
Highlights from the financial front-
During the period, NPAT stood at A$23.08 million, increasing by 20.7%.
The underlying before-tax profit was A$30.23 million, up by 33.4%.
Revenue increased by 13.4% to reach A$56.82 million.
EBIT Margin rose to 52.5%.
Cash reserves increased by 34.3% to A$43.41 million.
The Company declared fully franked dividends of 12.0c per share increased by 14.3%.
Highlights from the business front-
Transaction revenue jumped by 30.7%.
During the period, the Company won three major contracts - Ohio State University, Nines and Northwestern Memorial.
Pro Medicus disclosed that seven out of the top 20 hospitals across the US have standardised on Visage 7 technology.
PME's Australian and European businesses continued to perform well.
Pro Medicus Signed seven-year contract with LMU Klinikum
On 15 October 2020, Pro Medicus disclosed that Visage Imaging GmbH, its wholly-owned German subsidiary, had signed a seven-year deal with Munich based Ludwig-Maximilians-Universität, one of the largest university hospitals in Europe. The contract is worth A$10 million.
The Company disclosed that as part of the contract, Visage 7 technology would be implemented across all radiology and subspecialty imaging departments of LMU Klinikum. The existing legacy PACS systems will be replaced with a single centralised instance of the Visage 7 Enterprise Imaging Platform.
Moreover, Visage is also used in state of the art operating theatre suite of hospitals for HD video documentation as well as point-of-care Ultrasound archival and viewing.
Pro Medicus stated that the implementation of this contract is scheduled to commence in December 2020.
Dr Sam Hupert, CEO Pro Medicus commented-
On 2 November 2020, the share price of PME was last noted at A$32.090, down by 0.927%. The market capitalisation of the Company stood at A$3.37 billion.
ALSO READ: The emergence of Pro Medicus: How did the Company grow sans external funding