Summary

Imugene Limited (ASX:IMU) completes the enrolment of three patients under the first cohort under PD1-Vaxx Phase I clinical trial.
Following the Phase I trial, a monotherapy optimal biological dose will be determined through a review by Cohort Review Committee.
Significant opportunity exists for Imugene in the PD-1 space, which is a thriving market for checkpoint inhibitors.
Shares of Imugene Limited (ASX:IMU) traded ~6 per cent higher at $0.105 mid-day following a significant update on PD1-Vaxx Phase I clinical trial. Interestingly, Imugene has completed enrolment of the first cohort comprising three patients in Phase I clinical study of PD1-Vaxx.
Earlier this month, Imugene announced the dosing of its first patient under PD1-Vaxx Phase I clinical trial in Melbourne, Australia. Now, the immuno-oncology company has concluded the enrolment of non-small cell lung cancer patients in the first cohort with initial low dose of PD1-Vaxx.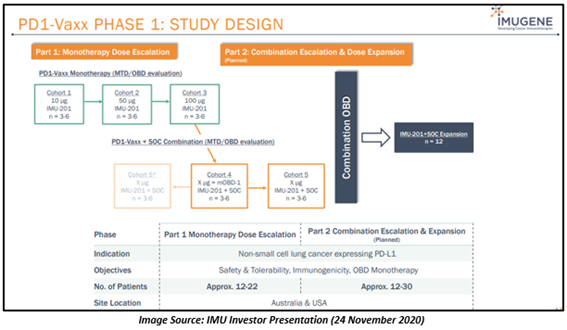 Imugene's PD1-Vaxx immunotherapy approach has been designed to target lung cancer tumours. It intends to intervene with PD-1 or PD-L1 binding & interaction and produce an anticancer attack. The attack is similar to what Keytruda® and Opdivo® offer in the transformational treatment of a wide array of cancers.
Process of Defining an mOBD
The Phase I dose escalation trial of PD1-Vaxx is targeted to determine a monotherapy optimal biological dose (mOBD) and measure safety, tolerability, efficacy and immune response.
The determination of mOBD will be made through a review by Cohort Review Committee (CRC). Defining an mOBD requires consecutive dosing of patients within cohorts of at least 3 individuals each. The safety and tolerability data will be reviewed by the CRC as soon as the last patient in a cohort concludes 30 days of treatment.
In case the CRC confirms PD1-Vaxx dose in the cohorts as both tolerable and safe, the approval will be granted to recruit patients to the following higher dose level. The label of mOBD will be given to the highest safe dose level delivering an ideal immune response.
Ethics and Regulatory Approvals in Hand
Imugene has already obtained ethics approval from Independent Review Boards in the USA and the Human Research Ethics Committee in Australia. Moreover, the Company holds coveted US FDA IND (Investigational New Drug) approval to embark on Phase I clinical trials of PD1-Vaxx.

The grant of ethics approval means that an independent committee of scientists, physicians, and knowledgeable members of the community have carefully examined the proposed PD1-Vaxx study, along with the necessary pre-clinical safety and efficacy testing of the drug to start human clinical trials. It further suggests that the independent committee consider it ethically and scientifically appropriate to commence the PD1-Vaxx clinical trial.
Similarly, the US FDA IND approval signifies that the FDA is convinced that it is safe and scientifically appropriate to proceed with PD1-Vaxx clinical study. Following the FDA approval, Imugene is planning to initiate the PD1-Vaxx clinical trial at The Hackensack University Medical Center in New Jersey, The Ohio State University Medical Centre based in Columbus, Ohio and the Mayo Clinic based in Phoenix, Arizona.
Market Opportunities in PD-1 Space
At present, the PD-1 space is a booming market for checkpoint inhibitors. Since the FDA approval of first PD-1 checkpoint inhibitor drug Keytruda® in 2014, the number of these drugs being developed has increased rapidly. Currently, more than 1500 clinical trials testing checkpoint inhibitor are progressing, as estimated by the Cancer Research Institute.
In its latest newsletter, Imugene highlighted that the international immune checkpoint inhibitors market is likely to surpass US$25 billion by 2022 (RNCOS 2018 report). Besides, the checkpoint inhibitors are expected to account for a significant percentage of overall cancer immunotherapy revenue within ten years.