Highlights

The one-third of milk produced in Australia is processed to high-quality formulations and supplied to key global markets.
In 2021, the total milk production in Australia is set to increase by 2% to 9 billion litres.
Australian Dairy Nutritionals, Keytone Dairy, Bubs Australia and Nuchev Limited are some ASX-listed dairy stocks.
Australia's dairy industry has dodged challenges posed by the COVID-19 pandemic, and the framing conditions remain relatively favourable. While the domestic demand for dairy in Australia remains robust, the global markets continue to be significant for the Australian dairy sector. One-third of milk produced in Australia is processed to high-quality formulations that the country supplies to key global markets, including China, Japan and the Southeast Asia region.
According to the Australian Bureau of Agricultural and Resource Economics and Sciences, the dairy production in Australia is forecast to rise 2% this year, which would equate to 8.8 to 9 billion litres of national milk pool.
In this backdrop, let us discuss the latest updates and outlook for four ASX-listed dairy stocks- AHF, KTD, BUB, NUC
Australian Dairy Nutritionals Group (ASX:AHF)
Vertically integrated dairy business Australian Dairy Nutritionals Group owns superior-quality dairy farms as well as a processing facility in Southwestern Victoria.
On 5 October 2021, Australian Dairy Nutritional Group disclosed that the Group had achieved another significant milestone with all the Group's farms now certified organic after the 3-year conversion program started in 2018.
In addition to the organic certification, AHF has also been establishing A2 herds on all of the farms to make sure the Group maintains security of its supply of organic A2 protein milk.
Peter Skene, CEO of AHF commented-
On 7 October 2021, AHF shares were trading flat at AU$0.061 at 12:04 PM AEDT.
ALSO READ: Two ASX-listed stocks that plunged over 50% in 2021
Keytone Dairy Corporation Limited (ASX:KTD)
Keytone Dairy is a well-known producer and exporter of formulated dairy products. KTD has Australia and New Zealand based purpose-built production facilities that offer a wide variety of dairy, health and wellness products.
On 2 September, the Company highlighted that it had finalised the expansion as well as upgrade of its state-of-the-art bar and snacking plant in Sydney. The Company highlighted that it had obtained opening orders of over AU$2.0 million to be produced through the coming months. The commercial production was about to commence in September 2021.
On 7 October 2021, KTD shares were trading at AU$0.120 at 12:04 PM AEDT, down 4.001% from the previous close.
RELATED ARTICLE: How did ASX shares Keytone Dairy and Thorn Group fare in FY21?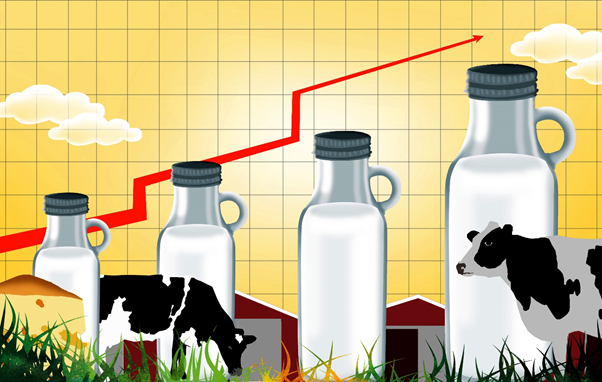 Copyright © 2021 Kalkine Media
Bubs Australia (ASX:BUB)
ASX-listed another dairy industry player Bubs Australia is a leading producer of goat dairy products. The Company is engaged in the production of Bubs® specialty infant formula as well as nutrition products for children.
Despite the disruptions caused by the COVID-19, BUB highlighted that agility and resilience delivered half-on-half rebuild momentum. Notably, the Company witnessed solid growth across China cross-border e-Commerce with gross revenue of Infant Formula grew by 26% pcp.
The Company is well-positioned with solid foundations, brand share growth and a robust balance sheet to move forward with a sustainable growth strategy. Furthermore, Bubs Australia believes that there is an opportunity to stretch Bubs® brand equity into new categories, consumer segments and occasions.
On 7 October 2021, BUB shares were trading at AU$0.365 at 12:04 PM AEDT, up 1.388% from the previous close.
Nuchev Limited (ASX:NUC)
ASX-listed globally-oriented food business, Australia Nuchev is engaged in the development and marketing of a variety of premium goat nutritional products made in Australia.
Despite the challenging market conditions in FY21, the Company achieved positive momentum across several priority sales channels. In H2 FY21, Nuchev introduced a unique new formulation for Oli6®, the only goat infant formula to have oligosaccharides of human and goat milk.
Nuchev anticipates that the growth of the Company will continue in the Australian retail and cross border e-Commerce (CBEC) channels in FY22. Despite the challenges posed by COVID-19, the Company remains confident in the fast-growing goat milk-based infant formula and nutrition category. Furthermore, with a flexible business model as well as a solid cash position, Nuchev is well-positioned to secure future growth opportunities in this category.
On 7 October 2021, NUC shares were trading at AU$0.715 at 12:04 PM AEDT, up 0.704% from the previous close.
ALSO READ: Five ASX healthcare stocks to explore in 2021 if you're under 30