Highlights

The global oncology drug market is anticipated to witness growth with the increasing demand of anticancer drugs due to the widespread prevalence for cancer.
Few Australian biotech players are deeply involved in developing therapies to address some of oncology's biggest unmet medical needs.
Imugene, Prescient Therapeutics, Immutep, Pharmaxis and Kazia Therapeutics are some ASX-listed oncology players.
ASX-listed biotech players are deeply involved in developing therapies to address some of the biggest unmet medical needs. The different forms of cancer are at the forefront of research and drug development.
Some of the key factors that are accountable for the development of oncology/cancer drugs market are the increased focus of the healthcare sector on cancer research, an upsurge in aging demographics, and an increase in healthcare spending all over the globe.
RELATED ARTICLE: A look at five ASX multibagger healthcare stocks
Jn this backdrop, let us discuss five ASX-listed cancer stock.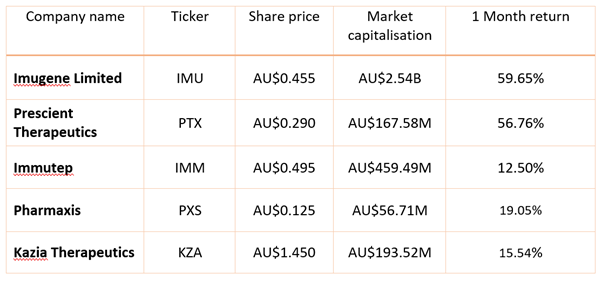 Source: ASX, as of 21 September 2021
ALSO READ: A look at five dividend paying ASX healthcare shares
Imugene Ltd (ASX:IMU)*
Clinical stage immuno-oncology firm Imugene Ltd is engaged in developing a comprehensive range of new therapies that attempt to activate cancer patients' immune systems for detecting as well as removing tumours.
The Company is backed by a leading team of international cancer experts and is working to improve and transform the lives of cancer patients who require effective treatments.
The product pipeline of Imugene includes various immunotherapy B-cell vaccine candidates as well as oncolytic virotherapy (CF33) for the treatment of several cancers in combination with emerging immunotherapies and standard of care drugs.
To know more about Imugene Click Here
DO READ: Imugene (ASX:IMU) to present on PD1-Vaxx at ESMO Congress 2021
Prescient Therapeutics Limited (ASX:PTX)*
Another ASX-listed oncology firm Prescient Therapeutics is focused on the development of innovative and personalised treatment for a range of cancers. The universal CAR-T and targeted therapies of PTX seek to improve patient outcomes and offer clinicians new tools in combating cancer.
The Company has been carrying out several exciting projects that are not disclosed yet, but PTX is confident that they have the potential to add substantial value to its profile.
Furthermore, PTX has licensed technologies from as well as entered in partnership with world-leading cancer centres and universities across the US and Australia.
To know more about PTX Click Here
RELATED READ: Prescient Therapeutics in a sweet spot with significant progress in multiple cancer programs
Immutep Limited (ASX:IMM)
Globally active biotechnology firm Immutep Limited is a prominent player in developing LAG-3 related immunotherapies for the treatment of cancer and autoimmune indications. The lead product candidate of Immutep is eftilagimod alpha, a soluble LAG-3Ig (LAG-3 fusion protein).
On 1 September 2021, Immutep disclosed that the Company has completed recruitment of the second-line PD-1/PD-L1 refractory non-small cell lung cancer (NSCLC) patients in TACTI-002 (Two ACTive Immunotherapies). Immutep is performing the study in collaboration with Merck & Co., Inc.
Immutep anticipates to report additional data from the TACTI-002 study at a scientific conference in CY21 or early in CY22.
ALSO READ: What's latest with these 3 ASX healthcare shares - IMM, PAA, NSB
Pharmaxis Ltd (ASX:PXS)
Sydney- headquartered Pharmaxis Ltd is engaged in developing drugs for the treatment of cancer and fibrosis. The Company is developing PXS-5505 (lead drug candidate of PXS) for the bone marrow cancer myelofibrosis, which triggers the accumulation of scar tissue leading to loss of production of red and white blood cells as well as platelets. Besides, PXS-5505 has demonstrated further potential in oncology as an adjunct to standard of care in challenging cancers.
It is noteworthy to mention that the US Food and Drug Administration (FDA) has granted Orphan Drug Designation (ODD) to PXS-5055 for the treatment of myelofibrosis. Notably, PXS-5055 has also received permission under an Investigational Drug Application (IND) to progress a Phase 1c/2 clinical trial that commenced recruitment in Q1 2021.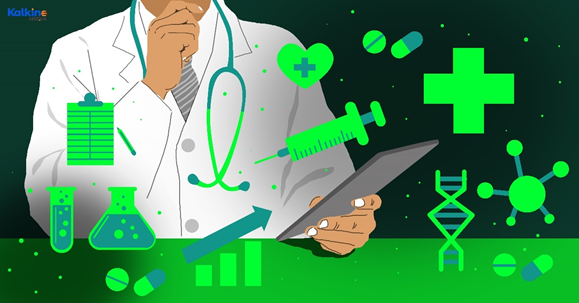 Copyright © 2021 Kalkine Media
Also, the Company is investigating PXS-5505 as a potential therapy for other cancers including pancreatic and liver cancer.
ALSO READ: Five ASX healthcare stocks that delivered over 50% return in a month
Kazia Therapeutics Limited (ASX:KZA)
ASX and NASDAQ listed oncology-focused Kazia Therapeutics is developing the treatment for glioblastoma (GBM), the most challenging form of primary brain cancer in adults. The Company is developing paxalisib as a treatment of GBM, which is a brain-penetrant inhibitor of the PI3K/Akt/mTOR pathway.
On 2 September 2021, the Company announced that its planned Phase 1 clinical study for EVT801 has obtained full approval from the French regulatory agency. Kazia further highlighted that the study is on track to open to recruitment by the end of the calendar year 2021.
Dr James Garner, CEO of Kazia, commented-
RELATED ARTICLE: A look at three ASX healthcare shares: AHX, KZA, AHI
*IMU and PTX are sponsored clients.