Highlights
The Australian pharmaceutical industry is expected to grow gradually
The pharmaceutical industry in Australia receives substantial financial support from the government
BOT, AVE, and ALA are three pharma penny stocks on the ASX that are performing well this quarter.
Pharmaceutical companies come under the healthcare sector, which caters to one of the most indispensable needs of human beings. The Australian drug market is expected to rise gradually owing to increased prevalence of chronic diseases. Additionally, financial support from the government and subsidy received through the Pharmaceutical Benefits Scheme (PBS) is also likely to play a major role in the sector's growth.
Currently, the drug industry in Australia signifies a knowledge-based, technology-concentrated industry. It is positioned to improve Australia's economic output and social wellbeing.
Do read: Recce Pharmaceuticals (ASX: RCE) shares encouraging trial data for next-gen antibiotic
In this article, we will discuss about three penny stocks from the ASX pharmaceutical industry that have provided positive returns on a year-to-date basis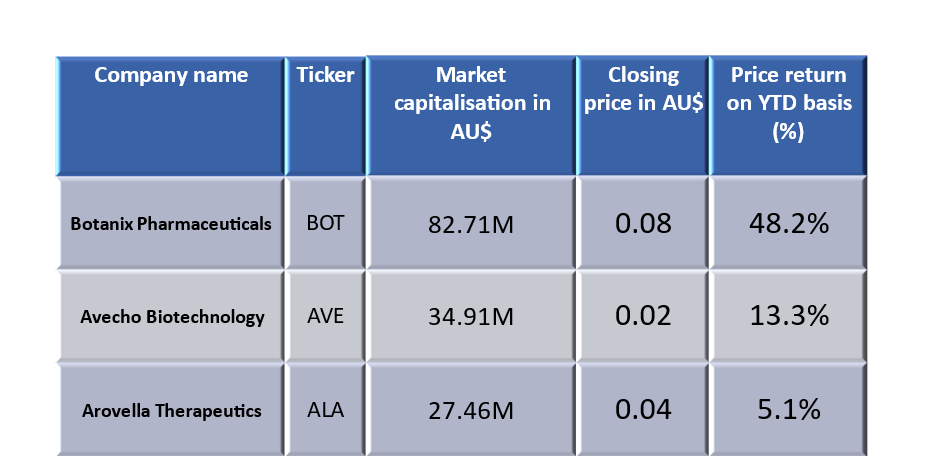 Data source: ASX data as of 14 April
Botanix Pharmaceuticals specialises in dermatology and antimicrobial products. The company employs a copyrighted drug delivery system (PermetrexTM) for which it has an exclusive licence. It uses technology for delivering active pharmaceuticals directly into the skin for all skin diseases.
In the half year ended 31 Dec 2021, the company's revenue surged by nearly 100% but it incurred a net loss of AU$6,508,794. Last month, the company received a Research and Development (R&D) Tax Incentive Refund of AU$2,754,835 for the 2020/2021 financial year. The company is expecting to commence a Phase 2b antimicrobial study of BTX 1801 (antimicrobial gel) in 2Q 2022.
Avecho Biotechnology Limited specialises in human and animal health products. The company has a proprietary drug delivery system called Tocopheryl Phosphate Mixture (TPM®), which is proven to improve absorption of drugs and nutrients.
Last month, the company announced that it had received encouraging results from the Phase IIa study of CBD formulation for osteoarthritis. Earlier in February, the company entered into a licensing and supply agreement with Team SAAS LLC for the use of TPM® in recreational products in the US. In the half year ended 31 Dec 2021, the company's revenue surged by nearly 106%, however, it faced a loss of AU$3,416,116.
Image source: © Farang | Megapixl.com
Arovella is a company mainly focused on cancer and conditions affecting central nervous system. The biotechnology firm is creating its invariant Natural Killer T (iNKT) cell platform against blood cancers. It has emerged as a leader in oro-mucosal drug delivery and is developing oral sprays with decreased risk to redevelop current pharmaceuticals.
Recently, the company announced that it will receive a patent for anagrelide from the US. The patent will be valid till Dec 2035. The company is developing anagrelide for treatment of certain solid tumour cancers. On Dec 2021, the company acquired exclusive global rights to DKK1-peptide mAb/CAR for curing various forms of cancer.
Also read: From IMC to ALA: Healthcare stocks with best YTD returns