Summary

With the COVID-19 pandemic driving increased demand for healthcare and avoiding physical contact, the use of telehealth or telemedicine has expanded rapidly.
With customers acknowledging the benefits of telehealth, including convenience and accessibility, experts believe that the trend is here to stay, irrespective of vaccine rollout and the fight against the pandemic.
The growing demand for telehealth services has seen companies report impressive financial performance.
HeraMed, ResMed, Oneview Healthcare and CardieX are some of the ASX-listed leading players in the telehealth space.
Telemedicine or telehealth companies help people consult with their doctors and other healthcare professionals remotely through phone, message, or video calls. With the COVID-19 pandemic driving the demand for healthcare services that support social distancing, telehealth is witnessing increased adoption.
Though telehealth services were present before the COVID-19 pandemic, it has only started to pick up in the last 15-19 months. The coronavirus outbreak has triggered the willingness of using telehealth services among the providers and users.
RELATED ARTICLE: COVID-19 may Prove to be Telehealth's Watershed Moment; Know Why!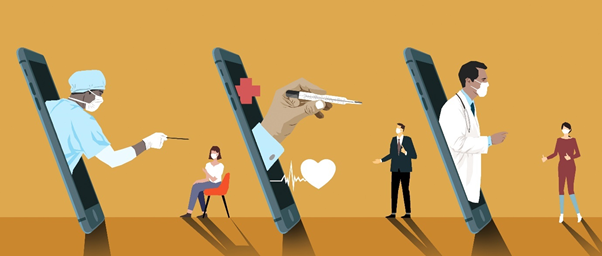 Source: Copyright © 2021 Kalkine Media
The significant shift in demand has led to telehealth players reporting impressive financials in their quarterly updates.
This article will talk about four ASX-listed telehealth players whose shares have delivered decent returns in the last three months and have performed consistently.
RELATED ARTICLE: Which are the most exciting telehealth stocks on the ASX?
Let us delve deep and discuss HeraMed, ResMed, Oneview Healthcare and CardieX-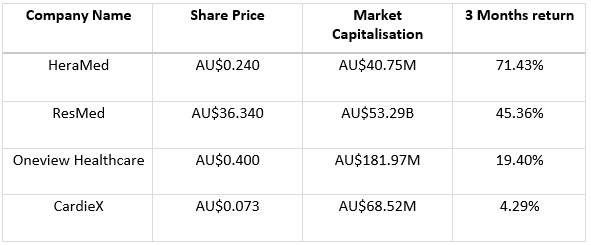 Data Source: ASX, returns calculated as of 3 August 2021
Innovative medical technology player HeraMED is a leader in the digital transformation of maternity care with its hybrid maternity care platform.
On 2 August 2021, HeraMED updated the market that Sheba Medical Centre is expanding its cutting-edge FemTech pilot program to evaluate the HeraBEAT device and HeraCARE platform in women carrying postdate and high-risk pregnancies. Notably, Sheba Medical Centre is the biggest hospital in Israel and the Middle East.
David Groberman, CEO and Cofounder of HeraMED, stated-
On 29 July 2021, HeraMed updated the market with its Q2 FY21 (three months ending 30 June 2021) results, highlighting that the Company had achieved several important commercialisation milestones during the quarter.
Source: Copyright © 2021 Kalkine Media
The Company disclosed that it had entered into two paid pilot contracts, one with JHC and the other with Obstetrix Medical Group in the US. Both the agreements form part of a potential launch HMD's HeraCARE technology as a standard of care for comprehensive deployment.
Digital health technology player ResMed is an innovative solutions provider to treat and empower people to live healthier and higher-quality lives.
In Q3 FY21, the Company witnessed a revenue growth of 5% in SaaS (Software as a Service) owing to continued growth in resupply service offerings and stabilising patient flow in out-of-hospital care settings.
The Buzzing Trends || ASX-listed telehealth stocks to look for in August 2021
The Company also highlighted that the upcoming accelerated awareness of the importance of respiratory health, increasing adoption of digital health, and an increased focus on the importance of healthcare delivered at home will increase the accelerated growth in patient flow. Furthermore, it will also help the Company improve 250 million lives in out-of-hospital healthcare in 2025.
Oneview Healthcare Plc (ASX:ONE)
Global healthcare technology firm Oneview Healthcare provides digital tools for improving the care experience for patients and caregivers.
On 29 July 2021, Oneview Healthcare released its quarterly results for the period ending 30 June 2021. In the June quarter, the Company had entered into a five-year contract extension with Epworth HealthCare, the biggest not-for-profit private health service in Victoria. Oneview Healthcare has also hired Northern Health as its first Cloud Start consumer in Australia.
Furthermore, Oneview Healthcare has been selectively adding additional marketing, project management and customer success resources in the key US market. This engagement, combined with the upcoming launch of the next-generation hardware (AIO's and Coax set-top box), has positioned the Company for a robust second half.
ALSO READ: Virtual care is booming amid pandemic: A glance at the pros and cons of telehealth
CardieX Limited (ASX:CDX)
Global health technology company CardieX is focused on providing its services for the management of cardiovascular indications, hypertension, as well as other vascular health disorders.
On 26 July 2021, CardieX updated the market with its June 2021 quarter update highlighting strong sales growth. With a strong sales growth, the Company's revenue increased 32% on a constant currency basis for the year-to-date on the comparative period in FY20.
The Company highlighted that the sales of the XCEL and Oscar 2 devices continue to perform very well in research, clinical trial, and specialist clinician markets.
MUST WATCH: What is Telehealth & How Does Telehealth Work?
Source: Copyright © 2021 Kalkine Media
Based on the solid growth, CardieX sees its internal sales target for FY22 to increase significantly over FY21 results, which the Company anticipates will provide a return to profitability for its ATCOR division by CY2022 end.
Moreover, Under the CONNEQT brand, the Company remains on track to roll out several new devices and digital products to the market over the upcoming twelve months.
INTERESTING READ: Telemedicine: A Game-Changer to Combat COVID-19