Summary

Global diagnostic companies are well-placed for sustainable development in the upcoming years due to increasing awareness and disease incidences.
Atomo diagnostics' HIV self-test is the first and only approved test for sale in Australia.
Sonic Healthcare's performance in Q1 FY21 was impressive, with a 29% rise in revenue.
Due to the increasing cases of COVID-19 cases, there is an increased demand for developing diagnostic tests across the world. It is anticipated that this demand would promote growth in the global diagnostic market. Currently, the early diagnosis of the coronavirus infection is on priority to slow the spread of the pandemic as cases are increasing at an alarming rate.
The global diagnostic companies well-placed for sustainable development over the long-term created increasing awareness, preventive & wellness assessments, including the higher incidence of diseases. Diagnostics has a substantial role in determining the healthcare industry.
With this backdrop, we will discuss 2 ASX-listed diagnostic players-
Atomo Diagnostics Limited (ASX:AT1)
A world leader in medical device design and development Atomo Diagnostics Limited specialises in designing integrated rapid diagnostic test (RDT) platforms for blood-based testing.
Atomo Obtains TGA approval for AtomoRapidTM HIV (1&2)
On 10 November 2020, Atomo Diagnostics updated the market that the TGA had approved its AtomoRapid HIV (1&2) RDT. The AtomoRapidTM HIV is now approved for use by medical professionals in point of care settings across Australia.
The Atomo HIV Self-Test is the first and only HIV self-test to have been approved by the TGA for sale across Australia.

Unlike other laboratory tests where patients might need to wait for quite a few days for their result, the new Atomo test provides accurate results in just fifteen minutes. The AtomoRapid HIV test identifies HIV antibodies in a single drop of blood from a fingertip.
The unique design of the test comprises-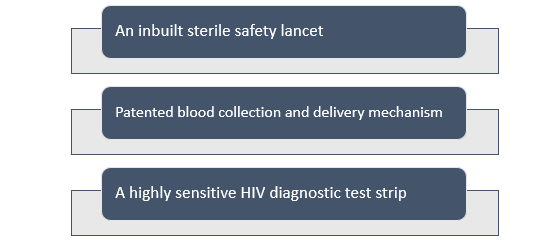 The distinctive design integrates necessary features and functionality in a single, handheld, easy-to-use device. The device is preferably suitable for deployment in the screening of sexual health, drop-in clinics, and community health programs.
Atomo's Managing Director John Kelly commented-

With the TGA approval of rapid antigen test to detect COVID-19 and AtomoRapid HIV test, the Company can now further expand its portfolio of rapid diagnostic tests (best-in-class) into the home market.
ALSO READ: Atomo Diagnostics' Contribution to COVID-19
Stock Information: On 4 December 2020, shares of AT1 last traded at A$0.320, in line with the previous close. Atomo's market capitalisation stood at A$180.54 million.
Sonic Healthcare Limited (ASX:SHL)
ASX 200-listed global healthcare company Sonic Healthcare Limited has excellence in laboratory medicine/pathology, radiology/diagnostic imaging, as well as primary care medical services. Sonic is also a prominent provider of corporate medical services, general practice, occupational medicine, and radiology across Australia.
On 12 November 2020, Sonic Healthcare updated the market with its Annual General Meeting presentation for the year 2020. In its AGM presentation, the Company underlined its financial highlights from FY20 and Q1 FY21.
Highlights from FY20
The quick highlights from the financial front are-
During FY20, the Company generated revenue of almost A$6.86 billion with 11% growth as compared to the previous year.
Underlying net profit reported a growth of 7% and reported at A$552 million.
The balance sheet of Sonic Healthcare remained strong, with available liquidity of ~A$1.4 billion.
During the period, the firm maintained its dividend at a per-share price of A$0.51.
Sonic Healthcare stated that strong COVID-19 testing volumes are currently augmenting the growth of the Company.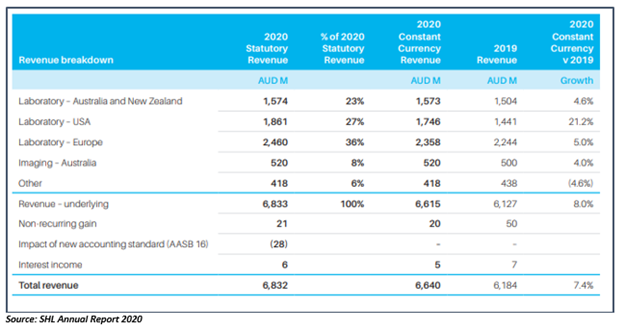 Highlights from Q1 FY21: Revenue up 29%
On 14 October 2020, Sonic Healthcare updated its September quarter (period ended 30 September 2020) results highlighting its impressive performance-
During the first quarter of FY21, Sonic Healthcare generated revenue of almost A$2.14 billion up by 29%. The EBITDA was up by 71% as compared to the pcp.

The principal divisions of Sonic Healthcare grew base business (not including COVID-19 testing) revenues during the quarter.
Moreover, the cost savings programs that were implemented during the early stages of the COVID-19 pandemic continue to offer benefits to earnings and margins.
Stock Information: On 4 December 2020, the share price of SHL was last noted at A$32.420, down by 0.935%. Sonic Healthcare commands a current market capitalisation of A$15.84 billion.