Highlights

The pharmaceutical sector focuses on advancing the quality of patient life.
Pharmaceutical companies engage in the research and development of pharmaceutical drugs.
Starpharma, Mayne Pharma, Incannex Healthcare, AFT Pharmaceuticals and Medical Developments International are few ASX-listed pharmaceutical players.
Leading pharmaceutical players have strong product pipeline with patents and products indicated for pressing ailments and/or unmet medical needs. While pharmaceutical players have a drug pipeline that includes various drugs in different stages of development, most companies only disclose the drug when it advances to clinical trials or is awaiting regulatory authorisation.
The COVID-19 pandemic has presented another therapeutic area that many pharmaceutical companies are capitalising on by developing products, equipment, and drugs to combat the pandemic.
In this backdrop, we will talk about five leading ASX-listed pharmaceutical companies by market capitalisation.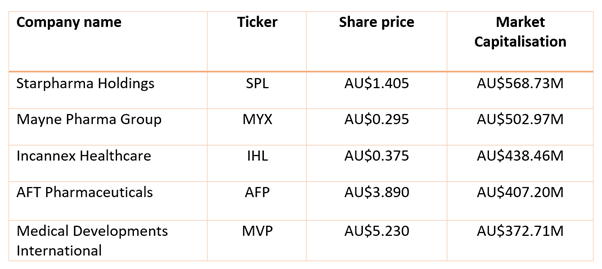 Source: ASX, Date: 24 September 2021.
RELATED ARTICLE: A look at five ASX multibagger healthcare stocks
Starpharma Holdings Limited (ASX:SPL)
Global biopharmaceutical firm Starpharma Holdings engages in developing new dendrimer based pharmaceutical and medical products. The Company also developing therapies for respiratory viruses, DEP® drug delivery and VivaGel®.
On 15 September 2021, Starpharma disclosed that the USPTO (US Patent and Trademark Office) had granted a new patent to the Company for DEP® cabazitaxel. The patent has a term of 2039 and the potential for a further 5-year extension.
Starpharma's DEP® cabazitaxel nanoparticle is currently in late Phase 2 clinical trials. The Company is recruiting patients suffering from solid tissue cancers, such as ovarian, prostate, as well as gastro-oesophageal cancers.
DO READ: Five ASX-listed healthcare service providers for investors' watchlist
Mayne Pharma Group Limited (ASX:MYX)
ASX-listed specialty pharmaceutical company Mayne Pharma focuses on the commercialisation of branded and generic drugs, offering better, safe and more accessible medicines to patients.
In FY21, Mayne Pharma obtained US FDA's approval and launched oral contraceptive NEXTSTELLIS in the US with all important indicators on track. The Company has also strengthened its US dermatology pipeline by entering into four new supply agreements with leading pharma players to rollout up to 11 dermatology products across FY22, targeting addressable markets of US$500 million.
Key future growth drivers
NEXTSTELLIS commercialisation in the US and Australia.
The launch of a dozen dermatology as well as women's health products in the US.
Incannex Healthcare Limited (ASX:IHL)
Incannex Healthcare is working with the mission of developing first-in-class pharmaceutical drugs for patients with unmet medical needs.
During the financial year 2021 (year ended 30 June 2021), Incannex has witnessed exciting research results and speedy progress within its novel drug development program. The Company has taken further steps to develop its unique cannabinoid-based and psychedelic medicines for diseases with unmet medical needs.
During the year, the Company has expanded its partnerships with scientific experts and world-renowned academic institutions including The Alfred Hospital, Monash University and the University of Western Australia.
RELATED READ: Three ASX-listed psychedelic medicine stocks to watch
AFT Pharmaceuticals Limited (ASX:AFP)
Multinational pharmaceutical firm AFT Pharmaceuticals develops, markets, and distributes pharmaceutical products across a wide range of therapeutic categories. The Company's products are distributed across all major pharmaceutical distribution channels hospital, OTC (over-the-counter), and prescription.
On 21 September 2021, AFT Pharmaceuticals updated the market that the Company has further extended the global footprint of its patented Maxigesic pain relief medicine. The Company has obtained regulatory approvals for the intravenous form of Maxigesic in South Korea and Panama, as well as the tablet form in Chile and Peru. AFT Pharmaceuticals also strengthened its presence in Europe with the addition of another business development executive to its European office.
The new registrations of Maxigesic have augmented the number of nations in which AFT has obtained regulatory approval for the drug to 26 from 21 countries.
DO READ: A look at three ASX-listed dentistry stocks
Medical Developments International Limited (ASX:MVP)
ASX-listed Medical Developments International is a global leader in managing acute and procedural pain. The Company is engaged in the production of fast-acting trauma and emergency pain relief drug Penthrox®.
In the financial year 2021, the Company generated gross revenue of AU$25.7 million, up by 9%, driven by increased milestone revenue from the Mundipharma.
In the second half of FY21, MVP witnessed a robust rebound in its local as well international sales of Penthrox®.
Furthermore, in FY22, MVP expects solid sales growth driven by the rapid development of its commercial footprint in Europe. The Company is continuing to develop additional Penthrox® formulations for providing more accessibility, convenience and value for its customers. This includes investing in the development of next-generation Penthrox® inhalers.
ALSO READ: Five healthcare penny stocks with strong YTD returns