Summary

Australia is expected to emerge as the world's largest gold producer in 2021.
Amid the COVID-19 pandemic, the yellow metal benefitted from its status as a safe haven asset.
Gold prices have been edging higher over the weaker US dollar and growing inflationary pressure.
With gold continuing its rally, gold space players are capitalising on the trend.
Gold, considered as a safe haven asset, had an eventful 2020. Having peaked to an all-time high of US$2,073.41 per ounce in August last year, gold prices are currently hovering near US$1,900 per ounce.
As gold prices benefit from inflation, the yellow metal plays a vital role as an inflation-hedging asset.
How to invest in gold stocks in Australia?
There are several ways to purchase gold, such as physical gold, gold stocks or exchange traded funds.
The investment in gold stocks can be made through the stock market. Investors can buy shares of the companies engaged in the exploration and mining of the precious metal. Investing in gold-themed exchange-traded funds (ETF) is another option to invest in the gold sector.
Investing in the Australian stock market requires a full-service broker or an online trading platform. Through any of these options, an investor can park the funds in a hassle-free process. Since investors don't carry any physical gold in this process, they are vulnerable to risks that are associated with the stock market like volatility, possibility of losing investment, and company bankruptcy.
Which is the biggest gold producer in Australia?
Australia is the world's second largest gold producer, according to the Resources and Energy Quarterly report, March 2021. It also holds the world's largest reserves of gold.
In 2020, gold mine production in Australia reached 328 tonnes. Australia is expected to overtake China as the world's largest gold producer in 2021, producing 384 tonnes, as per the report.
On that note, let us look at a few of the leading gold producers listed on the Australian Securities Exchange (ASX).
Newcrest Mining Limited (ASX:NCM)
Newcrest Mining (ASX:NCM) is an Australia-based gold exploration and development company with operations in New South Wales and Western Australia. The gold miner also operates in Lihir and Morobe Province in Papua New Guinea, and Canada.
The miner has a strong portfolio of predominantly long-life and low-cost mines with a robust pipeline of greenfield and brownfield projects.
NCM holds a strong resource and reserve base with more than 24 years of production track record. It is one of the largest gold producers listed on the ASX.
In FY20, the company produced 2.2 million ounces of gold at an all-in sustaining cost (AISC) of AU$862 per ounce.
Northern Star Resources Limited (ASX:NST)
Northern Star Resources (ASX:NST) operates world-class projects in Australia and North America. Operating as a global-scale gold producer, NST has a robust portfolio of low-cost and high-grade underground gold mines.
The company is focused on maximising investors' return and value by building a strong asset base through aggressive exploration and strategic acquisitions.
Source: Copyright © 2021 Kalkine Media
NST has a total group resource of more than 20Moz and reserves of nearly 10Moz. Its efficient and productive approach to maintain low-cost operations has enabled the company to achieve an AISC of less than AU$1,340 per ounce.
Must Watch: Why blue chips are an obvious choice for long-term investors?
The company's world-class assets in Western Australia and Alaska in the US have produced more than 20Moz.
In FY20, the company produced 905,177 million ounces of gold.
OZ Minerals Limited (ASX:OZL)
OZ Minerals Limited (ASX:OZL) is an Adelaide, Australia-based copper and gold producer, founded in 2008 by the merger of Oxiana and Zinifex. The miner produced 257,987 ounces of gold in 2020.
In the Prominent Hill province of South Australia, the miner owns and operates a copper-gold mine, and has operations in Brazil.
OZL is also the third-largest copper producer in Australia, boasting the Carrapateena copper mine in its portfolio. The company is committed to creating shareholders' value with its advanced growth strategy.
Sandfire Resources Limited (ASX:SFR)
Australian explorer and miner Sandfire Resources Limited (ASX:SFR) has a strong operational base and a clear strategy to establish itself as a globally diversified and sustainable mining company.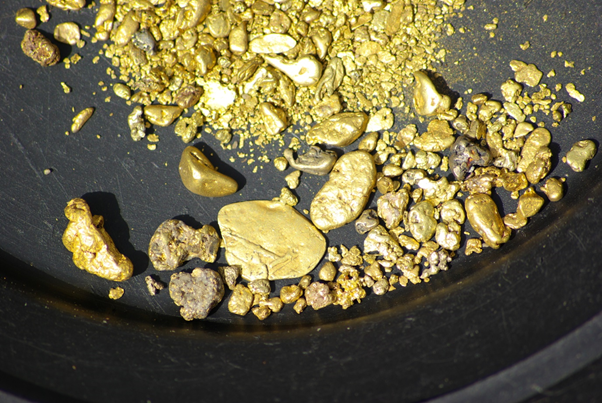 Source: © Bendicks | Megapixl.com
The miner holds various operating, development, and exploration business units in Australia, Botswana, and the US.
Sandfire Resources registered 42,263oz contained gold production from its DeGrussa Copper-Gold Mine in 2020. The miner has set a production target of 36-40,000oz of contained gold at a reduced C1 unit cost of ~AU$0.80-AU$0.85/lb for the financial year 2021.
Interesting Read: Three ASX gold stocks to light up your portfolio as gold prices heat up
Evolution Mining Limited (ASX:EVN)
Evolution Mining Limited (ASX:EVN) is a growth-focused ASX-listed gold miner. EVN holds and operates five fully owned mines in Australia and one in Canada.
The miner holds the Cowal mine in NSW, Mt Rawdon, Ernest Henry and Mt Carlton mines in Queensland, and Mungari in WA. Its Red Lake underground gold mine sits in Ontario, Canada.
The miner holds a global mineral resource of 26.2Moz gold and ore reserves of 7.3Moz. Its group production for the financial year 2020 stood at 746,463oz with an AISC of AU$1,043 per ounce.
The miner is focused on a production target of 695koz to 710koz with an AISC of AU$1,190 to AU$1,220 per ounce for FY21.
Chalice Mining Limited (ASX:CHN)
Chalice Mining Limited (ASX:CHN) is an Australia-based copper, nickel, gold, and cobalt-focused company.
The miner holds a robust precious and base metal portfolio in the premier terrains of Australia. Its portfolio also includes a number of generative exploration opportunities including more than 5,000 sq km Pyramid Hill Gold Project in Victoria and over 1,800 sq km Hawkstone Nickel-Copper-Cobalt Project in WA.
In March this year, the company made a significant discovery at its Julimar project in Western Australia.