Summary

IP survey at Ringaroo prospect has targeted known gold and copper anomalous magnetic-high complex, defining a west-dipping 650m x 200m wide IP anomaly
IP anomalies coinciding with historically identified magnetic high complex remains open to east and west
Exploration program across the Big hill, Tucklan and Ringaroo prospects highlighted. Drilling at Tucklan deposit to commence post-harvest
Sultan Resources Limited (ASX: SLZ) announced the results for the ground Induced Polarisation (IP) survey at the Ringaroo prospect (EL8735) within the premium Porphyry Au-Cu projects in the Lachlan Fold Belt.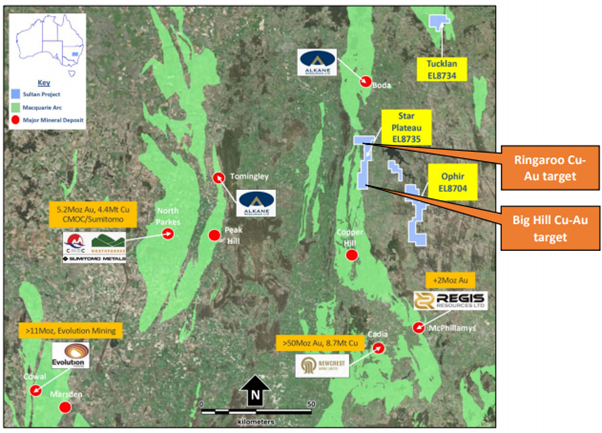 Colossus Tenements in the highly prospective Macquarie Arc Source: Sultan Resources 10 November 2020
The survey has been completed on the already identified gold and copper anomalous magnetic-high complex, almost 8 kilometres south of Wellington in the New South Wales. The current exploration program is designed to identify drilling prospects with strong potential to host porphyry-style Au-Cu mineralisation at the Star Plateau tenement (EL8735).
Read Here: Sultan releases Activity Report for June Quarter, Newly Acquired LFB project Marks Strong Growth
IP Survey at Ringaroo Prospect
During August and September 2020, Fender Geophysics concluded 2 north-south lines and an east-west line of dipole-dipole IP survey across the magnetic anomalies at Ringaroo which coincides with a massive gold and copper soil geochemical anomaly.
All results of the survey have already been processed and modelled, which outlines optimistic chargeability and resistivity response coincident with the historically identified soil anomalies.
Must Read: After Big Hill and Tucklan, Sultan announces excellent soil sampling results at Ringaroo
Inversion modelling of the IP data has defined a west dipping 650m x 200m wide IP high (>9mV/V, up to 30mV/V) coinciding on a strong IP high resistivity (>1000 Ohm.m) anomaly.
The induced polarisation technique is considered effective for porphyry exploration to identify the presence of disseminated sulphides in the mineralised region which encompasses pyrite alteration halos associated with porphyry mineralisation.
Strong chargeability anomalies with spatially associated high resistivity anomalies at Ringaroo suggests the presence of Porphyry style Cu-Au mineralisation.
Important Read: Is Sultan on the pursuit of next Significant discovery in LFB?
The IP anomalies have been supported by surface soil geochemical samples and correlate with high Au and Cu results within the magnetic high feature. Historical field exploration by Sultan identified Ordovician volcanics over the project area which hosts polymict volcaniclastic conglomerates and volcanic breccias. Similar rock deposits are common to both the Cadia and Northparkes where gold and copper mineralisation is held within porphyry deposits.
Must Read: Sultan Resources in the Hottest Exploration Region, The East Lachlan Fold Belt
The Ringaroo deposit has been mapped by the Geological Survey of NSW which indicated geological similarity with the Alkane Resources' Boda Cu-Au alkalic porphyry discovery. The sampling program by Impact Minerals' indicate similar magnetic feature, immediate north of Ringaroo revealing high grade copper results.
Future Work Program & Way Forward
The IP survey results enhance Ringaroo potential to host Au-Cu porphyry mineralisation. Field mapping has identified alteration styles reminiscent of associated porphyry and the rock sampling of the magnetic feature in the region adjacent to Impact Minerals' tenement unveiling high grade copper outcropping at surface.
Read Here: With Strong Results from Big Hill and Tucklan, Sultan Turns to Ringaroo Prospects
The anticipated exploration program at Ringaroo will include-
Processing of IP datasets to filter out surface cultural interference
Rock chip sampling program and prospect scale geological mapping
Drill testing of the coincident IP chargeability and magnetic anomalies confirming a prolific Au-Cu porphyry mineralisation system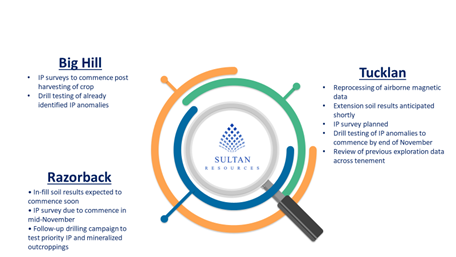 Image: © Kalkine Group 2020, Source: Sultan Resources ASX Update 10 November 2020
Sultan holds premium Gold-Copper projects in the Lachlan Fold Belt which includes the Big Hill, Tucklan and Ringaroo prospects. The recent exploration success at Tucklan prepares the Tucklan deposit for the drilling program. Sultan has already completed permitting and land access negotiations with the drilling program scheduled to commence as soon as the crops at the drill targets are harvested. The harvesting of crops has already begun in early November and Sultan is anticipated to mobilise rigs at Tucklan prospect by the end of November.
Suggested Reading: Sultan Advances on Gold Copper Assay Results from Large Scale Soil Anomalies at Big Hill
Sultan Resources traded at $0.23 a share on 10 November 2020 with a market capitalisation of $16.68 million.