Summary

NTM Gold Limited held its AGM on 19 November 2020 and cleared all resolutions put forward at the meeting.
NTM also highlighted its substantial progress over the year including various drilling campaigns, maiden Hub resource and extension of the same along with major expansion in landholding.
Dacian Gold Limited has agreed to acquire 100% of the shares in NTM through a merger by way of an NTM Scheme of Arrangement.
NTM has witnessed significant improvement in its share price over the year, and the potential merger is expected to reveal further benefits for the Company and its stakeholders.
NTM Gold Limited (ASX:NTM) has concluded its Annual General Meeting (AGM) held on 19 November 2020, wherein all resolutions put to the Annual General Meeting were passed by the shareholders. Moreover, resolutions concerning "Adopt Remuneration Report" and "Approval of 7.1A Mandate" were determined by a poll called by the Chairman.
Following schedule indicates the type and percentage of voting for various resolutions put forward at the AGM:
Resolution Vote Type and Share (Source: ASX Announcement 20 November 2020)
September Quarter Update: ASX:NTM Reports Robust September Quarter For Redcliffe Project, Drilling To Commence Soon
Operational Progress and Growth in Share Price
The Company also shed some light on its key milestones achieved over the past, which include the following:
Drilled 10,891m Reverse Circulation, 7,553m Diamond Drilling & 41,396m AirCore Drilling
Maiden Hub resource of 141koz @ 4.9koz
Extended Hub to almost 500m depth & down plunge, remains open
Significant expansion in landholding
Other than these, NTM also witnessed large gains in share price and register improvement in market cap as well as liquidity position by maintaining suitable cash levels. The latest of all the key developments of NTM is the proposed merger with Dacian Gold Limited (ASX:DCN).
Exactly a year ago, NTM shared its positioning to deliver significant shareholder value based on the discovery of the Hub deposit and is well financed with a vigorous exploration program over the subsequent one year's time.
Did you read: A Look At The Projects Of NTM Gold (ASX:NTM) And The Latest Developments At The Redcliffe Project
NTM strongly believes that they have delivered on this intended goal and the same is reflected in its share price, which has more than doubled and the market capitalisation growing by more than 150% simultaneously.
Notably, NTM share price has increased by 126.42% over the year till 20 November 2020, and the stock currently has a market capitalisation of $82.06 million.
Did you read: NTM Gold Limited's (ASX:NTM) Growth Through Exploration In An Outstanding Region
NTM's success can be credited to the commitment and hard work of the Company's employees as well as executives. In addition to this, NTM's successful advancement of its resource base and extended footprint subsequent to the acquisition of the Wells Group tenements helped to lure the attention from a range of fresh investors.
Proposed Merger to Reveal Significant Benefits
The recently inked proposed merger with Dacian Gold Limited through a Scheme of Arrangement is believed to be the outcome of such discussions with investors. The transaction is anticipated to offer substantial benefits to both parties and at the same time, shall offer an opportunity for shareholders to take part in the upcoming phase of NTM's continuing success story.
Through the lens of NTM's vision, the proposed merger is expected to provide a fast-tracked opportunity to monetize the value of the Redcliffe project at an appealing premium. At the same time, NTM shall be able to retain substantial equity of more than 30% in the consolidated entity while taking part in the upcoming successes of the pooled pipeline of exploration targets.
Related: NTM Gold: New Tenement Granted At Redcliffe Gold Project & JORC Derived
Further, NTM offers a high-grade inventory that offers a prospective extended mine life as well as the potential for enhanced profitability when viewed from a Dacian standpoint.

Deposits and Prospects at Redcliffe Project (Source: ASX Announcement 20 November 2020)
The transaction is believed to be a compelling event for NTM that offers financial as well as operational strength to unravel the true potential of its Redcliffe Gold Project, which is around 720km2 tenement holding. The project area centres on the Mertondale Shear Zone, which is highly prospective interpreted key crustal structure significant for gold mineralisation.
The zone is a major gold-rich fluid pathway where multiple deposits have been discovered to date.
More details about the merger at: Merger Alert! ASX:NTM And ASX:DCN To Unlock Shareholder Value Through Regional Consolidation
Extension of high-grade mineralisation at Hub
Lately, NTM has extended the high-grade mineralisation through extensional diamond holes by a further 100m vertically and 190m to the south at the Redcliffe Gold Project's Hub Prospect and returned:
5.5m @ 11.7 g/t Au from 529m, incl. 2.0m @ 23.6 g/t Au in 20RDD006
2.0m @ 5.1 g/t Au from 543.7m in 20RDD005
The continued growth at the Hub deposit with each drill campaign shows that Hub has major prospects above the near-surface high-grade oxide zone.
NTM stock ended the trading session at $0.130, up by 8.33%, on 20 November 2020.
*All currency used is in AUD unless specified.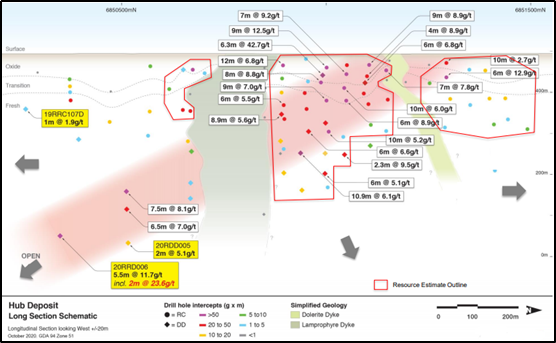 Growth at Hub Prospect (Source: ASX Announcement 20 November 2020)
The Hub prospect was discovered in October 2018 through an aircore drilling and has continued to grow with each drill campaign.
Interesting Read: ASX:NTM Gold Limited Stretches High-Grade Mineralisation at HUB DEPOSIT
NTM looks to capture substantial benefits through an immediate transition from an explorer to gold producer and avail benefits like deeper trading liquidity, broader research coverage and better market positioning.
NTM share price quoted at $0.130, up by 8.333% with a market capitalisation of $82.06 million on 20 November 2020 at AEDT 2:09 pm.
Interesting Read: NTM Gold Limited Reports High-Grade Mineralisation at the Redcliffe Gold Project