Summary

NTM Gold Limited has been undertaking diamond drilling to test the mineralisation down plunge at the Hub deposit, Redcliffe Gold Project.
The hole 20RDD004 intersected high-grade mineralisation of 7.5m @ 8.1 g/t Au from 405.6m, including 4.4m @ 12.2 g/t Au from the second hole testing the Hub southern plunge.
Previously, NTM had reported intercepts of 6.5m @ 7.0 g/t gold from 459m, including 2.5m @ 12.2 g/t gold returned from hole 20RDD003.
The results highlight the prospective nature of Hub at depth and down plunge, where mineralisation remains open.
Currently, diamond drilling is well-underway at Hub along with ongoing RC Drilling at the GTS deposit.
Gold focused exploration company, NTM Gold Limited (ASX:NTM) has been actively involved in undertaking exploration activities in the Eastern Goldfields region of Western Australia through its 100% owned Redcliffe Gold Project.
The Redcliffe Project presents significant upside for NTM, which includes several separate deposits with established resources close to existing infrastructure and mines.
Additional High-Grade Mineralisation Reported at the Hub
Of late, NTM has significant success at the Hub deposit, where latest diamond drill 20RDD004 hole testing the mineralisation down-plunge has increased the vertical continuity of the high-grade material, returning 7.5m @ 8.1 g/t gold from 405.6m, including 4.4m @ 12.2 g/t gold.
These intercepts offer validation for the continuation of the high-grade material down plunge and remain open along strike and at depth.
Related: NTM Gold: New Tenement Granted At Redcliffe Gold Project & JORC Derived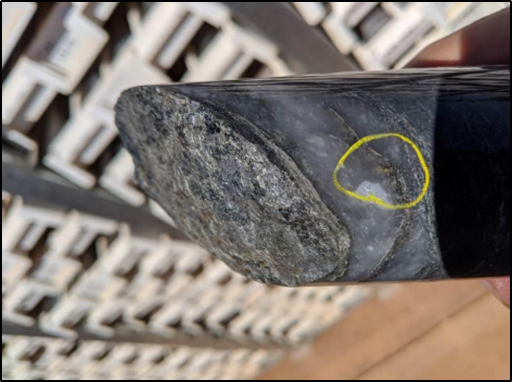 Visible Gold in Core from 20RDD004 at approximately 410m (Source: ASX Announcement 21/09/2020)
Presently, NTM is progressing with the diamond drilling at Hub to test the extents of the southern plunge. In addition to this, NTM is also engaged in RC drilling at the GTS deposit, which is presently underway to test the depth extensions to current gold mineralisation.
Subsequently, NTM plans to move the rig to the Gully area to follow up on historical drilling.
Related: How Is Empire Resources' Investment In NTM Gold Placed Amid Market Volatility?
Previously Reported Intercepts
Prior to these intercepts, NTM had reported 6.5m @ 7.0 g/t gold from 459m, including 2.5m @ 12.2 g/t gold intercepts returned from hole 20RDD003.
NTM believes that these intercepts have significant favourable consequences for the deposit. Moreover, the interpreted southern plunge of the high grades witnessed in the central part of the deposit continues to the south of the lamprophyre. This is confirmed by the grades, widths and mineralisation style at Hub deposit.
The results enhance the depth and plunge potential of the deposit and indicate significant upside beyond the shallow high-grade oxide mineralisation.
In the past, NTM had undertaken geological and structural interpretation studies, which, along with historical drilling data, offer the potential for substantial fresh discoveries.
Interesting Read: Empire Resource's Investment in NTM Gold Proves Lucrative, Grows From $0.0325 to ~$0.09 Within a Year
On 22 September 2020, NTM share price quoted at $0.086, with a market capitalisation of $61.55 million. During the last six months till 21 September 2020, NTM share has delivered ~95% returns to its shareholders.
With the pandemic continuing to affect the globe, healthcare companies are evaluating their lead compounds for COVID-19 treatment. Future revenue for these stocks depends on the probability of launching an approved treatment in the market.
CLICK HERE FOR YOUR FREE REPORT!