Summary

Horizon Minerals appointed Mr Julian Tambyrajah as Chief Financial Officer and Joint Company Secretary of the Company.
Ms Bianca Taveira in the role of Joint Company Secretary will continue with Horizon.
The recent appointment of Mr Tambyrajah is focussed on supporting Horizon's advancement in its significant phase.
Australia's emerging mid-tier gold producer, Horizon Minerals Limited (ASX:HRZ) in a bid to bolster its substantial growth phase has appointed Mr Julian Tambyrajah in the newly created role of Chief Financial Officer and Joint Company Secretary. Ms Bianca Taveira in the position of Joint Company Secretary will continue with Horizon.
The Company currently has a lot on its plate while its exploration endeavours embark on a stage of massive development. Significantly, with the focus on fast-tracking standalone processing solution at Boorara, Horizon is undertaking updated resource and mine design work to feed into the consolidated Feasibility Study.
ALSO READ: Horizon Minerals (ASX: HRZ) Reports Outstanding Outcomes of PFS and Maiden Ore Reserve on Richmond-Julia Creek Project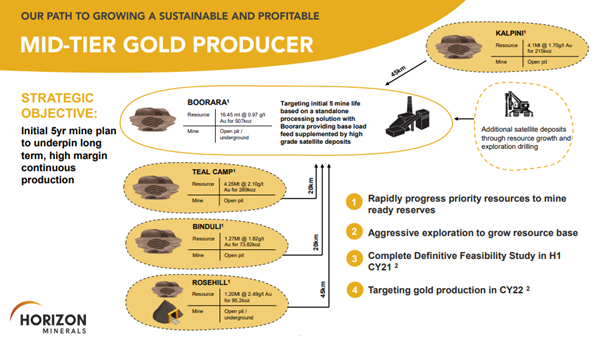 (Image Source: HRZ AGM Presentation, 3 December 2020)
The recent appointment is in line with the ongoing exploration and current developments and is anticipated to provide further support to the advancing journey of the Company.
Mr Tambyrajah's Diverse Field of Expertise
Mr Tambyrajah is known for his knowledge. He is global mining finance executive, a qualified Accountant (CPA) and Chartered Company Secretary (ACIS/AGIA). He holds over 25 years of experience, which also includes 18 years at the CFO and Company Secretary level.
The extensive experience of Mr Tambyrajah in diverse financial and techno-commercial areas ranges from accounting, project evaluation, feasibility studies, supply and logistics and construction and operations management across both small and large organisations.
Furthermore, he has also led the raising of substantial equity and debt finance from national as well as international financial markets.
ALSO READ: Horizon Minerals (ASX: HRZ) Recommences Gold Production at Boorara, Third Toll Milling Campaign Underway
Previous Roles held by Mr Tambyrajah
Mr Tambyrajah has served as Chief Financial Officer, Director and Company Secretary in several listed companies on London-based AIM stock Exchange, Australian stock exchange and Toronto Stock exchange, apart from several private equity companies.
Some of the Company where he served the above key role include Crescent Gold Limited, Central Petroleum Limited, DRDGOLD Limited, Rusina Mining NL, and Dome Resources NL.
He has also held management and accounting roles with a number of groups including Woodside and Normandy Mining.
ALSO READ: Horizon Minerals (ASX: HRZ) Advancing Well on its Robust Gold Project Portfolio
Management Commentary
Commenting on the new CFO appointment, Horizon managing director, Mr Jon Price expressed pleasure to welcome Mr Julian Tambyrajah as the Company gets ready to commence a significant growth year in 2021.
Mr Price believes that a wealth of experience is brought by Mr Tambyrajah as he assumes the lead of the financial side of the Horizon business. It would help the Company in delivering the consolidated Feasibility Study while advancing through the development and project financing phase.
Mr Price also added that Horizon has added to its geology team by the addition of capacity in the exploration and resource development fields to bolster the drilling program over 70,000m that is currently ongoing.
Road Ahead for Horizon Minerals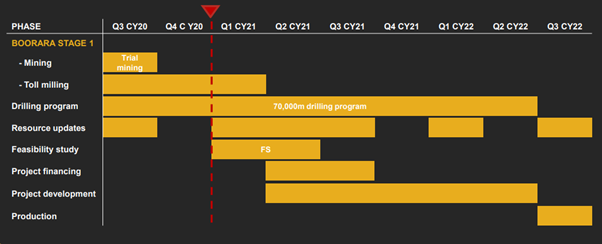 Source: HRZ AGM Presentation, 3 December 2020
HRZ shares traded at $0.105 per share on 3 December 2020. HRZ stock has given a price return 23.5% on the year-to-date basis.
[All currency is in Australian Dollar unless stated otherwise]