Summary

Krakatoa Resources had previously concluded a detailed aeromagnetic survey at the Rand Project, which revealed several priority targets.
Two shallow government drill holes delivered promising gold assays and confirmed the prospectivity of the magnetic "eyes".
KTA has planned a trial GAIP geophysics over three magnetic features, lying NNW of Bulgandry in 2021.
KTA has also proposed a substantial drilling programme as part of an extensive campaign throughout Rand upon completion of initial work and assessment of the results.
Young, aggressive explorer Krakatoa Resources Limited (ASX:KTA) has recently concluded a highly successful detailed aeromagnetic survey at its Rand Project. This survey has helped to identify several priority targets for exploration, each of which indicates prominent magnetic signatures. These signatures include the following:

Kalkine Group Image (Data Source: ASX Announcement 16 December 2020)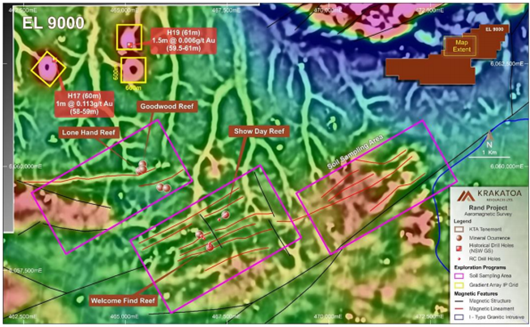 Priority exploration targets with historical gold workings (Source: ASX Announcement 16 December 2020)
Did you read: ASX-listed Krakatoa Resources (KTA) goes full throttle on Mt Clere project
KTA's Rand Project is located around 60 km north-northwest of Albury in southern New South Wales and stretches over a total area of 580km2.
KTA Seeks To Fast-Track Exploration Plans For Rand Project
Subsequently, the Company now intends to fast-track its exploration plans for the Rand Project. KTA believes that there is a need to escalate the exploration efforts, based on the confirmation of the prospectivity of the magnetic "eyes". The prospective nature of these is further confirmed through promising gold assays from two shallow government drill holes.
Out of the four holes, H17 and H19 were designed to test specific magnetic features around Rand. The H17 hole assayed 1m @ 0.113g/t from 58m and hole H19 assayed 1.5m @ 0.006g/t from 59.5m.

October Progress: Krakatoa shareholders witness a cracking October: A snapshot of ASX: KTA's rapid progress
H20, a third hole could not return any significant results as it tested a magnetic low formed neighbouring to rock chip sample with anomalous copper.
In the new year, KTA intends to undertake a test Gradient Array Induced Polarisation (GAIP) geophysics over three magnetic features NNW of Bulgandry. Each survey is anticipated to extend over the 600m diameter of the relevant magnetic feature in detail. However, this remains subject to obtaining land access.
Interesting Read: Krakatoa Kraks On Hammer & Tong as it Goes for Gold in the Lachlan Fold
Optimisation Of The Drill Hole Placement
Further, KTA has plans to optimise drill hole placement or proceed straight to drilling through implementing a Dipole-Dipole IP (DDIP) survey. This shall be implemented if broad zones of resistivity highs are returned from the GAIP survey and to some extent, chargeability highs match with magnetic features.
The Bulgandry gold camp was also evaluated through the recently acquired radiometric data. The cover sequence around Bulgandry was confirmed through the imaging of the potassic channel. These include the most superficial 8km length of ENE-trending magnetic lineaments. Moreover, the area is open to exploration by contemporary sensitive geochemical techniques like UltraFine+™.
Interesting Read: Is KTA next to fire with Copper & Gold in the Lachlan Fold? Shallow Gold intercepts discovered
In addition to this, KTA plans to undertake a soil programme, along with geological mapping of the historical workings. This, however, remains subject to obtaining the proper permissions and approvals.
KTA Proposes Significant Drilling Programme
The third target lies in the well-preserved network of palaeochannels around Bulgandry. Interestingly, the palaeodrainage divide between Mahonga and Billabong Creeks is shown to be occupied in the north and south, respectively, by the 8km length of ENE-trending magnetic lineaments.
Overall, KTA shares strong intent for a significant drilling programme as part of a more extensive campaign across Rand. This is anticipated to take shape upon completion of the initial work and the assessment of the results.
Detailed discussion at: Jackpot! Will this be a turning point for Krakatoa Resources? Co Granted Historic Rand Gold Project
The program is expected to comprise testing of secondary mineralisation within the deep leads, the eye targets and alongside potential geochemical anomalies over magnetic signatures.
In the near term, KTA plans to continue with the review of the airborne magnetics to identify further opportunities ending in a channel of exploration targets. Goombargana Hill and several intrusives located near Coreen in the projects west constitute for KTA's areas of interest.
In addition to this, KTA also looks forward to pursuing exploration of two distinct splayed shear system under Rand.
Gold Assays Returned From Magnetic Survey
The gold assays returned for selected intervals of two vertical diamond drill holes, H17 and H19, strengthen the potential of the magnetic bullseyes. Moreover, the dioritic or granodioritic host rocks identified at the area are believed to be advantageous for intrusion-related gold (IRG) systems.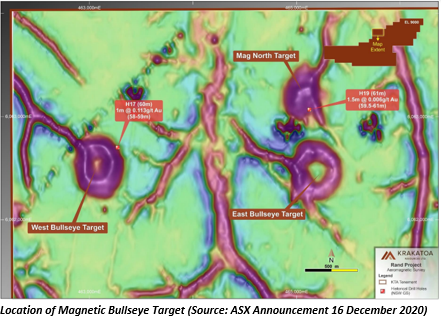 Related: Krakatoa Secures Historic High-Grade Gold Mines in the Lachlan Fold via Non-Dilutive Acquisition, Stock Hits Multi-Year Highs
Mark Major, CEO of Krakatoa Resources, commented that the completed magnetic survey offers an outstanding chance for evaluating and underlining the significant regional exploration gold potential at Rand Project. A fantastic illustration of this is the bullseye targets.
Mark Major further added:
Related: Fuelled by a Recent Raise, Krakatoa Resources Steams Ahead Across its 3 Gold Projects
On 18 December 2020, KTA share price quoted at $0.069 with a market capitalisation of $18.41 million.