Summary

Strong demand for gold backed ETFs boosted gold prices, supporting revenue growth of gold miners.
Troy Resources' Karouni projects with a mineral reserve of over 1,203,000 of ores and a gold grade of 1.9 g/t, produced over 23,580 ounces of gold in FY20 ending June.
Troy Resources sold 23,726 ounces of gold in FY20, earning a revenue of $56 million.
The 2020 gold rally has surpassed investment returns offered by many conventional investments and it continues to attract investors' attention. With the global community still plagued by the pandemic and the weak economic conditions, gold has proved its worth as a key asset offering safe harbour.
As on 15 September 2020, Gold is trading at US$1,968.90 an ounce at 03:37 PM AEST, registering an increase of almost 29% since the beginning of 2020.
Amid the coronavirus pandemic, the gold demand surged due to mega inflows recorded in gold backed Exchange Traded Funds (ETF) and the consistent central bank buying worldwide.
The gold backed ETFs recorded net inflows of 734 tonnes of gold during the first two quarters of 2020, registering a growth of ~634% y-o-y basis. Further, the Gold Bull Run has been one of the primary drivers behind the unprecedented revenue growth of gold miners.
Gold Miner with resources of 1 million ounces of Gold
The Australian gold explorer and developer, Troy Resources Limited (ASX:TRY) operates the Karouni gold operations in Guyana, South America. Troy Resources positions itself as a small to mid-size gold producer with a strong and reliable reputation of acquiring high quality assets in prolific mining jurisdictions as it accelerates the mine development.
Interesting Read: Troy's Karouni a mega time opportunity as gold shines
Karouni Gold Operations located at prospective gold regions of Guyana
Guyana hosts prospective gold regions with a long heritage of alluvial gold mining. Troy's Karouni mining operation stretches across 849 square kilometres land package over the Guiana Shield that hosts multi-million-ounce gold discoveries across Suriname, French Guinea and Venezuela.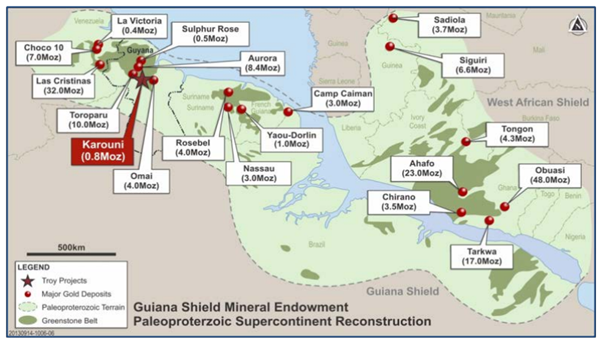 Source: Troy Resources 2 March 2020
Must Read: Troy Resources commences drilling at Smarts underground, Ohio Creek to follow
Karouni Operational Performance over the years
The Karouni gold operations recorded the first gold pour in late 2015 with the commercial gold production beginning on 1 January 2016. In FY2020, the Karouni gold operations produced over 23,580 ounces of gold, sold 23,726 ounces of gold and earned revenue of $56 million despite the operations being impacted severely due to an accident during December quarter that shut down operations for the quarter.

Source: Karouni Annual Financial Report FY2020
Around 23,580 ounces of gold were produced from the processing of 567,782 tonnes of ores with an average head grade of 1.35 g/t Au and a metallurgical recovery of ~95.8%. Karouni holds a mineral reserve of over 1,203,000 of ores with a gold grade of 1.9 g/t containing 75,100 ounces of gold. The Smarts deposit contains mineral reserves of 42,700 ounces of gold.
Additionally, Karouni operations have identified gold mineral resource of over 986,300 ounces of gold across ten deposits and stockpiles with Smarts containing further 148,100 ounces of gold.
Stock Performance
Troy Resources closed at A$0.105 per share on 15 September 2020, with a market capitalisation of A$66.37 million. The company has delivered a return of 66.67% in last six months.
Read Here: Get Acquainted with the Management at Troy Resources